I love this time of year in blogland. Are you all finding as much holiday inspiration as I am? I need to quit blog surfing! I was editing pictures, and then I started snooping around the picture services (where at one time or another I loaded pictures for printing) to see if I can get digital copies of my pictures (since I lost most of them when our hard drive crashed). Did you know that they charge you to download your own pictures??? That's pretty funny! (Not.) They're my pictures and I have to pay for them. Huh. I guess I just need to be re-educated and change my thinking to look at it as paying for storage services.
Oh well, once again, it's the first Thursday of the month so that means it's time for another recipe box swap. Our hostess, Randi, at I Have to Say, has chosen Holiday Favorites as our theme this month.
Wow. How to choose? We have several holiday favorite recipes in our family that we have every year. It's not quite cookie baking time for me, so I'll wait for our favorite cookies. And it just didn't seem right to make MeMum's fabulous steamed cranberry pudding or our beloved egg casserole when it's not Christmas Day. So, I'm going to post our favorite holiday vegetable — Carrot Puff. MyDadLovesMeBestSister came home with this recipe several years ago and it's been a favorite ever since then. We don't always have it with one specific meal (Thanksgiving, Christmas, or New Year's) but we do always have it at least once during the holidays. I hope you like it as much as we do! (And excuse the odd pictures. Carrot Puff is about as photogenic as Cinderella's ugly stepsisters, but it tastes a WHOLE lot better.)
Carrot Puff
1 lb. carrots, peeled and cut into 1-inch pieces
1/2 cup butter, melted
3 eggs
1 cup granulated sugar
3 tablespoons flour
1 teaspoon baking powder
1 teaspoon vanilla
Grease an 8-inch square baking dish. Place carrots in medium-size saucepan and cover with salted water. Bring to a boil; reduce heat and simmer, uncovered, for 20 minutes or until carrots are tender. Drain.
Place butter, eggs, sugar, flour, baking powder and vanilla in blender or food processor. Add carrots a little at a time and puree the mixture. Pour into prepared baking dish.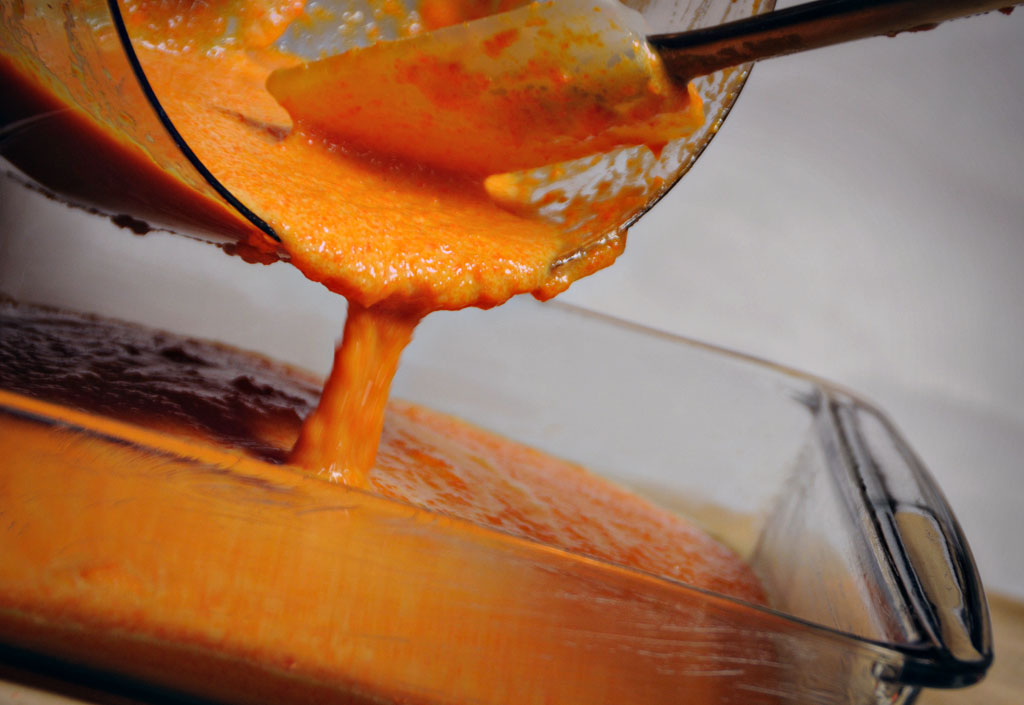 Bake at 350 degrees for 45 minutes or until firm. Let stand for 5 minutes before serving.
This carrot puff is very sweet, so you might want to cut down on the sugar a bit. We love it though! And because I was a little disturbed that the carrot puff is so orange and autumn-y looking, I put a bow on it and put it under the Christmas tree for you.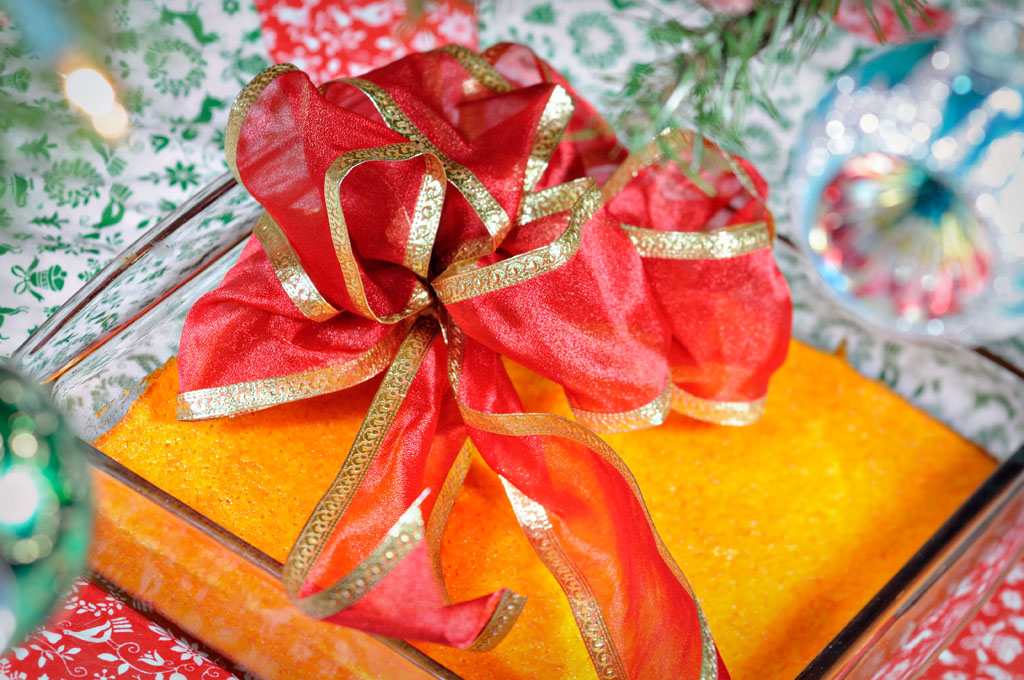 Enjoy!
XOXO,
Anna