After I posted about my little vinyl project bag a few weeks ago, I had a few questions about how I make them, so I promised I'd post some details.
Before we get started though, a few disclaimers. I've been seeing these little bags pop up in a lot of places, so this is nothing new.  If you've been sewing for very long, you'll easily be able to figure this out for yourself. There are lots of different (and probably better) ways to do the various steps — this is just how I do it, so if my methods don't work for you, just remember that google is your friend. Especially where the zipper is concerned — there might be a method out there that works better for you.
So, in case you've forgotten, this is what we're making (the bag, not the blocks). ;-D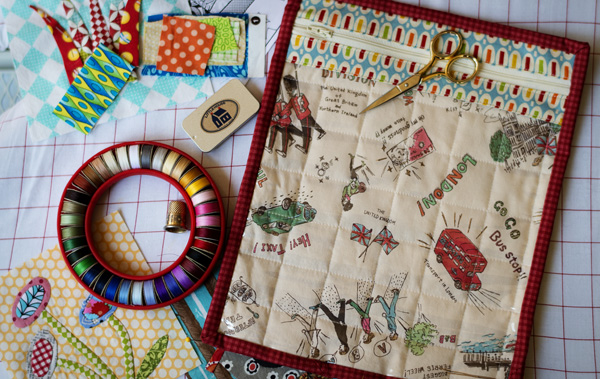 Here's what you'll need: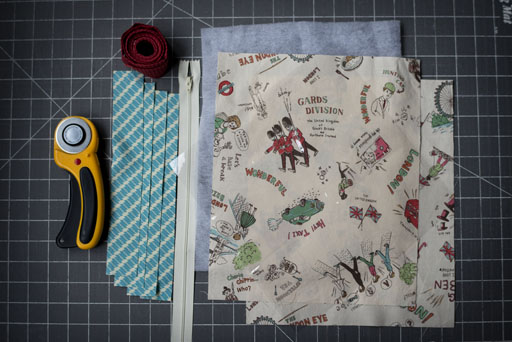 2 – 10″ x 12″ pieces of fabric (the back of the bag)
1 – 10″ x 12″ piece of batting (or flannel or soft and stable or whatever, depending on how firm you want the back of your bag)
4 – 10″ x 1 1/2″ pieces of fabric (the prints on either side of the zipper)
1 – 10″ x 10″ piece of vinyl
1 zipper — longer than 10″ (I used 14″ because that's what I had in my stash)
Approximately 55″ of 2 1/2″ wide binding folded in half and pressed
Cats are optional.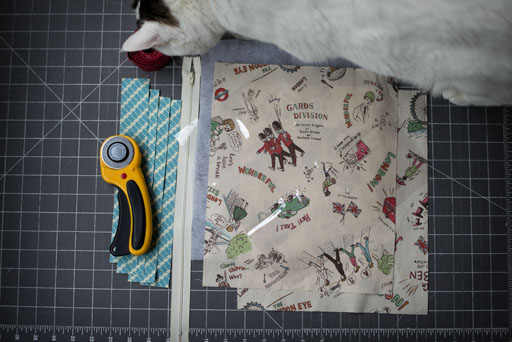 The first step is to prep the back.  Place one of the 10″ x 12″ squares of fabric, wrong side up, on your table.  Place the batting on top of it and then place the other piece of 10″ x 12″ right side up on top of the batting.  You've made a quilt sandwich that will be the back of the bag.  I like to quilt this sandwich and you can quilt it however you like — stippling, straight stitches, mattress style, etc.  I chose to quilt a grid, starting in the middle and then stitching a few lines on either side of the middle line.  In the picture below, you'll notice map fabric behind the piece I'm quilting — I'm just quilting several back pieces at once.  If you're going to make one vinyl bag, you might as well make several at once!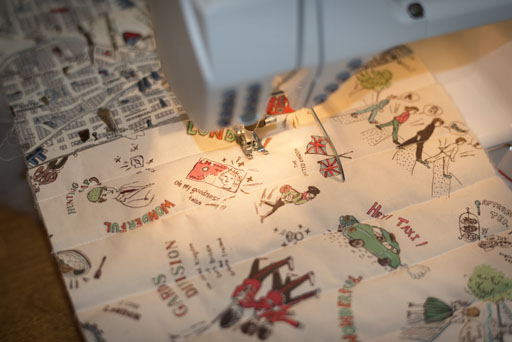 Now, take one of the 10″ x 1 1/2″ strips and turn one long edge under 1/4″ and press.  This step is optional, but I think it makes it easier later.  Then, take the zipper and sandwich one edge of it between the right sides of two of the 10″ x 1 1/2″ strips of fabric.  Pin or glue, whichever works for you.  And make sure that the piece with the pressed 1/4″ edge is on the back side of the zipper.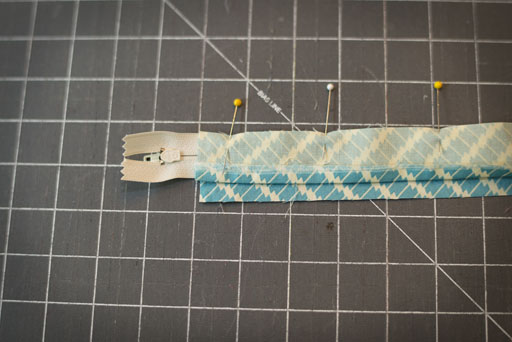 If you're a zipperphobe, don't quit now!  Take your little zipper sandwich to the machine and stitch a 1/4″  seam.  Be sure you have your zipper foot on your machine.  And you'll notice that there are more pins in the zipper sandwich now that we're stitching — my top fabric was slipping, so I added more pins.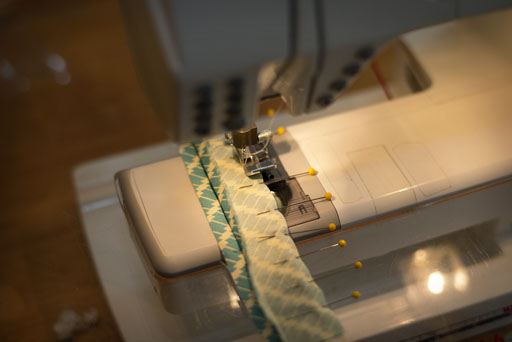 Press the two pieces of fabric open — or so that they have their wrong sides together.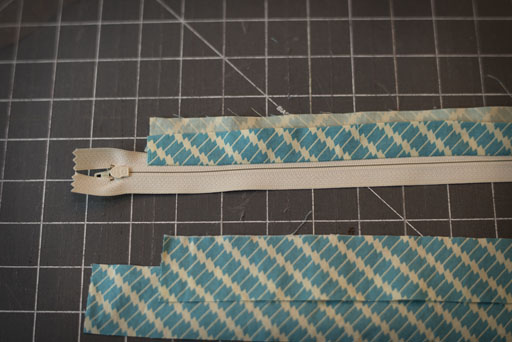 Repeat those steps on the other side of the zipper with the other 10″ x 1 1/2″ pieces of fabric.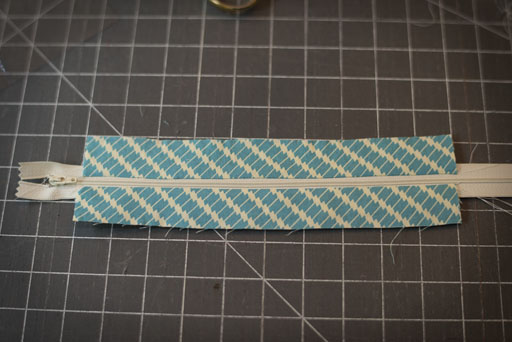 Ta – Da!  Zipper in fabric!  ;-D  I forgot to take a picture of this next step, but, from the right side, top stitch close to the edge of the two seams that you just sewed.  (You can see the top stitching in future pictures.)  Reward yourself with some chocolate.  Preferably M&Ms from a crystal dish — a little elegance makes them taste better!
Now it's time to sew the vinyl to the zipper piece.  With the zipper facing right side up, place the vinyl on top of the zipper piece with one edge of the vinyl along the unfinished edge of the fabric that is on top of the piece with the 1/4″ pressed edge.  That's hard to explain — hopefully it made sense.  Now, flip the piece over and pin the fabric to the vinyl, being sure to keep your pins horizontal and close to the edge — the area that will be part of the seam.  If you pin farther away from the edge, you'll be able to see holes in your vinyl after you sew the seam.  Take this fabric to your machine (regular foot or 1/4″ foot should be back on machine now) and sew a 1/4″ seam.
At this point, we need to discuss the vinyl.  It's difficult to sew directly on vinyl because it's sticky.  For this seam, the vinyl will be face down, against the feed dogs.  In order to keep things moving smoothly, I use scraps of tissue paper between the machine bed and the vinyl.  You stitch through the tissue paper just as if it were meant to be part of the bag.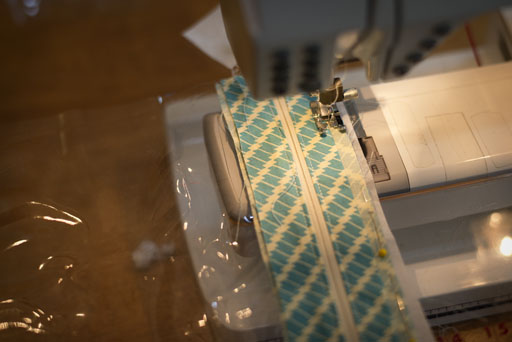 After you're done, peel the tissue paper off of both sides of the stitching line.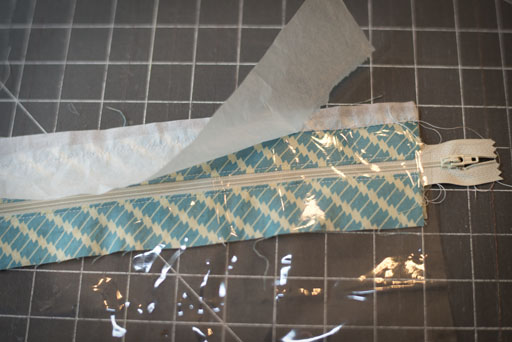 Then fold the vinyl seam toward the zipper and press on the right side of the fabric.  Two things to note here: a) ignore that ugly water stain on my little pressing board, and b) if you put that hot iron directly on your vinyl you'll have a hot mess.  Haha — sorry for the pun.  But really, DO NOT put the hot iron directly onto the vinyl.  I just grab a fabric scrap or a flour sack towel or something to place between the vinyl and the iron.  Another thing you don't want to do is leave the iron sitting there while you take a picture.  It won't melt the vinyl, but it makes it a wee bit wrinkly.  ;-D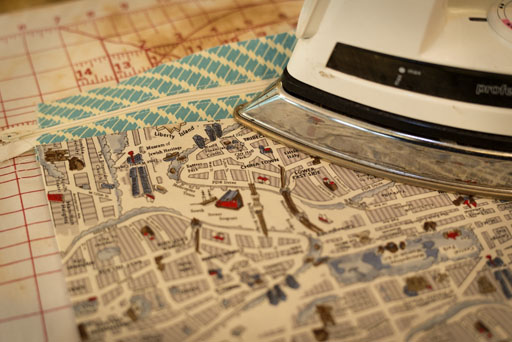 Ok, moving on.  Flip the zipper concoction so that the wrong side is up.  Here's where having that 1/4″ seam folded over and pressed comes in handy.  You might have to adjust it a little, but place the folded edge up against the vinyl seam and pin.  I really wanted to glue here but I knew that the glue wouldn't work on the vinyl.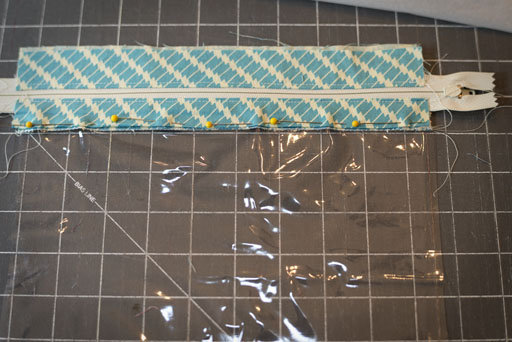 Now … dang it!  I forgot another picture!  Anwway, flip the zipper concoction right side up and go to the machine and top stitch along that edge that you just pinned.  Your pins will be hidden under your piece, against the throat plate, so sew slowly and remove the pins as you go.
Now you're ready to attach the front vinyl piece to the back piece that you quilted earlier.  Lay the vinyl piece, zipper right side up, on top of the quilted piece.  You may need to trim up the edges and then pin them in place.  And remember, if you're going to pin along the vinyl, only pin very close to the edge, in the area that will eventually be part of a seam.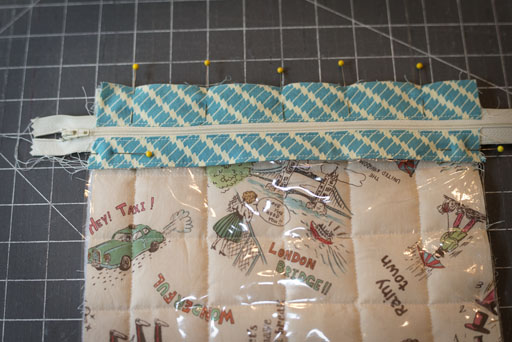 Now, it's time to trim the zipper.  Be sure you've pinned securely on both sides of the zipper.  Take a deep breath and have some more M & Ms.  And ALERT!  Be sure your zipper pull has been pulled so that it's on top of the quilted backing.  (If you leave the zipper pull out on either edge of the zipper, you're going to have way more than a hot mess and you're going to be saying a LOT of bad words.  I don't know this from personal experience, but I have a vivid imagination.)  Cut the edges off of the zipper.  Rotary cutter or scissors, whatever works for you.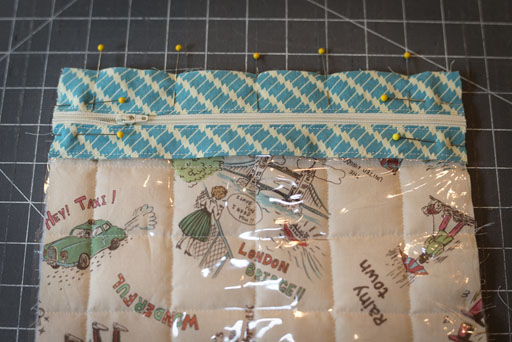 Now, bind your little bag, just like you would bind a quilt.  I'm not going to tell you how to do that part, there are a bajillion tutorials out there on the web.  I like to attach the binding by machine to the right side and then sew the binding to the back side by hand.  If you can make yours all by machine and have it look great then go for it!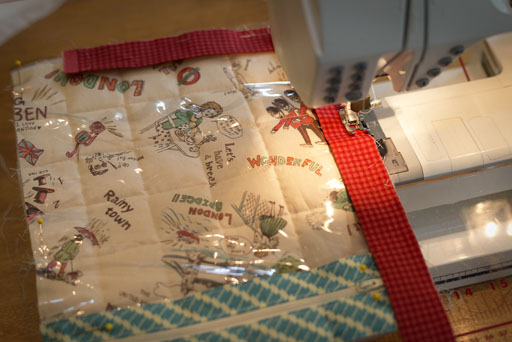 And there you have it — finished vinyl zipper bags!  I love these little bags for hauling around my handwork.  Knitting too — next up, I'm going to make some bigger bags.  They keep all my work clean and tidy while it rambles around on the inside of my backpack.  (Oooh, and see how the edge where the vinyl meets the fabric attached to the zipper looks a little wobbly?  That's because I stopped to take that vinyl-pressing picture a few steps back.  It's hardly noticeable in real life, but just thought I'd point it out.  Also, can we just have a moment of silence to appreciate how those zigzags on the blue print on either side of the zipper lined up???  They're a wee-bit off, but I couldn't have planned that better if I'd tried!  I love a happy accident and I attribute it to the heavy consumption of M&Ms.)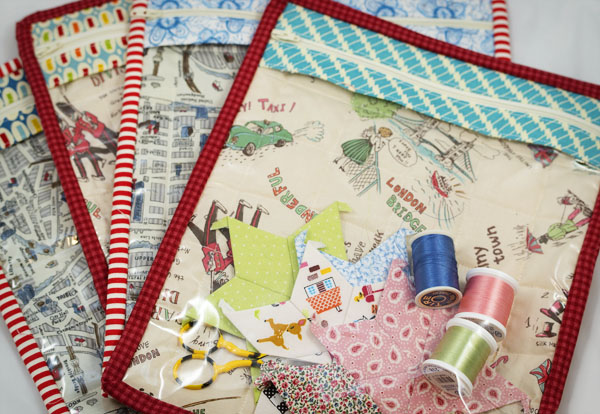 One last thing — don't forget to embellish your zipper pull — there are lots of fun things you can do with it!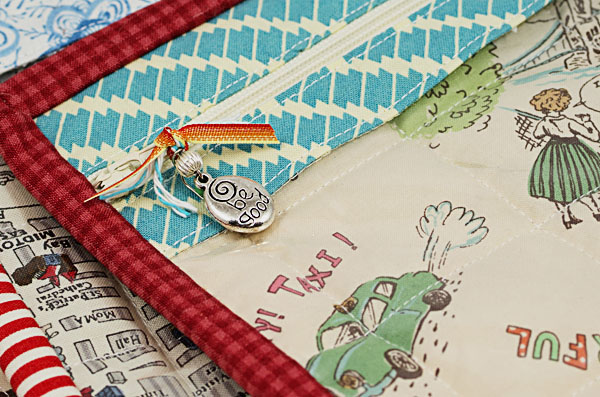 Now, go forth and make Vinyl Project Bags.  And eat M&Ms.  It's Fun!
Have a Wonderful Weekend!!!
XOXO,
Anna