It's been a quiet, although sad, weekend here in ThimbleannaLand.  TheManoftheHouse left on Friday afternoon to be with his mother and, luckily, he was able to be with her before she passed away yesterday.  We've been so lucky to have all four of our parents be with us for so long, but having them leave us so close to each other sure hasn't been fun.  ;-(
While I've been waiting for news and receiving updates, I've been hanging out with MeMum and working on the binding for my Bliss Quilt.  Remember this one???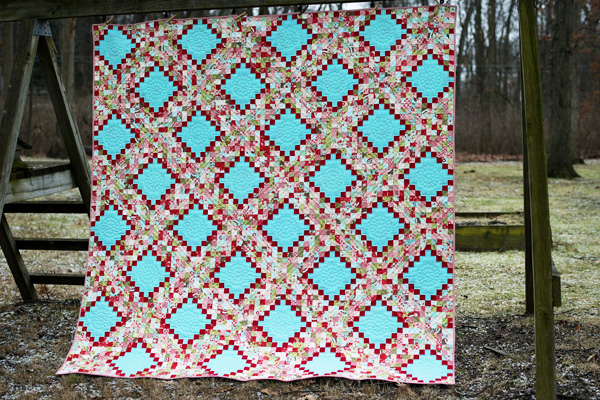 My archives show that I finished piecing her in 2011 and, after some debate (machine or hand quilting?), shipped her off to our hand quilter.  In 2013, she returned, but didn't have enough quilting.  I waffled about what to do and started to fill in the quilting myself, but finally decided I'd never get it done.  So, in early 2016, I took her back to the quilter to fill in the gaps.  Our quilter has done a beautiful job, and I'm so happy that I sent her back to the spa for a second treatment.
When she came back from the spa the first time, I commented that the quilter probably didn't do much quilting on it because all that red and aqua made her sick.  Jan then commented that the reason was probably more likely that she hated quilting across all those pieced intersections.  (Which I can totally relate to, now that I'm quilting an Irish chain quilt.)  Interestingly, when the quilter came to those intersections, she only quilted them on the top of the quilt.  I would never have thought to do that, but it's a great solution to not quilting through all those layers of fabric.  You'd think it would look bad on the back, but it looks like a series of dashed lines — very cool and certainly acceptable.  You can bet that I'll be using that little trick in the future!
All the fabrics are from Bonnie and Camille's Bliss line, plus I added a solid red and aqua.  The quilt is backed in one of the bliss prints and then bound in the red honeycomb dots (I probably should have used a stripe — the dots look a little wonky in places).  This is a big quilt — 88″ x 88″ — nice and big for tucking in the sides on a double bed.  And a perfect surface for a big fat kitty (who got kicked off right after this picture ;-D).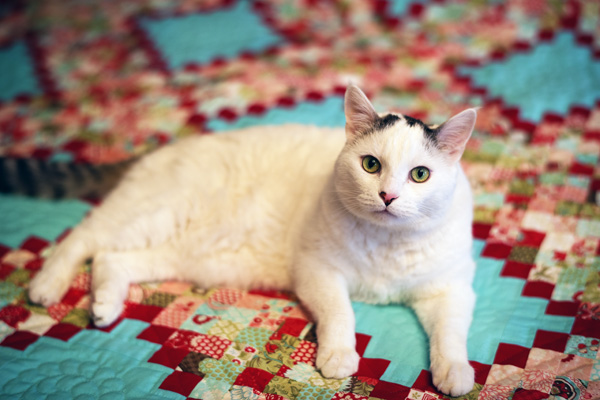 So, that's all from here. I hope you have a good week — I'm looking forward to our family gathering, even if it's for all the wrong reasons. ;-(
XOXO,
Anna