Well, how was Thanksgiving for you Americans?  Are you stuffed?  With your fill of turkey and pie???  We had a wonderful time — it's always fun when everyone can get together.  The weather was perfect for late November.  And, as always, with our crew, it wasn't uneventful.
The highlight definitely had to be when CrazyBIL opened a bottle of homemade brewski and it went everywhere.  Fortunately, the kitchen ceiling hasn't been painted yet.  Sorry for the blurry picture, but I was laughing — at the panicked cleanup and the opportunists in the family.  Not sure I'd want anything dripping off of the ceiling, but apparently some people will take it however they can get it!
Ahem.  I LOVED having a whole week off of work — I could definitely get used to that.  The weather was so beautiful that we spent two full days doing yard work — the annual pesky leaves have been conquered.  And FINALLY, I managed to finish the piecing on the Bliss Quilt (so named because the fabric is from Bonnie and Camille's Bliss line from last year).  Sadly, by the time I had time to take pictures, it was rainy and gloomy outside.  Sorry for the dismal indoor lighting, but you get the idea.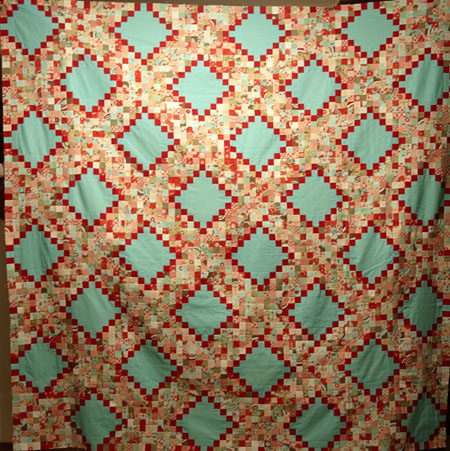 As you can see, it's a remake of The Ugly Duckling.  (Which is perfect, 'cause I'm betting after I'm gone, someone is going to wonder what I was thinking with that aqua — it's meant to be bold like the pink in The Ugly Duckling.)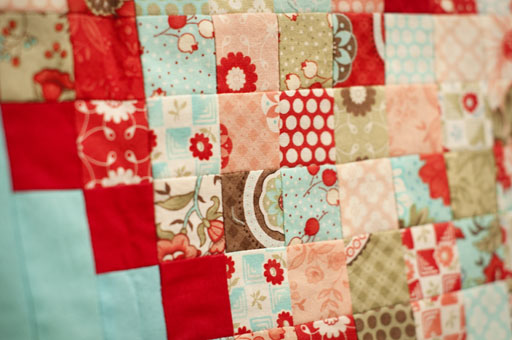 I don't make quilts out of collections very often, but I love these fabrics and I thought it would be fun for this remake.   Each little square is 1 3/4″ x 1 3/4″ just like in the original.  I chose to piece the solid blocks a little differently than from the original and I decided not to do borders.  I also didn't pay too much attention to which fabrics touched which fabrics.  Every once in awhile I'll spot two of the same fabric touching each other.  And in one spot there's a row of 5 green pieces — doh!  I'll leave it as is though — hopefully, it will make someone wonder what happened.
It's a big quilt — weighing in at 88″ x 88″.  I wanted it to be big enough for a double bed and be able to tuck in all around the sides of the mattress.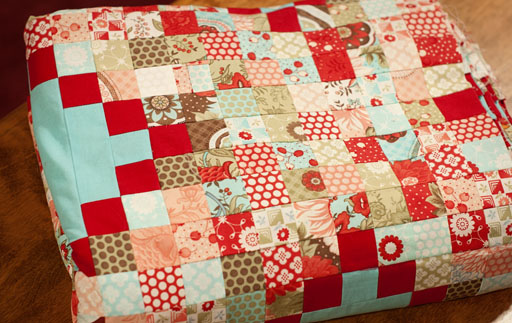 So, here she sits all ready for some quilting.  The big debate has been whether to machine quilt or hand quilt.  I'm thinking hand quilting will win out.  Cross hatching with some sort of wreath or something in the aqua blocks.  We'll see.  Hopefully, someday, you'll see the finished result.
Yipes!  Now, we must think about Christmas.  I'm just not ready — are you???
XOXO,
Anna