… is a failure to communicate.  Yipes.
Last weekend, I picked up the red and aqua quilt from our hand-quilter.  I finished this quilt top two years ago and took it her this past spring.  I was so excited because she had finished this good-sized quilt in record time.  But.  Can you see how she quilted it?   (Sorry for the craptastic pictures — it's dark by the time I get home from work everyday, so the lighting is just awful.)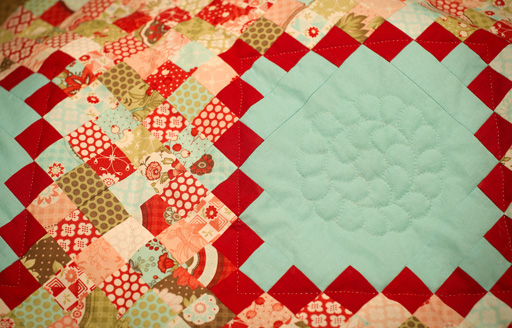 There's not much quilting at all on this quilt.  She basically quilted where I've shown arrows below and then did a pretty feather wreath in the center of each aqua block.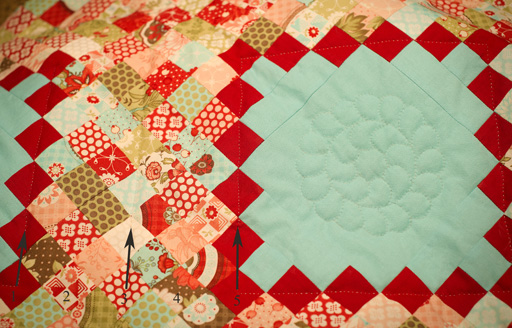 When I told her how to quilt it, I said I wanted a feather wreath in the center of each block and for her to cross-hatch in the little squares, quilting every other row.  "Every other row" appears to be the problem. If I number the rows like I did in the picture above, she quilted just as I requested.  But.  I was thinking to number the rows like I have in the picture below.  Shoot!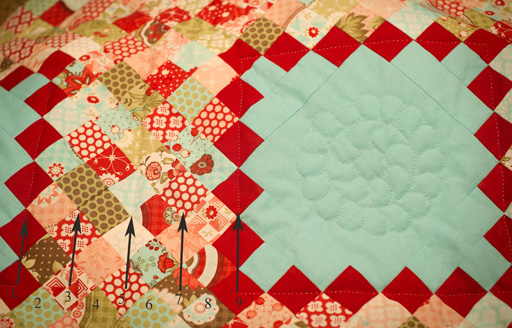 I love our little quilter.  We've been taking quilts to her for almost 25 years and she always does a beautiful job.  I just didn't have the heart to tell her that it didn't have nearly enough quilting (it's not like I paid for more quilting — you pay for how much quilting is done, which means this one was very inexpensive.)  Truth be told, I think the red and aqua was probably burning a hole in her retinas, so she quilted as fast as she could just to get rid of the ugly thing.  As soon as I got home, I popped the quilt in a hoop and tested a row or two.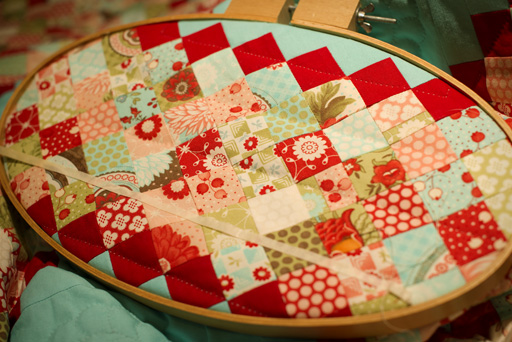 I'll quilt the missing rows and then fill in the cross hatching, like I've shown in the picture below.  I also told her to quilt 1/4″ inside the aqua block, but I think she forgot, so I'll add that too.  And maybe another circle around the feather wreath which seems just a bit small to me.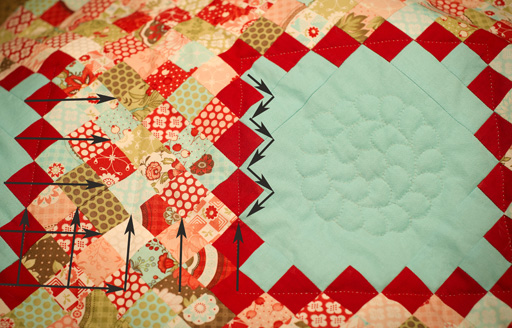 It's going to take me a very long time. There are 64 aqua squares in this quilt. Hopefully, I'll manage to get it done before I'm dead in the next two or three years. At least I don't have to baste it!!!  ;-D
XOXO,
Anna