Yipee!!! It's time for the Month 3 Aunts' Quilt Report! Technically, yesterday was the official day, and technically, I DID finish my blocks just in the nick of time (finishing up around midnight), but it was just too late to take pictures and report in. Then today, there was work and dinner with MeMum and BigDaddy, so there you have it. I'm a day late but not a dollar short — I'm all caught up for this month!
Here are the two pieced blocks for this month: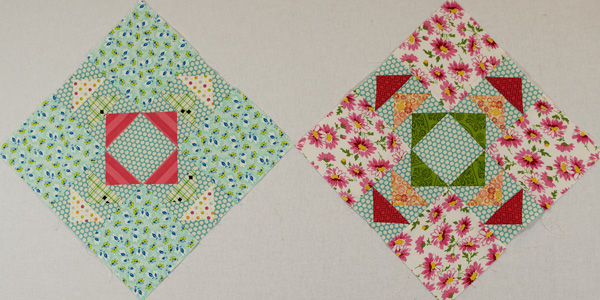 And the applique block: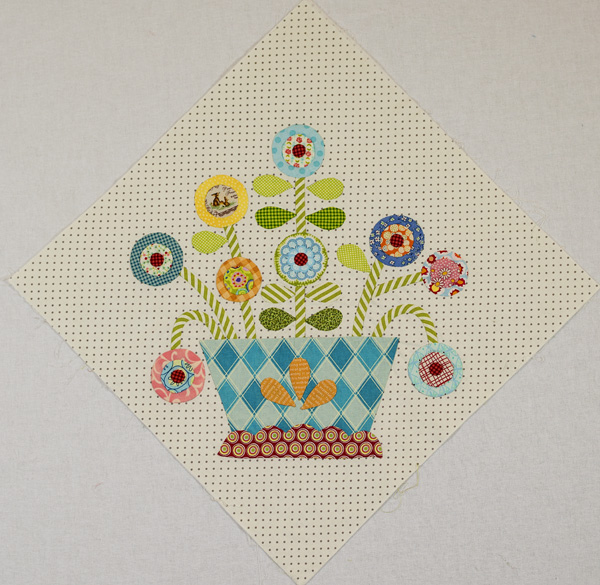 Ohmygosh! I'm having SO much fun with this project. I LOVE choosing the fabrics. I love second guessing and wondering what the heck was I thinking. In this case, I'm wondering about those red flower centers — not sure they will all stay. I thought it would be fun to give the flowers a little pizzazz. Then, I decided I really don't like them. But now, they're growing on me. We'll see.
And, last month, I had so much fun with the little puppy, that I thought I'd play around with maybe tucking a wee little animal into each block. This month it's a bunny. Sorry, the bunnies aren't very clear, but I hope you get the idea.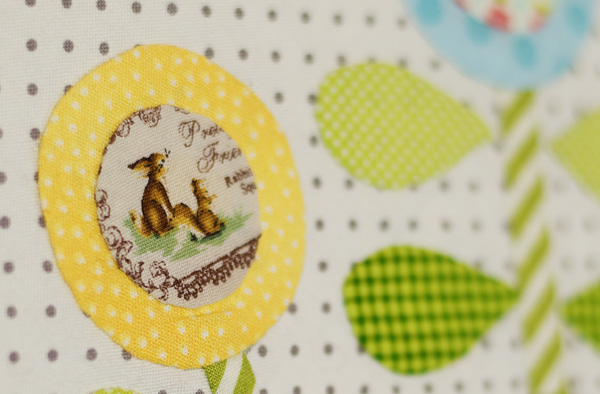 And the cookie of the month?  Well, it's freezing cold January (sorry, to you Auntlets down under) and I wanted a good, hearty cookie to keep me warm.  This months' cookies are Karen's Awesome White Chocolate Cranberry Oatmeal Cookies.
I've been making these cookies since 2008 when I first found them on Karen's blog and they're a big favorite. If you like the main ingredients, give them a try — I think you'll love them! (As you can see, the Kitchen Pig was VERY interested the day I was baking them!)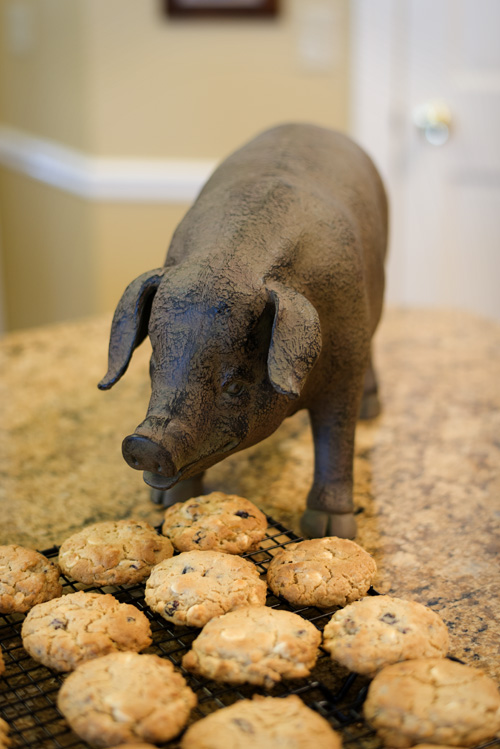 For you little Auntlets, I hope you're having a good time with this quilt. Once again, kudos to Karen R, our star pupil, for being the first one done this month.  Some of you have been working very hard to catch up — Yay!!! Keep going and by next month, you'll be all caught up.  Some of you are struggling a bit.  Clear your calendar — it's worth it!  If you haven't started yet, don't be afraid — it really is a lot of fun!
Ok, be good kids, and have a great weekend!
XOXO,
Anna