Whew! We've had a whirlwind of a day here in ThimbleannaLand! TheFirstChild and SweetiePie were here for a very short 10 hours (it's their year to spend Christmas with her family, so they stopped by here early.) It was non-stop fun — we went bowling, held the gingerbread competition and had our little gift exchange. They left at 1 a.m. and hopefully they're home safely by now.
In the middle of it all, there has been some serious — and I mean SERIOUS — hyperventilation going on around here.
OHMYGOSH!!! It's Here. IT'S HERE!!!
It'sHereIt'sHereIt'sHereIt'sHere!!!!!!!  HERE it is!
And Holy Cow — it's absolutely gorgeous! I mean Really. Words can't express how beautiful this quilt really is. And the pictures truly don't do it justice.  (I had to take some snow pictures — Just for you Kellie!  It's so amazing to me that in only five days, this quilt went from being in Hot Australia to landing in the cold snowy midwestern United States.  Poor shivering little quilt — it probably wishes it could go back home!)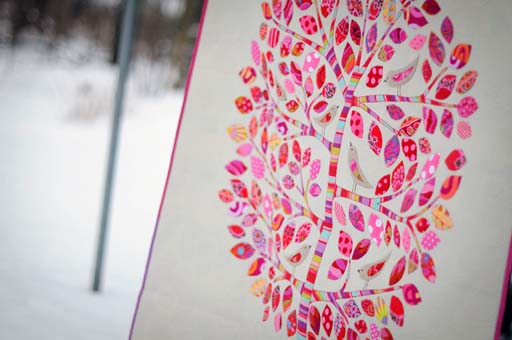 Oh. Just in case you've been hiding under a rock you're new to this blog or Kellie's, several months ago I won this fabulous quilt from Kellie at Don't Look Know. Shortly after I ripped open the package today, I took it to our family get-together where there was MUCH oooohing and aaaahing and quilt fondling. And fortunately, I came prepared with paper bags.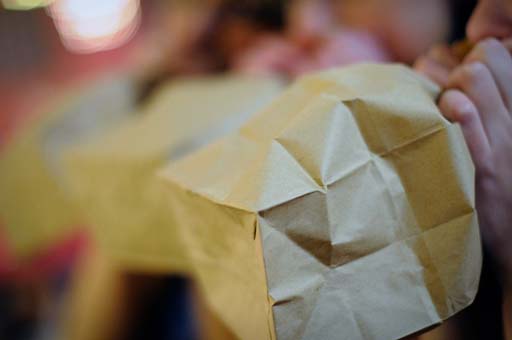 Because, there was MORE hyperventilating. I had BIG plans for this quilt. I reasoned that if I could only SEE Kellie's fabulous machine quilting up close and personal, surely I'd be able to teach myself how to machine quilt the way Kellie does. Silly Me. There is No. Way. On. Earth. I could ever quilt as beautifully as Kellie does. She jokingly mentioned in her note "don't look too close". That just made me laugh. Seriously. Those quilted circles are perfect. PERRRRR-FECT! So, So Beautiful! (And look at the adorable bead eyes on those birds!)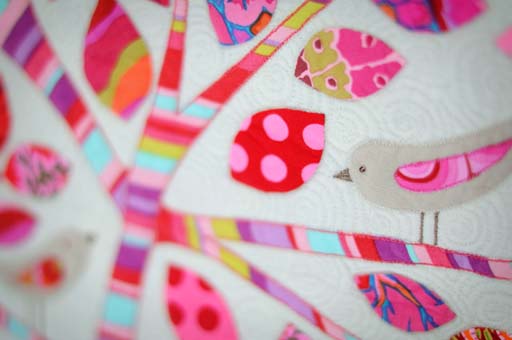 I feel so Very Honored to have this quilt.  And it means so much more to me than just a quilt.  The fact that quilters who live half a planet away from each other can become friends, never ceases to amaze me.  And then…to have such a beautiful piece of workmanship to remind me everyday — wouldn't you hyperventilate too?  Look at this adorable quilt label that Kellie put on the quilt.  It tells the story of the quilt.
Kellie. I wish I knew how to truly thank you. There just aren't words — and words aren't enough. Thank You. Thank You SO Very Much! I'll treasure this quilt always, and I promise I'll take very good care of it. Did I tell you thanks? Danke. Dank u. Merci. Grazie. Obrigado. Gracias. Thank You from the bottom of my heart. You. Are. Amazing!
And, (and for the rest of you too) a very heartfelt wish for a very Happy Holiday season. Merry Christmas to those of you who celebrate.
Merry, Merry Christmas!
XOXO,
Anna