Thanks for all the Liberty Bib love!  As I mentioned in my last post, I also made a few quilt blocks when I was making the bibs.  I made some of these little 3″ Churn Dash blocks a month or so ago and I wasn't sure if I'd want to continue making them.  I think a quilt of hundreds of these little blocks would be so cute.  I posted those first three on Instagram, wondering if I would be dead before I could make enough for a whole quilt, and the comments were so fun and supportive that they sent me over the edge.  They're time consuming little blocks, but, as Jan said, if I just keep chipping away at them, sooner or later, I'll have enough to make a big quilt.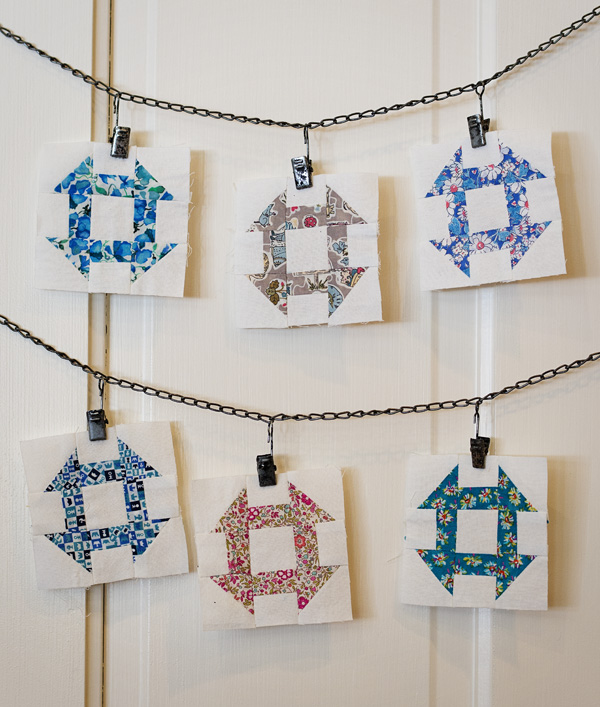 So, now I have a plan.  I think I calculated that I'll need around 360 of them.  I'll probably start out making three of each print and work on them for the next few years.  They're just so sweet and I love them!
I had a question about the dimensions of these little blocks, so I thought I'd show you how I made them — in chalkboard form.
Cut your pieces as indicated.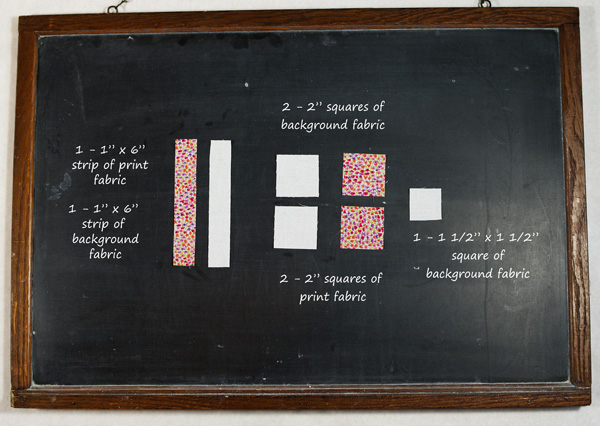 Just a little summary ;-D.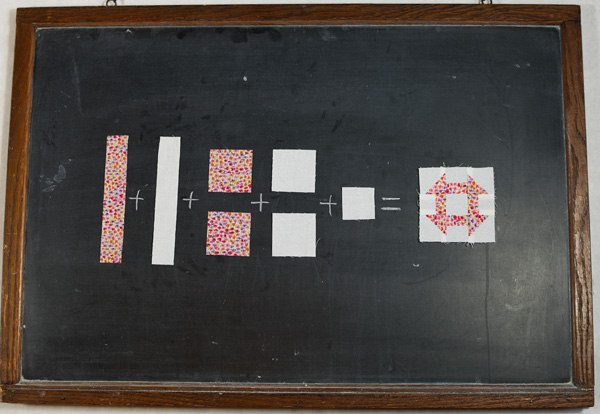 Stitch pieces together (right sides together!) as indicated.  For the squares, draw a diagonal line on each of the 2″ white squares of fabric, pair each with a print fabric, and then sew a 1/4″ line on each side of that pencil line.  Then cut along the pencil line.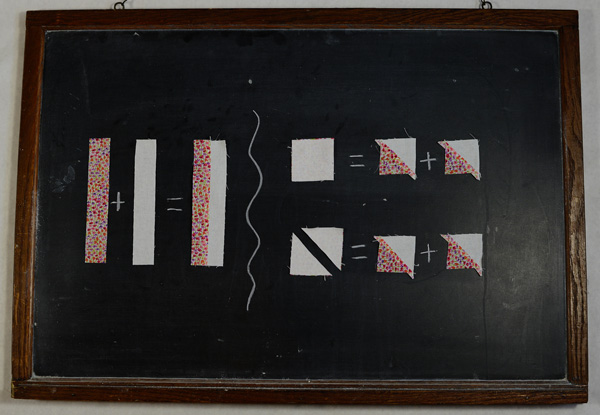 Using your favorite method, square those little half-square triangles up.  They should measure 1 1/2″ x 1 1/2″ when you're done.  It's a tedious job, but it makes your final square so much more accurate!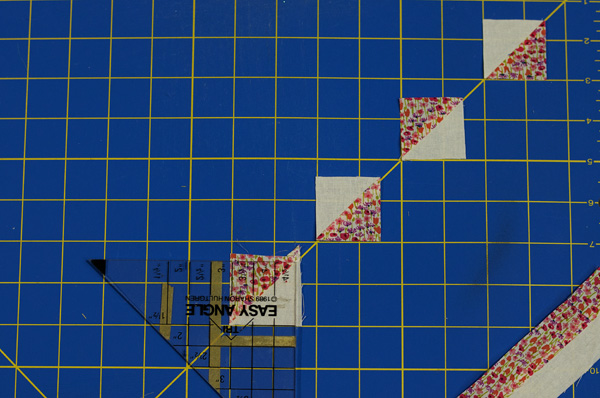 Another summary.  Be sure you're pressing your seams to the print fabric side (we don't do open seams in ThimbleannaLand!).  Cut that 6″ strip into four 1 1/2″ lengths.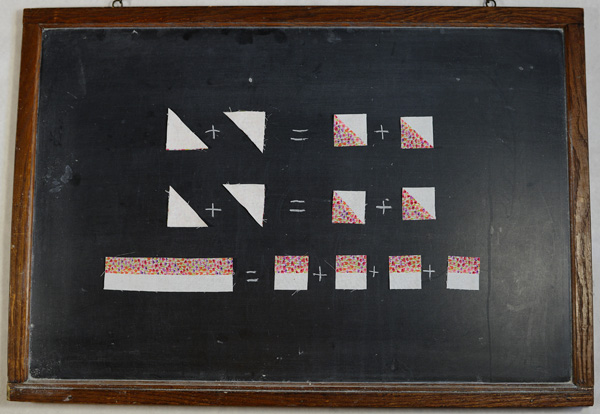 Sew together as indicated.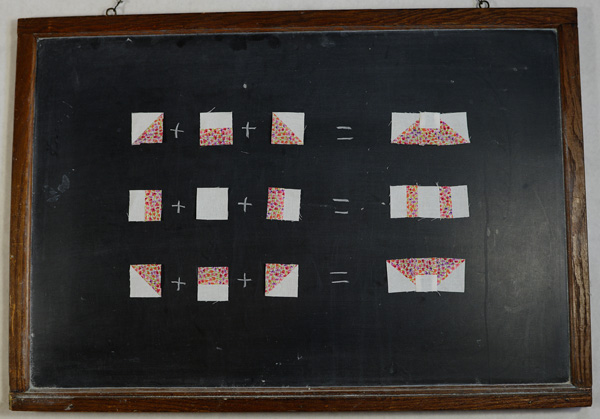 Press seams in the direction of the arrows.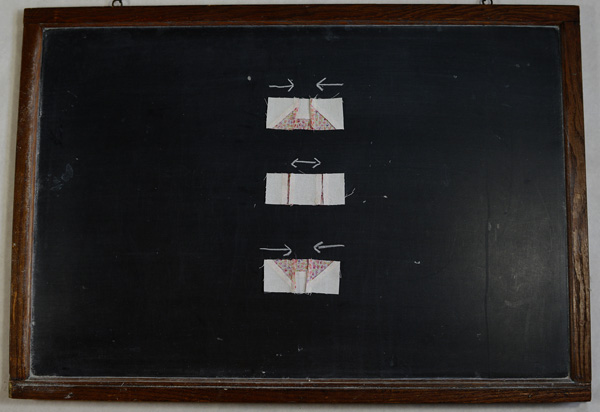 Sew together as indicated.  If you followed pressing instructions, your seams should nest right up against each other.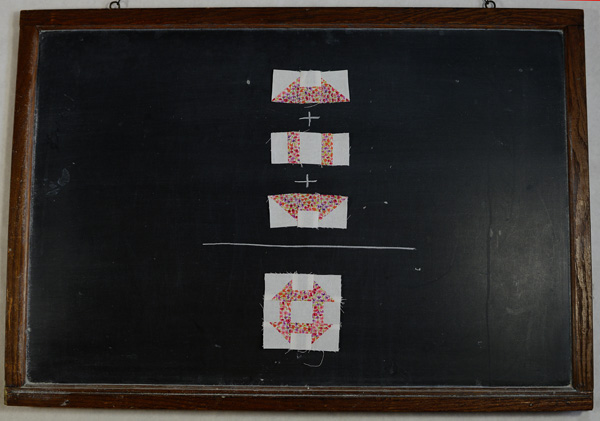 And … you're done!  Press those last two seams as indicated by the arrows.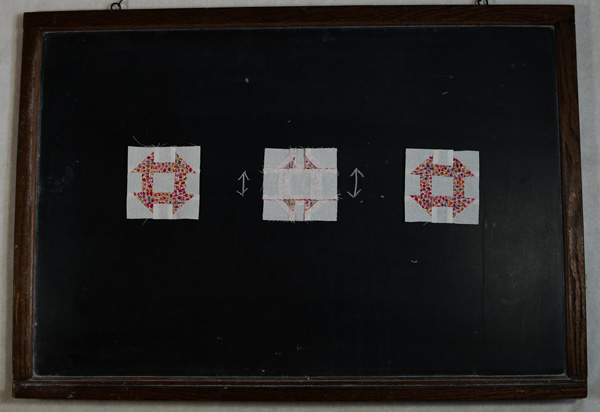 Itty Bitty Churn Dash blocks are fun.  Especially out of beautiful Liberty fabrics!
And, if that wasn't fun enough, I thought you might like a picture of the squirrel buffet that BigDaddy is running at his house.  This is the view from the kitchen table — MeMum and BigDaddy can eat their breakfast and dinner with the squirrels just 12 feet away.  You can't see it in the picture, but, just to the left of the feeder is a small Chinese Maple tree where there were two more squirrels waiting for their turn at the feast.  BigDaddy loves his animals — No Squirrel Left Behind!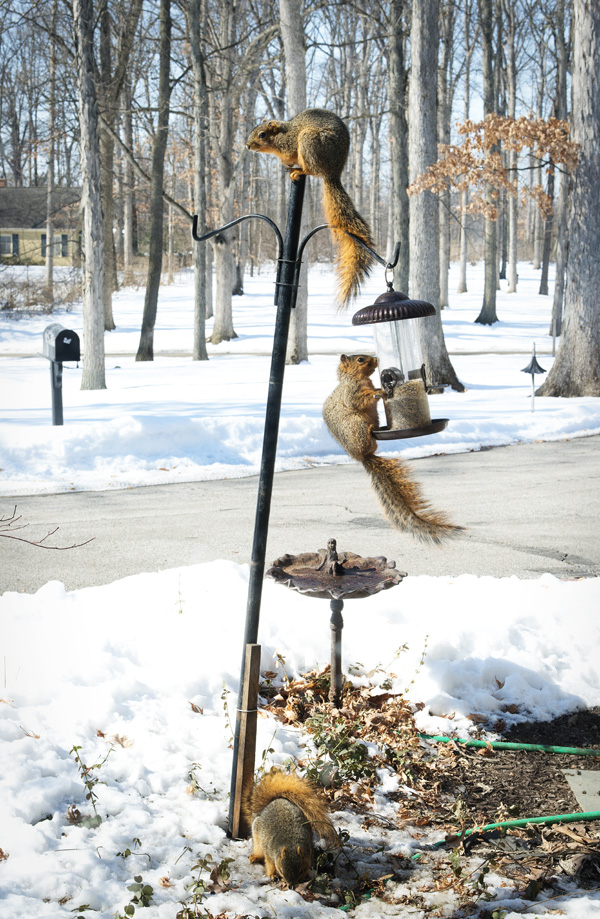 Have a great weekend!
XOXO,
Anna