Well Hello! At last, I'm back from my travels. I had a fun trip and I can't wait to go through all my pictures and post a few of them!
In the meantime, it's my turn on the Good Neighbors Pincushion Party blog hop. If you're a quilter, you're sure to know CrazyMom. She chose her blog name well all those years ago — she IS Crazy! CrazyMom is also amazing. She's a non-stop ball of quilting fire — oh, to have all of her energy!  She makes an unbelievable number of quilts (I LOVE her 101 Scrap Projects!), writes patterns, teaches quilting classes, co-authored a book, and NOW she has her first fabric line. I'm SO excited for her, and when she asked me to be part of her pincushion party, I jumped at the chance!

Her new line is called "Good Neighbors" and it's classic CrazyMom style — bright, happy colors, just like her quilts. (I shamelessly stole that little picture above from the Connecting Threads website so that you could see some of the variety of the prints in Good Neighbors.) I love that this line is called Good Neighbors — I'd love to swap these fun fabrics over the back fence with CrazyMom — I can just imagine how fun it would be to have Ms. Crazy herself as my neighbor — my Good Neighbor!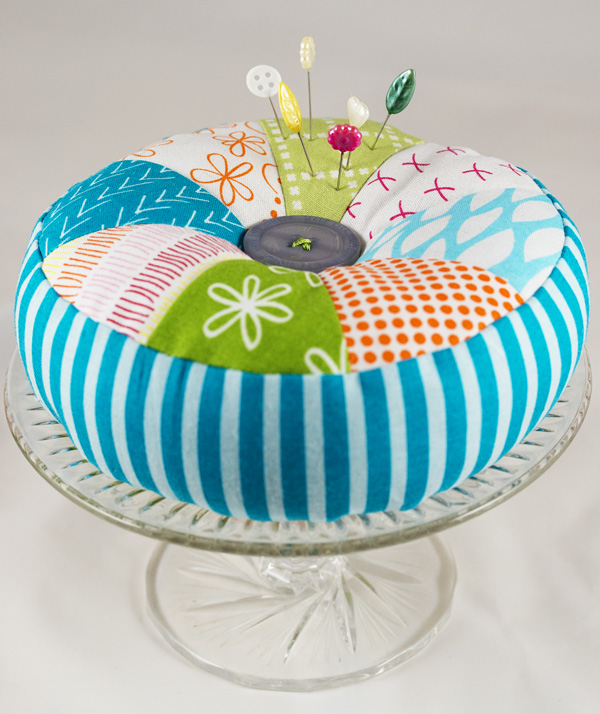 Anyway, on to my pincushion. I knew right away that I wanted to make my favorite pincushion again — Posy Pin Pie by Jillily Studio. This is a large pincushion and it holds lots of pins and needles and … stuff. I love a jumbo pincushion! Because it's such a big pincushion, stuffing it with all walnut shells would make it pretty heavy, so I chose a half 'n half stuffing. Half fiberfill and half walnut shells. (Fiberfill on top, shells on the bottom.) In my book, it's the perfect weight.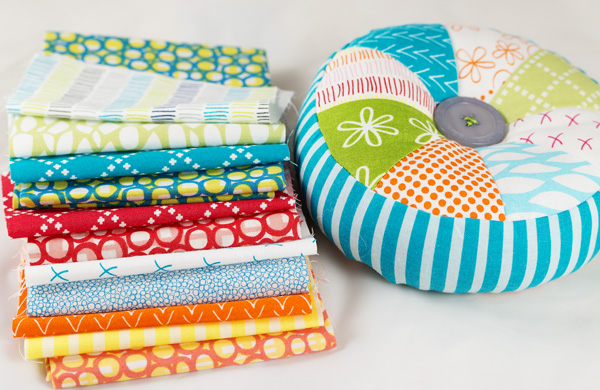 CrazyMom's fabrics are so fun and versatile.  I had fun choosing which fabrics to put in my pincushion.  And look at the little discovery I made — Good Neighbors goes perfectly with Jen Kingwell's Gardenvale (I mixed them up in the pile above) — how fun is that???
So, would you like a charm pack of Good Neighbors for yourself? Just leave a comment — and to make it fun, tell me the top vacation spot on your bucket list (i.e., where is the one place that you really want to go where you've never been before.) I'll draw a random winner by Tuesday, September 15th. (Sorry, this drawing is only open to U.S. and Canadian residents.)
Also, you can check out the full Good Neighbors collection at Connecting Threads.
And be sure to check out the rest of the cute pincushions in CrazyMom's Pincushion Party!
9/1/2015 Amanda Jean – Crazy Mom Quilts
9/2/2015 Anna – Noodlehead
9/3/2015 Mary – Mary on Lake Pulaski
9/4/2015 Svetlana – Sotak Handmade
9/5/2015 Debbie – Esch House Quilts
9/6/2015 Holly – Bijou Lovely
9/7/2015 Carla – Grace and Favour
9/8/2015 Faith – Fresh Lemons Quilts
9/9/2015 Vanessa – V and Co.
9/10/2015 Anna – Thimbleanna (that's Me!)
9/11/2015 Krista – Poppy Print Creates
9/12/2015 Erin – Why Not Sew
9/13/2015 Lee – May Chappell
9/14/2015 Alex – Tea Ginny Designs
9/15/2015 Cheryl – Nap Time Quilter
9/16/2015 Penny – Sew Take a Hike
9/17/2015 Amy – During Quilt Time
9/18/2015 Debbie – A Quilter's Table
9/19/2015 Anne – Spring Leaf Studios
9/20/2015 Melissa Corry – Happy Quilting
9/21/2015 Amber – One Shabby Chick
9/22/2015 Nettie – A Quilt is Nice
9/23/2015 Adrianne – Little Bluebell
9/24/2015 Cindy – Live a Colorful Life
9/25/2015 Amy – Diary of a Quilter
9/26/2015 Chase – Quarter Inch Mark
9/27/2015 Rene – Rene Creates
9/28/2015 Erin – House on Hill Road
9/29/2015 Nicole – Modern Handcraft
9/30/2015 Teri – Connecting Threads
Good Luck!
XOXO,
Anna