Well Hey There!  I'm finally back from our little getaway trip out west.  We were gone for two weeks (didyamissmelol?) and had a wonderful time.  TheFirstChild, SweetiePie and I drove out, then TheSecondChild joined us for the second week and TheFirstChild flew home early — I think one cross-country drive was enough for him!
Our trip started off with a big bang and a quickie visit with my beloveed Ms. Farmhouse.  She very graciously provided beds for us in her gorgeous home.  Our visit was way too short, but it was so fun to see her — we normally only get to catch up at quilt markets.  One of the best things for me was to see her beautiful nest.  Boy, oh boy, what a sewing room — this is only part of it!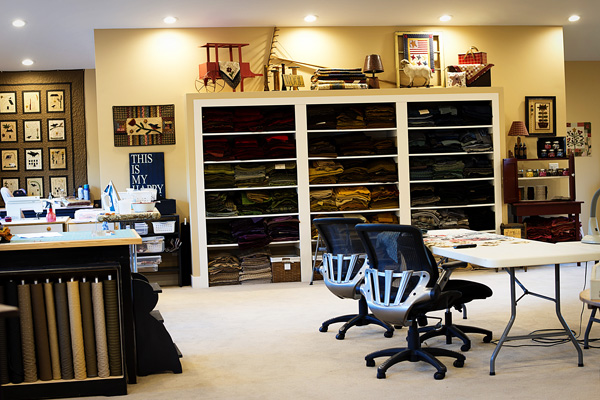 And the best part is, the kids thought I was over the top with my little quilting hobby.  Thank you Ms. Farmhouse for making me look normal — the kids commented that I've found my twin.  (If only my dungeon could come close to being a twin to the nest!)
The second day of the trip, we made it almost to Calgary and then our final destination, Banff, on the morning of the third day.  Wow, oh Wow!  Banff National Park is just beautiful.  I don't even have the words to describe how lush and green and pretty it is.  We spent our three days there hiking and seeing some unbelievably gorgeous lakes.  The aqua blue colors in the lake water were amazing.  Beautiful (and famous) Lake Louise: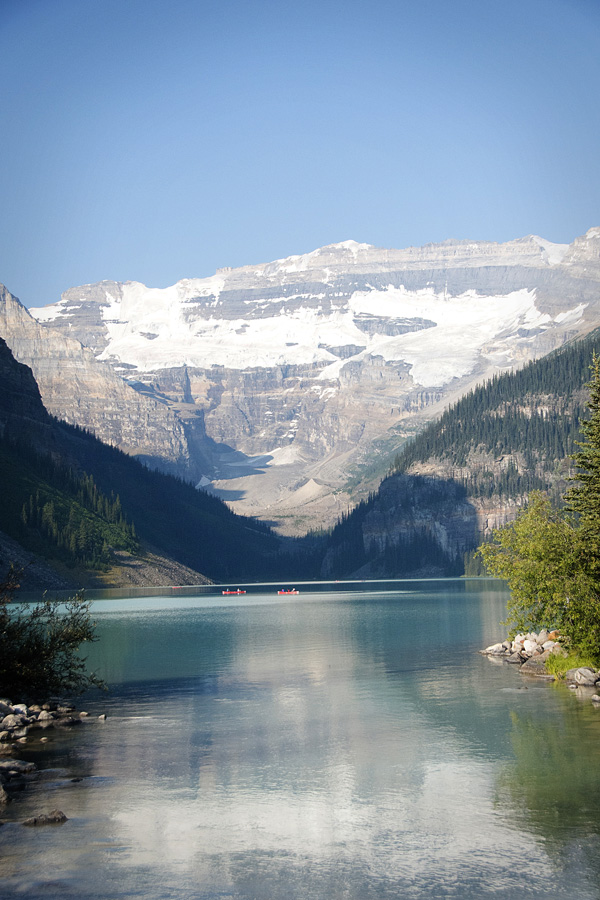 Peyto Lake: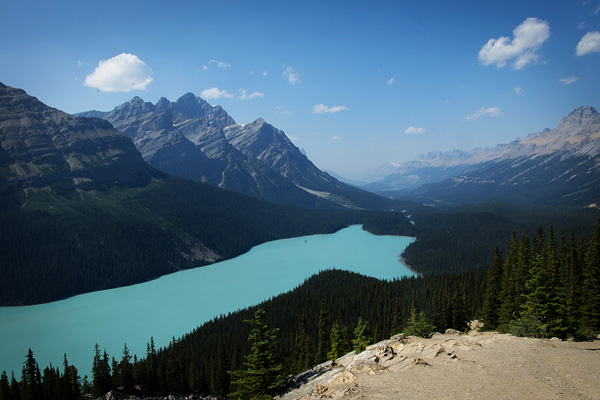 And, my favorite, Moraine Lake.  If you're on Instagram, you see lots of people taking pictures like this one — sitting on a rock, overlooking the lake.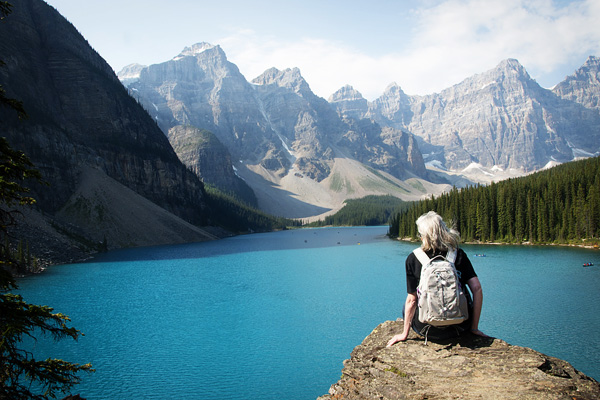 And here's a tip about that rock-shot:  When you first arrive at the end of the lake, you see this huge pile of rocks.  SweetiePie somehow knew that the rock-shot happens from the top of this pile.  Therefore, we needed to climb to the top of the pile.
First, you have to cross this log-dam.  If you slip off of a log, your feet end up in the lake.  Climbing up the pile was interesting — and fun!
So, where's the tip?  When we got to the top, there was a guy up there with a dog.  I asked him how on earth he got the dog up that rock pile.  He laughed at me and said there's a nice, easy path that goes up around the back of the rock pile.  Doh!  Oh well, I'm probably glad we didn't know about the path, or we would have missed the fun of almost falling off of the rock pile!
Emerald Lake: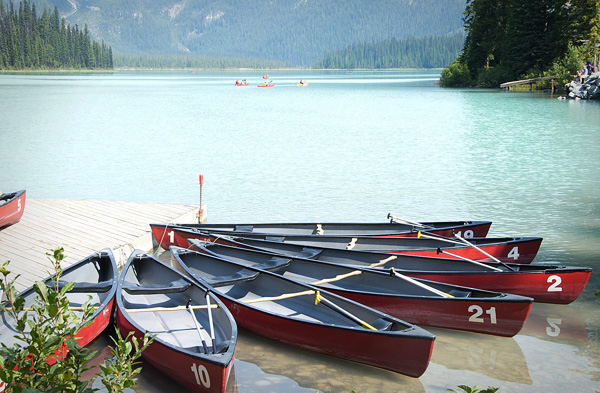 There's a beautiful hike around Emerald Lake through the woods. Very, very fun!
After three days in Canada, we made our way down to Glacier National Park in Montana. It's about a four-hour drive and it was surprising how different the mountains are — less dense forests, but just as beautiful. The more open areas had a big advantage — we saw no wildlife in Canada, but saw animals every day in Glacier.  The famous Glacier tour buses — they haven't changed since the 1930's.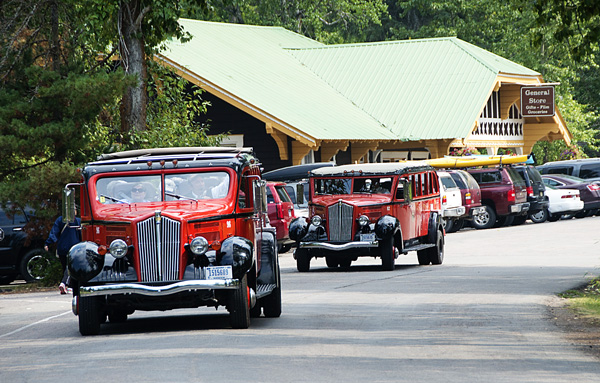 We spent all of our time in Glacier hiking and enjoying the views.  One of my favorite hikes was the Highline Trail.  There's about a quarter-mile at the beginning of the hike where you hike along a cliff.  The park service very kindly provides a cable to hold on to — so you don't plunge to the road 100-feet below.  ;-D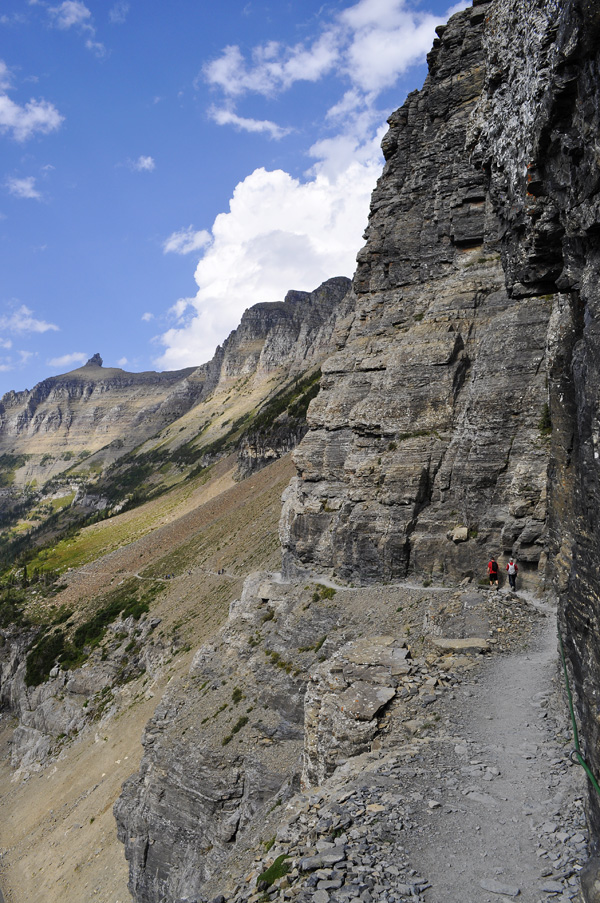 The view from the cliff was totally worth it.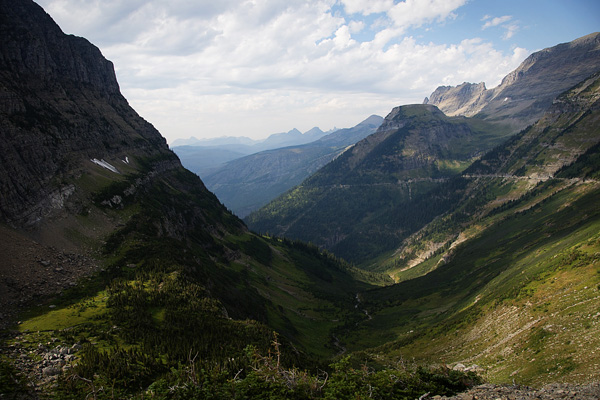 We did several other hikes in Glacier and I loved them all (if you go, don't miss the Grinnell Glacier hike!).  (As a side note — have you seen the funny video of the lady who tells you how to avoid a shark attack?  (Go watch it — it's too funny!)  You hear a lot about watching out for bears in Glacier (for good reason!) and the shark-lady says not to go into the bear's house in her video.  When we hiked through meadows like the one below, we were sure we were in the bear's house — tons of berry plants everywhere!)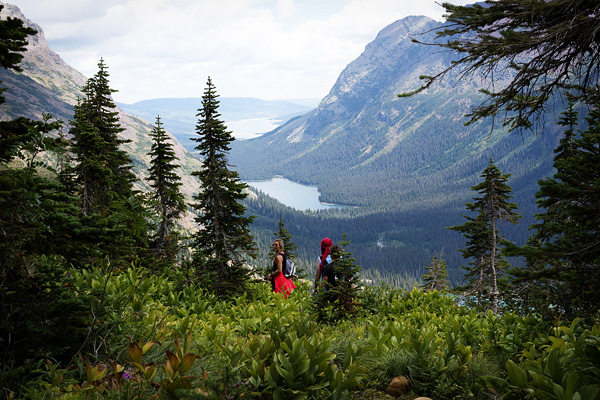 We also found some time for a little other fun — skipping rocks at the lakes,
Zip-lining,
And a visit to Polebridge, which the boys are convinced is inhabited by anarchists!
After just 4 days at Glacier, we took 3 days to drive home — it took an extra day because we stopped to see these guys: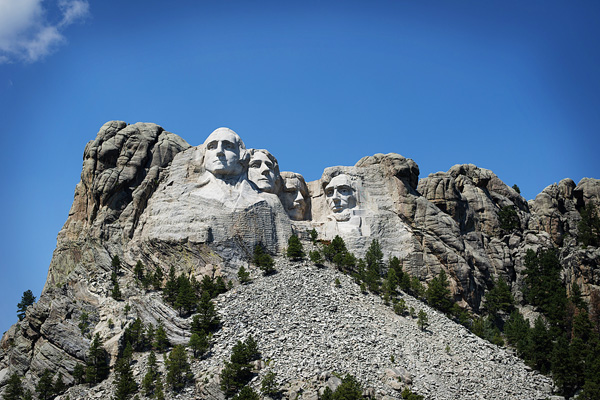 Anyway, it was a great trip — highly recommended if you haven't been to either of those parks. Especially, if you love to hike like we do!!!
Lots of fun stuff going on here (oooh, new fabric!), but it will have to wait. I'm off again in a day, on another little adventure. And then, maybe we'll get back to our regularly scheduled programming and some blog-reading!
XOXO,
Anna