Well Hey Kids!  I'm back from quilt market and VERY slow about posting pictures.  By now you've probably seen lots of pictures, which is a good thing 'cause my pictures just didn't turn out that great.  I was gone for a week — I took MeMum out to visit her sister, the Best Aunt in the World, Aunt Annie.  So, I only spent one day at market (+ sample spree – because you have to!) and it was all a blur.  I really only saw a few of my invisible buddies, and a few of those were just because I happened to run into them.  Ms. YellowFarmhouse was my Sample Spree/Lunch buddy  (Thanks Karen!) and I got to meet a long-time reader which was super fun (Hi Dara!).  And, before market I had lunch one afternoon with the Super Sweet CityHomeCountryHome and she helped me choose some yarns and patterns at the little yarn shop where she occasionally works.
So…my market visit was very short and I don't have a lot of pictures.  (I have mostly different shots on my Instagram account.)  I miss those days when we were doing booth setup and I could take pictures before the crowds descended on the booths.  Anyway, here are a few of the pictures that I did get —
There are always a few quilts displayed at market and I loved the mix of applique and patchwork on this quilt.  Not to mention the hand quilting.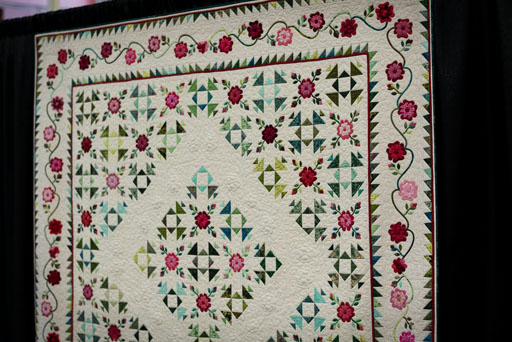 This quilt is by Susan Gorder of Green Valley, Arizona.  Such beautiful work!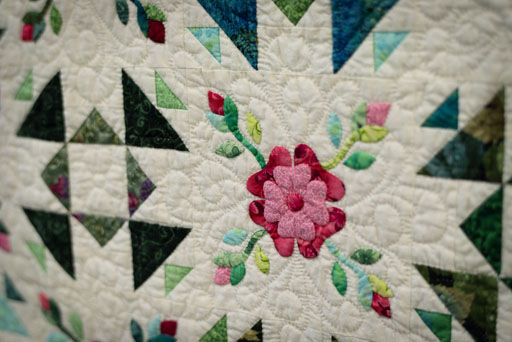 Here's Melissa Mortenson in her Wonderland booth.  I love those cute rabbits!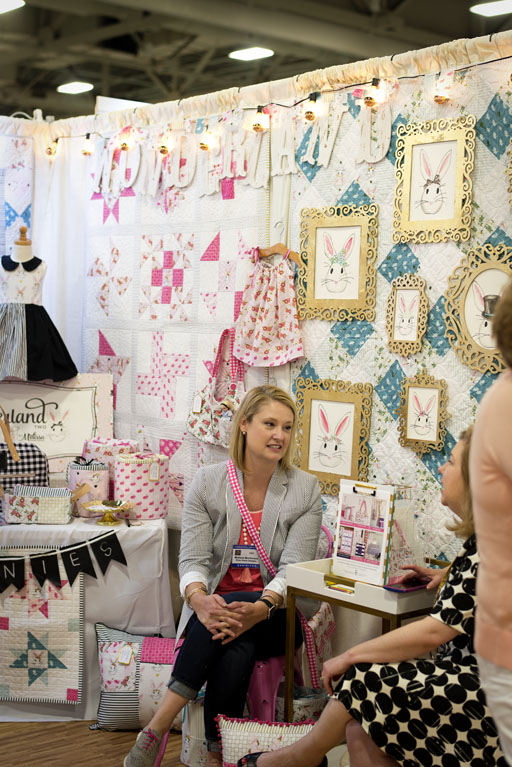 Sue Daley does amazing hand piecing and applique.  I always love to see her new quilts.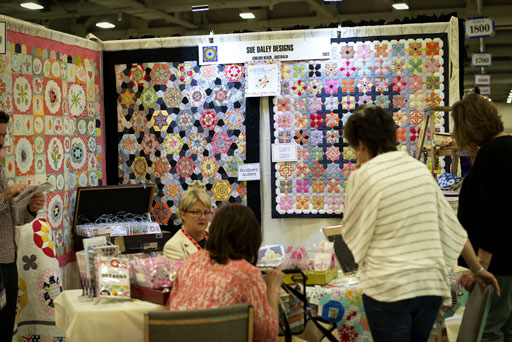 This is Simple Simon and Company.  I'll bet I saw at least 4 little teepees at market, but this one with the ruffle fabric was my favorite.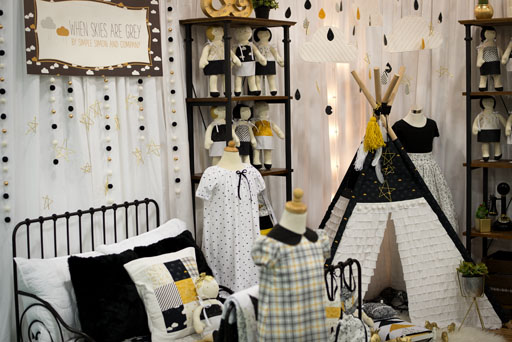 Fiberworks was new to me, but everyone else seemed to know about her.   Very interesting and beautiful quilts!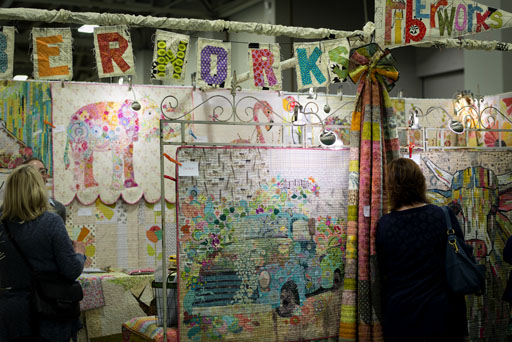 I mentioned on Instagram that I think the pending arrival of FinallyAGirl (it's getting VERY close now — eeeep!) had me checking out baby items like never before.  Sweet Melody Designs is a new designer with Shannon Fabrics.  Their cuddle fabrics are sooooo soft — I love them for quilt backs.  They were also doing a cool thing for little baby quilts — they put four layers of double gauze together to make the softest, most cozy little quilts.  They would be pretty pricey, but so worth it!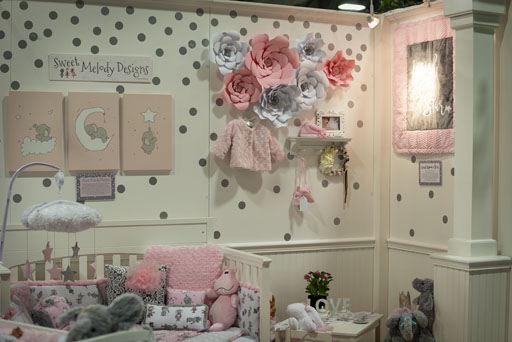 Here's one where they put double gauze on the front and cuddle on the back (and wrapped around to create a border). I could see a lot of possibilities with this technique.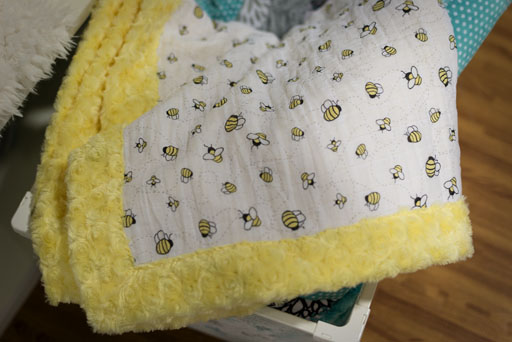 This booth had cute baby clothes made from recycled denim.  I'm debating whether a few of those prints will appear in my little shop — they're really soft and I think they're pretty cute!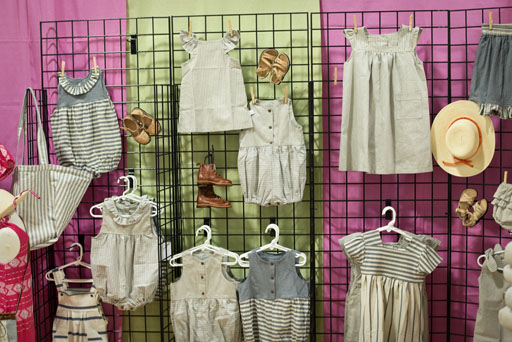 By now, I'm sure you've seen the Carina Gardner camper — very cute!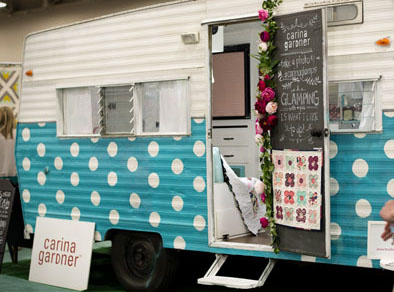 The moda booth is always fun.  They went with a camping theme and each designer was handing out little merit badges.  I didn't realize it until it was too late though — doh!  They'll be selling the badges, but it looks like the one I really want isn't available (hopefully, it will be eventually.)  It's hard to see it, but they had cute little mason jar lanterns hanging from their "trees".
Here's the Erin Michael quilt that you've probably seen by now.  Super Cute!  (Sorry for you cat haters out there!)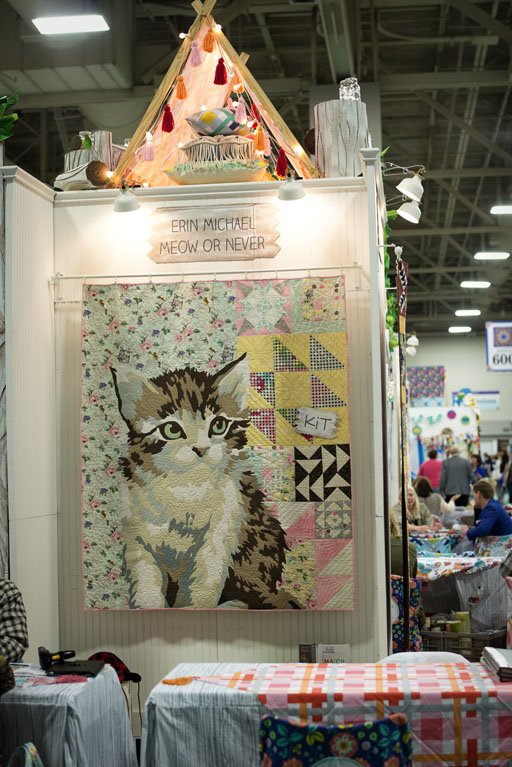 Amy Sinibaldi's pretty booth.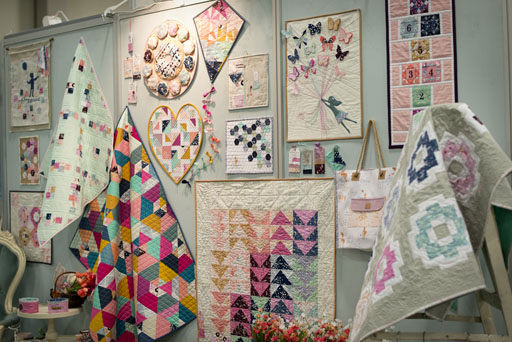 Little Dickens, by new Moda designer, Lydia Nelson.  She has a must-have sheepie print!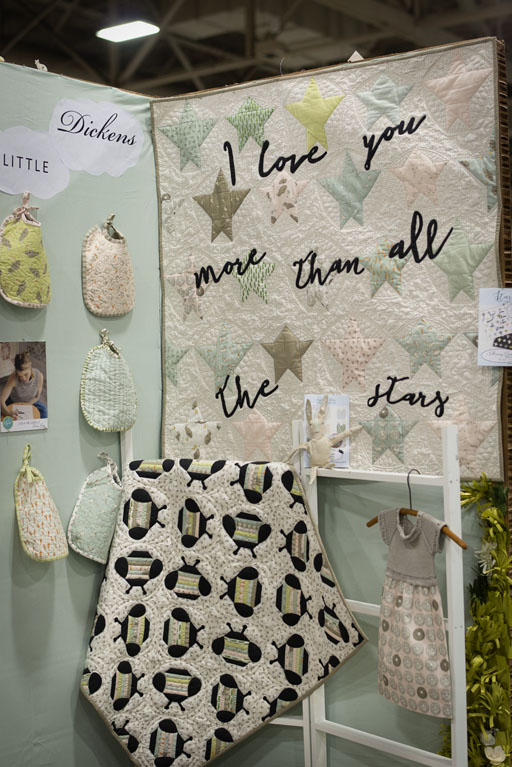 And hey – look!  It's our invisible friend Helen Philips and her beautiful book, Modern Vintage Gifts.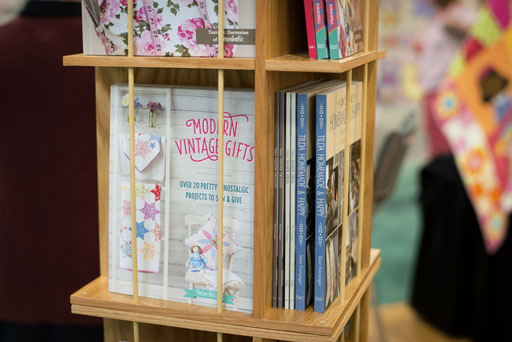 I always look forward to Brenda Riddle's pretty new collections.  She's had so many lately that I can't keep up.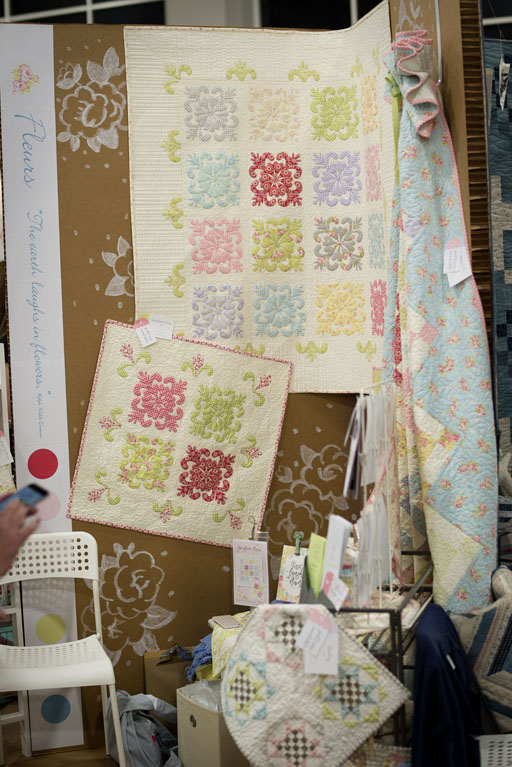 And, you can't really see the Bareroots booth, but I've just always loved their cute embroidery – they've been around forever!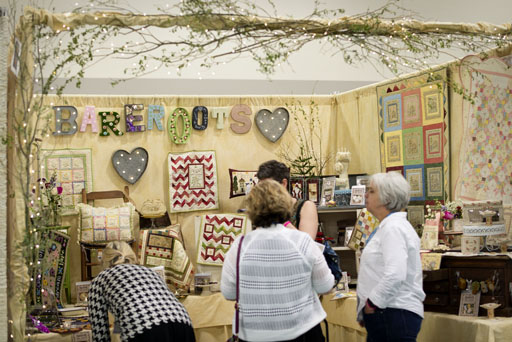 So, that's all I have for quilt shots.  Utah was absolutely gorgeous this year — I don't remember ever seeing her so beautiful.  They've had lots of rain this spring and the mountainsides were lush and green, which is unusual.  And the lilac bushes!  Every time I turned a corner there was another huge lilac bush just full of blooms — absolutely gorgeous!!!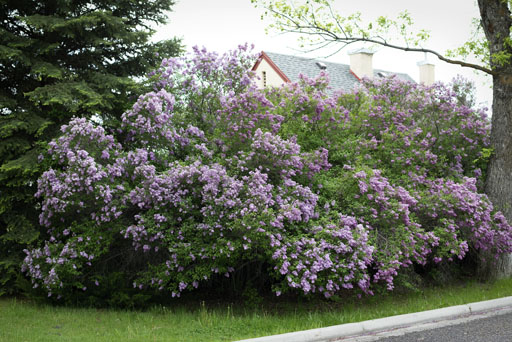 Have a wonderful weekend — and for you in the US, a Happy Memorial Day!
XOXO,
Anna