Man, I have no idea where the last week went. I feel like I just posted yesterday, but according to the calendar, it's been 8 days. Work, Work, Work, it sure makes time fly. I'm sure you're busy out there too — it feels like it never lets up, doesn't it?
I spent the whole of last weekend cleaning. and boy, was it ever needed. Sort of big cleaning. Like, clean the windows cleaning — I can't remember the last time I cleaned the windows. In addition to cleaning, we had a visit from Winston for a few days while the kids had a few days away. I enjoyed being able to take him on walks in the neighborhood. Spring is finally peeking out from under winter's rock — late, but here. And looky who we found on our walk: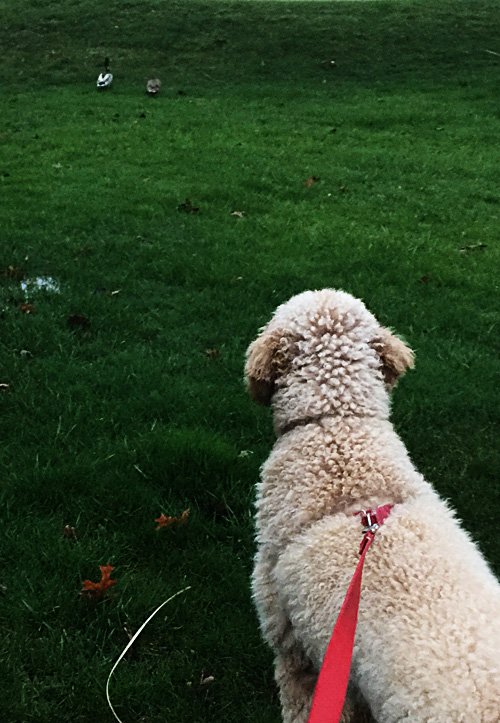 Can you see them? It's Mr. and Mrs. Duck!  Winston spotted them right away and wanted to go and play. Sorry about the picture quality, but I felt lucky that I had my phone with me. Anyway, if you've been around for a few years, you know that our duck couple is our official sign that spring has arrived. The trees are just barely showing a tinge of green and in spite of the snowflakes we saw this week,  beautiful weather is right around the corner.
In the meantime, I've been doing a bit of sewing here and there.  When I started the Aunts' Quilt, I mentioned to the Auntlets that they might want to think about prepping the scallops for the border as we go along, in order to save a ton of work at the end — only I haven't been following my own advice.  After I finished last month's blocks, I started to panic a little.  Only a few more months and it will be time to do those borders and I hadn't prepped any of the scallops.  So, this past week, I got with the program and prepped some scallops in the evenings while we watched tv.  Very fun work.  And pretty too!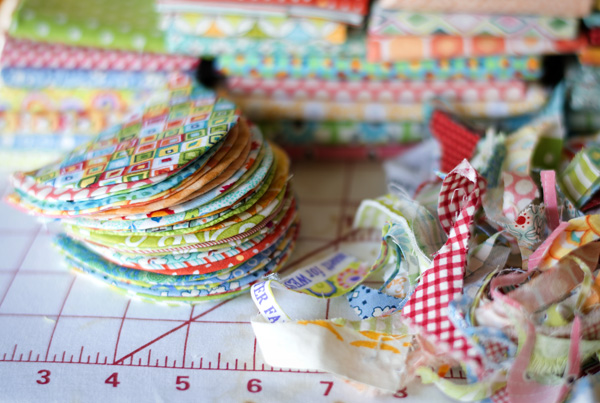 And there's been another little project too. There are a bunch of crazies over on Instagram and I've followed them over a cliff. They're having a quiltalong – you make a few blocks a month from the book "2001 Blocks of Patchwork" by Chuck (it's a woman!) Nohara. (Click on the link, scroll down, click on the book and you can view a few pages).  I need another project like I need a hole in the head.  But, the ladies are a fun group, and what's another deadline anyway?  It's good to keep busy, right?  I hope I can finish some of them in this lifetime LOL.  Anyway, here's my first block: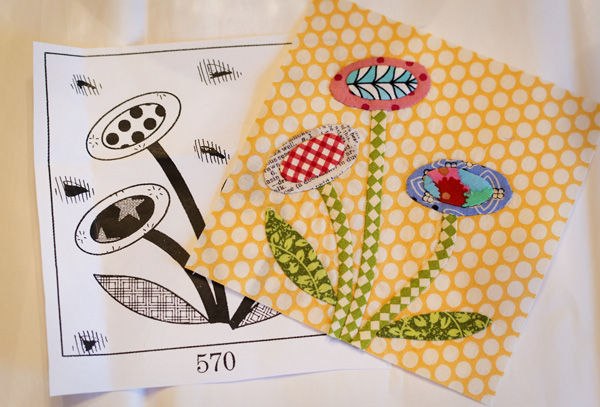 Before I go, here's a few fun links for you:
Randi is making smoothies and this one looks deeeeeelicious!
Flossie Teacakes wrote a great post about solids. Do you have a solids stash? Mine is sadly lacking. Hey — maybe we should have a Moda Bella Solids of the Month Club and build our stashes.
Speaking of Crazies, Ms. Ric Rac has her very first line of fabric coming out at market. Here's a peek. I can't wait to see it.
And finally, Irene has a new book coming out and I can't wait to see it too. Spring Quilt Market is almost here — lots of exciting things on the way.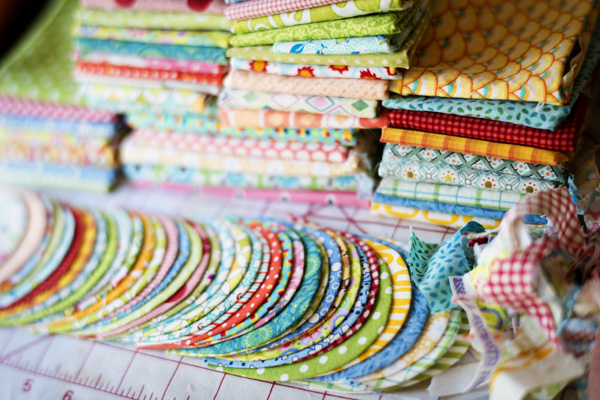 Ok, Peeplets — I'm off to bed. Have a great weekend!
XOXO,
Anna