Boy, I've had a little trouble finding time to blog this week.  It's been pretty hectic since I got back from quilt market — lots to do.  I had a great time though — market is always so fun — seeing people and lots of inspiration.
I met Kellie at market and we had a great time.  Kellie is opening a gorgeous new shop in Melbourne (you Victoria residents are SO lucky) and she was shopping for stock.  I joked how much fun I had spending her money, but it was really fun to sit down with vendors and see lots of fun stuff.  I hardly even know where to start.  My pictures are all over the place, so I'll just jump in.  I also posted a lot of pictures over on Instagram and I'll try not to repeat any here — although there are one or two.
One of the first booths we hit was Birch fabrics.  They had tons of adorable little baby onesies hanging on two racks.  I want ALL of their beautiful knits NOW ;-D.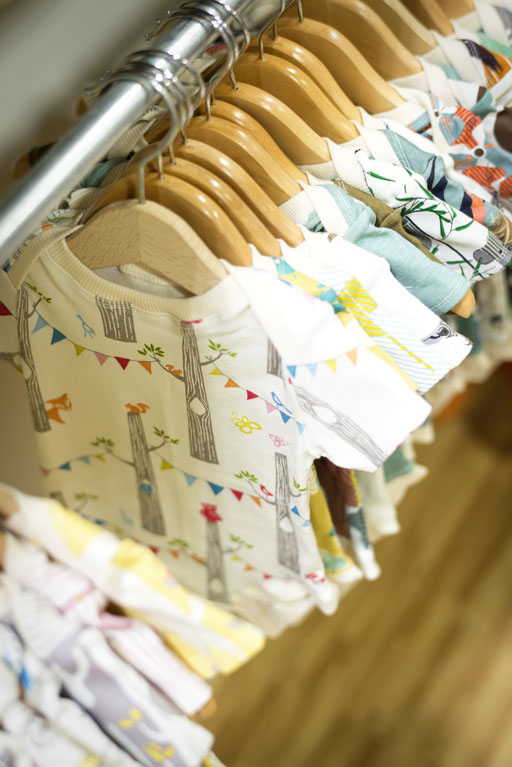 Another early booth was Art Gallery Fabrics.  They have such beautiful fabrics (I have a few sample spree bundles left over from them that will appear in my etsy shop in a few days) and there were lots of pretties in their booth.  I really like that big text fabric — it reminds me of the IKEA fabric that has been used a lot for quilt backs.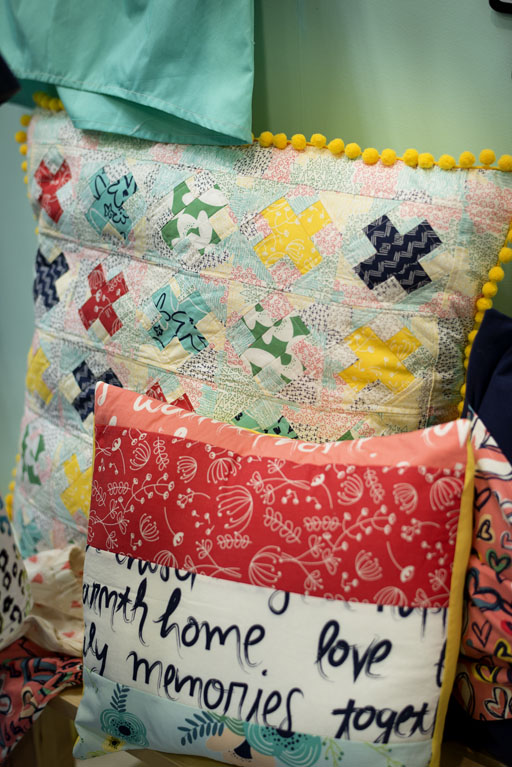 Art Gallery had all of their chairs covered in some of their basics fabrics — I loved it!
Lecein was another favorite.  And that cute little guy there taking orders was playing magnetic darts with people and giving prizes — lots of fun.  I LOVE LOVE their new lines of fabric — how I would love to have them all!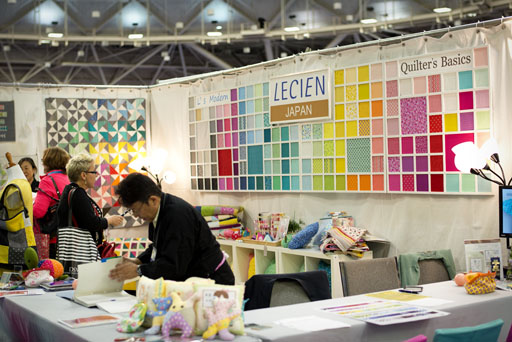 Brenda Riddle for Moda (more moda booths on my Instagram) — her new Windermere line is so soft and beautiful.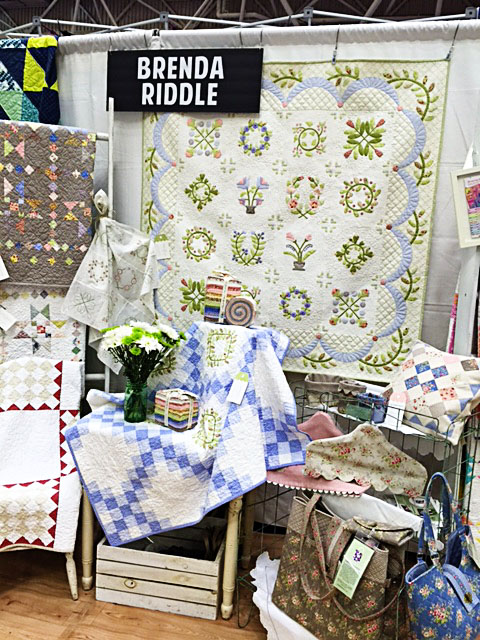 And here is the famous Small World quilt by Jen Kingwell (there's a new quiltalong starting for this quilt on IG if you're interested).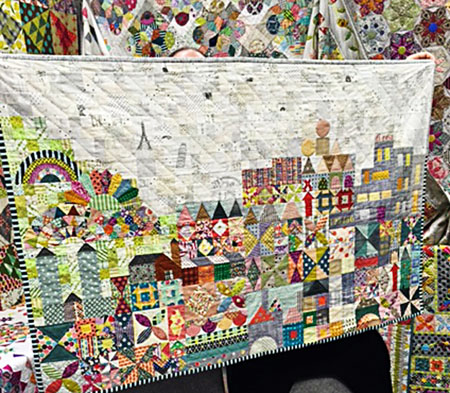 While we were talking to Jen, she asked what the quilt market buzz was, since she'd been unable to escape from her booth.  I noticed two things —
Darker, richer colors — almost like the jewel tones of the 90's, yet different (also a lot of purple) …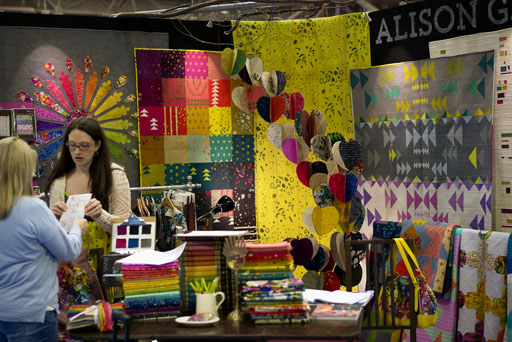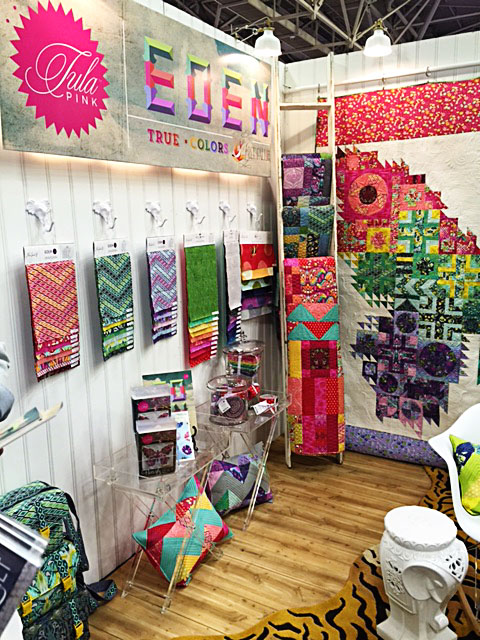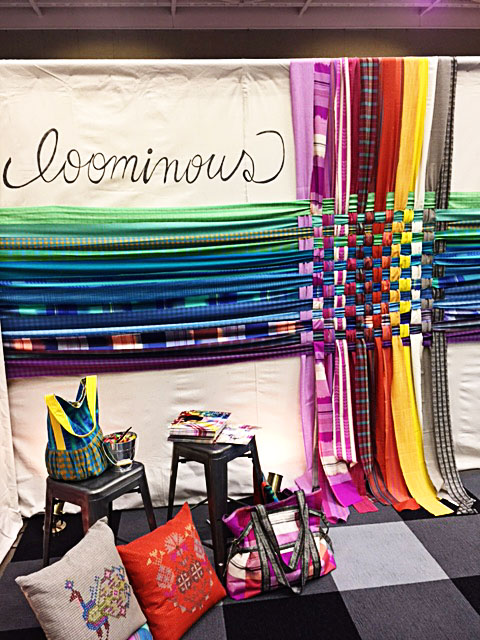 and gauze.  Gauze in a lot of booths.  People mentioned using it in quilts, but I think I would worry that the quilts would wear out too fast.  I would use it for things like clothing, swaddling cloths, and scarves.  A few booths sucked me in and there will be a few bolts arriving in my little etsy shop later this summer.
This was an interesting booth.  Chenille-It.  They have strips of fabric on rolls and you sew it to a background fabric.  Then, when you wash the quilt, the strips bloom and make chenille.  It looked like it could be fun.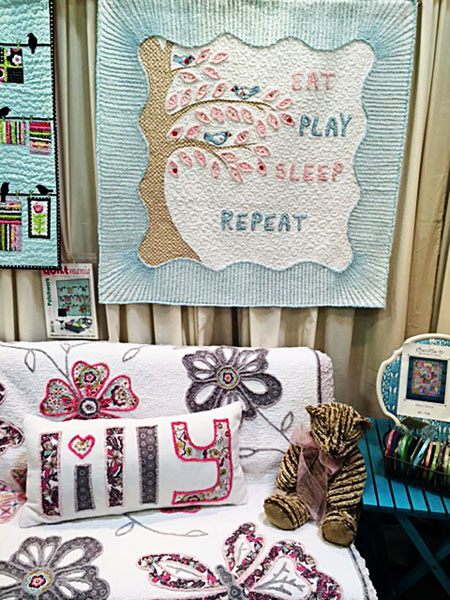 And here's a quilt that was on display as you entered market.  I thought it was your basic applique quilt until I got closer to it.
It's basically a bunch of quilted and bound mini-quilts that have been joined by a double row of yoyos that make sashing.  Very clever, and beautiful!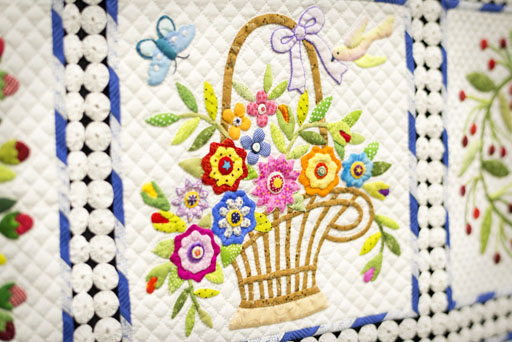 I didn't take as many pictures this year as I have in past markets.  I was probably just enjoying market — we had so much fun talking to people.  This was Kellie's first market without being in a booth and I felt like she was at market for the first time!
All in all, it was a perfect (exhausting) weekend!  Well, except for one little mishap.
Some wanker decided that he wanted an old rolly briefcase that I had totally forgotten was in the back of my car and he smashed in the window to get it. (I wish I had a picture pre-patch-job — it was pretty dramatic.)  Luckily, the case was empty. And even better, he didn't take all my sample spree loot that was in the back of the car – that would probably have ruined the trip. It made the ten-hour drive home a little noisy, but I survived.
And now, there's so much to do around here! The weeds are waist-high, the house is a disaster, and there's the matter of a little swap that needs to be completed. AND, SweetiePie and Winston are coming for a visit this weekend. So there will be a lot of playing and even a 5k to add to my already tired state. Busy is good, right?
Have a wonderful weekend!
XOXO,
Anna