Poor, poor little blog. It's just been so neglected. I'm blaming it on the Dog Days of Summer. It's been so slow around here with not very much happening. The days are long (work, work, work) and the weeks flash by. I have no clue where summer has gone — it seems like we were just thinking that FinallyAGirl would never get here and now she's two months old already!
Just the girls in the family snuck off for an afternoon last weekend and we had a quick visit with our little princess. It was short and sweet and oh so fun. And we weren't the only ones being sneaky — SweetiePie snapped this pic of us ladies oooohing and aaaahing over the baby.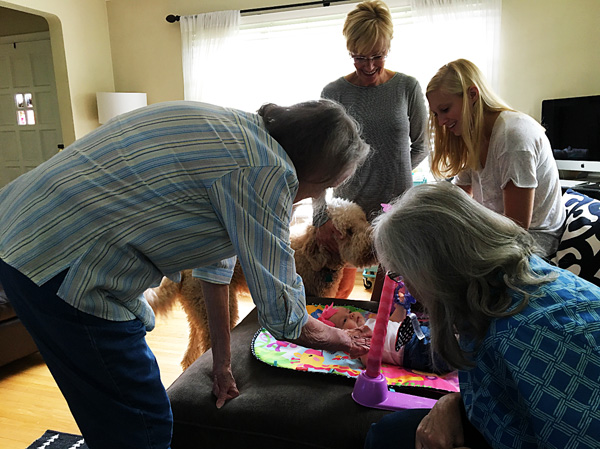 I love that picture so much. It says so much about our little family. And how thrilled we are to have that sweet little girl join us!
I've also done a little bit of sewing here and there. I've barely started to work on the blocks for a quilt for FinallyAGirl. And, this afternoon, I made her a quick little bonnet for some up-coming trips she'll be taking in the next few months (Don't Look Pie!).
She probably already has several little sunbonnets.  But you know what they say.  Makers gonna make.  Especially when the maker is a new Grandma.  I just couldn't help it.   A few months ago, a really sweet woman started buying lots of Liberty fabrics from my little etsy shop.  I finally asked her what she was making with all of her Liberty, and she told me she has a new little granddaughter too.  Then she told me I really should make the sunbonnet from Purl — it's so sweet and easy to make.  I used Pheobe in pink for the print and Moda Bella 97 for the white.  And the little bonnet is fully reversible, in case SweetiePie wants a mostly white bonnet with just a hint of color.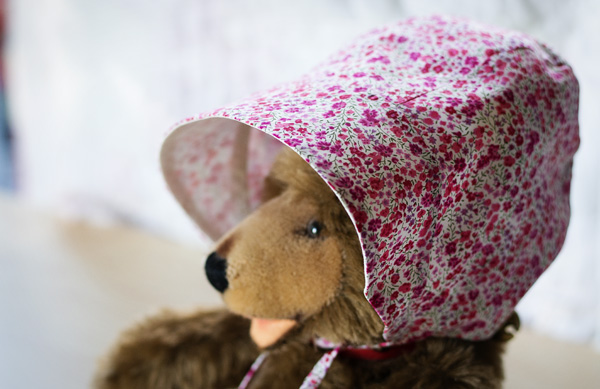 Save
TeddyBear decided to model the bonnet, even though his head is the wrong size. (And mostly because I can't find my little doll model, who I hope will turn up as mysteriously as she's disappeared — I need her modeling help!)
Hopefully I won't be gone for so long next time, but who knows.  I'm guessing it will be September by the time I post again.  September!  I just can't believe it already!
XOXO,
Anna
P.S. In the event you're in need of fabric, there have been lots of new arrivals in my little shop — some new Liberty, some of the very popular Rifle Paper Co. prints, and some Santa fabrics ('cause I'm not saying the "C" word in August!)!
Save