Happy Valentine's Day Little Lovies!  I hope your day is full of CHOCOLATE LOL.
I finished the little sweater that I made for my littlest Valentine this week. It's been a fun, fairly quick project and hopefully it will fit her ;-D.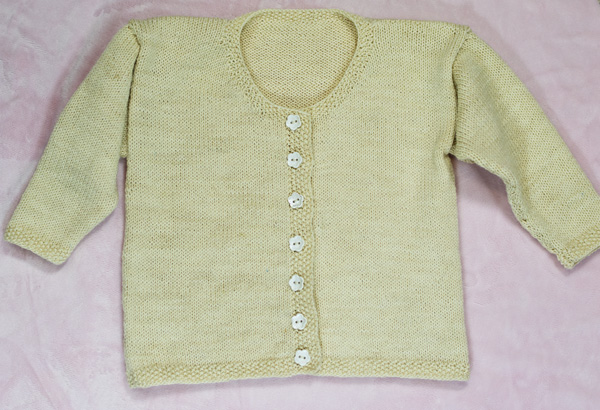 The pattern is from the book Baby Knits for Beginners by Debbie Bliss and it's the "jacket with moss stitch bands" in the 12-24 month size. The pattern calls for size US2 and US3 knitting needles, but, because I'm a fairly tight knitter, I had to go up one size to US3 and US4. I went to my local LYS to choose a yarn, and they recommended Bossa Nova Sport by Molly Girl Yarn in the Sandcastles colorway. It's a superwash merino mix, so it's very soft and the finished knit has a really nice drape. But, to be honest, I'm not really a fan. I would have preferred something, I don't know … maybe a little more "crisp"? If that makes any sense at all. The stitches don't seem very well defined, and to my eye, just not as pretty as, for example, the little baby dress I knit for FinallyAGirl a few months ago. Plus, the yarn had a few little green marks in it that I couldn't get out. I would have taken the yarn back, but I didn't discover them until I was half-way through knitting the back of the sweater. It looks like someone took a little green ink pen and pressed it into the back. Oh well … no picture, but if you see it in person, don't look LOL.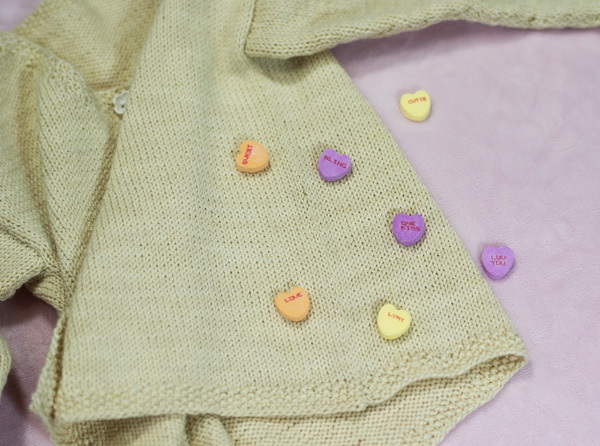 I love the simple look of this little cardigan, and hopefully FinallyAGirl will be able to wear it with some of her adorable little dresses and tops. I tried a new-to-me technique for sewing up the seams.  I usually just hold the pieces right sides together and hand stitch them, like you would fabric, but I've never liked the way the seams look.  This new method is a bit tedious and time-consuming, but it gives a seamless look and I love it. I'll definitely be using this method again.
Also, I thought I'd made a mistake in knitting the buttonholes, as they're to the side of the seed stitch button band instead of the middle, but I double checked the picture in the book, and that's the way they're supposed to be. My OCD self is a little bugged by it — I like that they're off center, but then I don't. Not sure if I might change that if I were to knit this little cardigan again.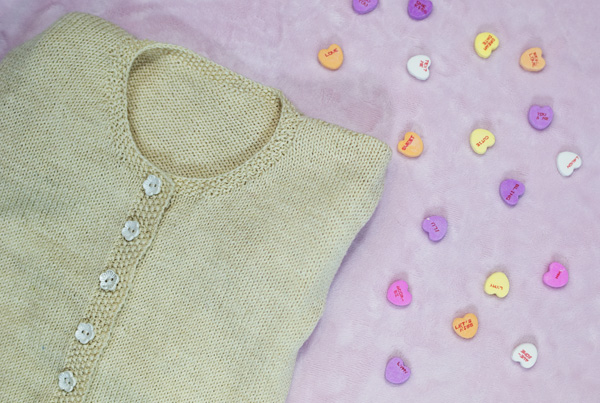 This project is a little Valentine present for our little cherub. I played around with a few different ideas for wrapping it up before I sent it off to her, but in the end, there wasn't enough room in the mailer with the other little goodies that I sent, so I just sort of squished it into the envelope. Wrapping Fail. ;-(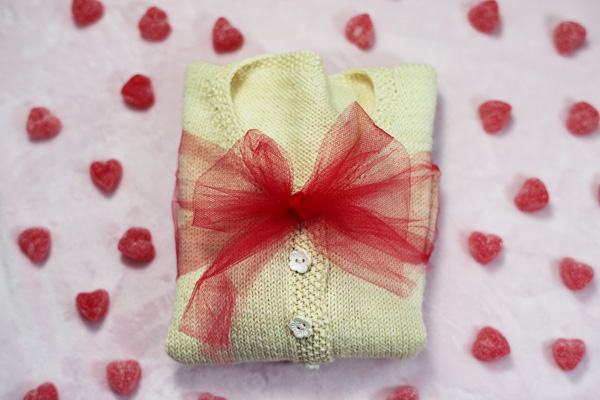 Oh well.  Everything can't be perfect LOL.
Have a Happy Valentine's Day!
XOXO,
Anna