Yipee!  I can tick my first item off of My 10 Things This Summer List.  I started this quilt in May — it's a high school graduation gift for my favorite nephew.  (He's my only nephew, but he'd still be my favorite!)  I've always loved the slanted star quilt pattern, so that was my choice.  I made a trip to the outdoor quilt hanger for pictures.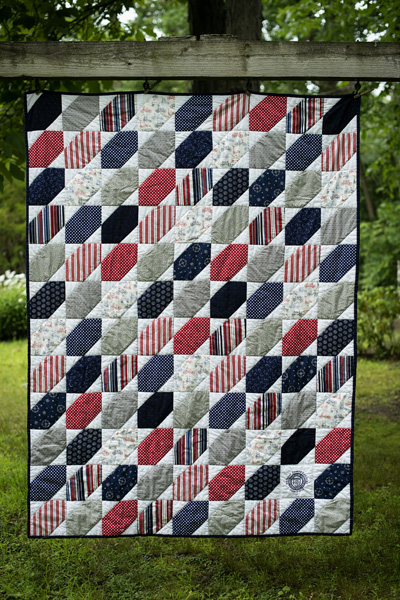 I think this pattern is a good choice for my nephew — he's a fun-loving, great kid.  He's a star!
I used different blue, red, and gray fabrics that I had in the stash and I chose to back it in the Children at Play bike print.  My sister's family are a bunch of bike riding maniacs.  I originally thought I'd just use a meandering quilt pattern and I quilted about 1/4 of the quilt and decided that I hated it.  After TheManoftheHouse unpicked the mess, I decided to keep it simple and just quilt in the ditch and I Love it.  It's nice and puffy and comfy now.
You can probably guess that this quilt is late.  We had a busy spring this year and I failed to plan ahead.  Oops!  At least it's finished before he goes to college.  While I was taking quilt pictures, I played with the quilt on the bench by MeMum's pretty flowers.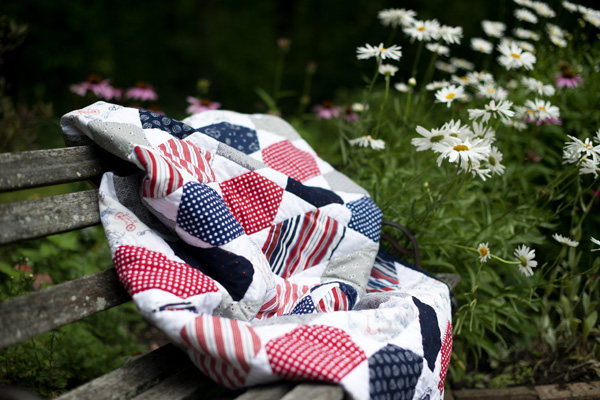 And along came Sally for a comfy little place to sit. She sat there batting her tail around, thinking this is her quilt.  ('Cause you know — I know what runs through a quilt-sitting cat's mind.)
Awww, look.  Kitty Paws.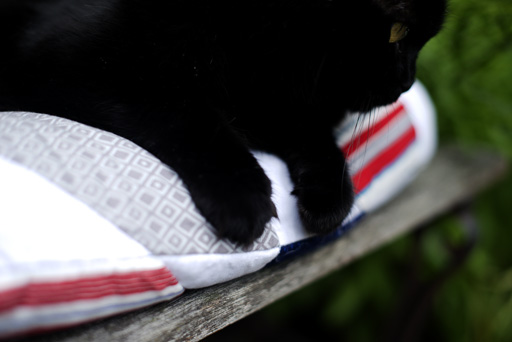 Of the five grandchildren in our family, CuteNephew is the 4th.  TheFirstChild graduated first (ha!), TheSecondChild was second, and CuteNiece1 was third.   One more graduation for us — CuteNiece2 will graduate in two years.  I'll bet you can guess what I'll be giving her for her graduation LOL.
XOXO,
Anna