WooHoo!  I finished quilting (and binding!) the yoyo quilt.  Too bad it only looks like this:
I'm so happy to finally have the quilting finished.  I'd put it off for so long because I was afraid of that big grid in the middle.  I thought it would be too easy to get it skewed into some odd shape.  I'm sure the rows aren't perfect, but the overall shape is good and I think it will be fine.   I love the way the quilting looks on the back too.
So, now the fun of laying out the yoyos begins.  This will be hard for me — I can overthink these things and be pretty indecisive.  I decided the easiest way would be to throw all the yoyos into the air and see if they would sort themselves out.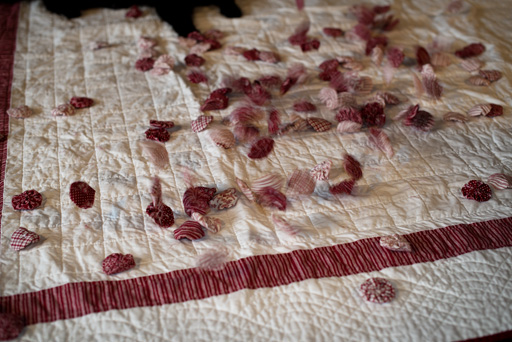 That didn't work (although PaulKitty thought it was a fun game) so I've sorted the yoyos into bowls by print.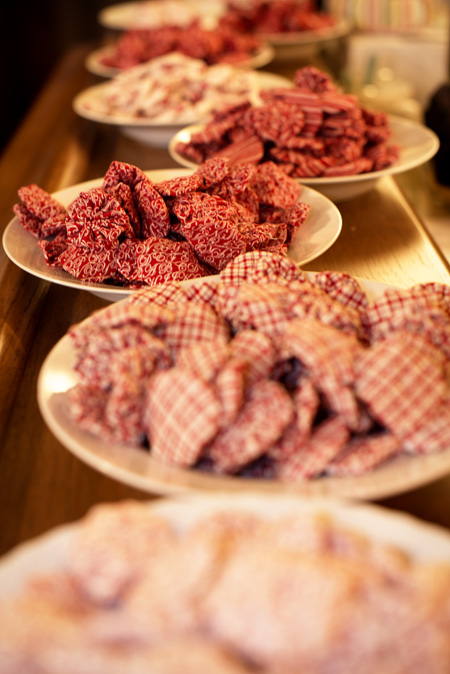 Now I'm shuffling and arranging.  And then, I'll sew each yoyo (868 of them) onto the background by hand. There are many different ways that this quilt could have been done.  I could have sewn each yoyo onto it's own little square by machine (which would have been faster than by hand) and then pieced those squares together.  But I couldn't see quilting the quilt with all the yoyos on there.  Much too bulky for my little domestic machine.  And I can't see machine stitching each yoyo on either — too much turning of the quilt with all that bulk.  So, hand sewing it is. There's still a. lot. of work left in this quilt.  But I'm starting to see the light at the end of the tunnel now.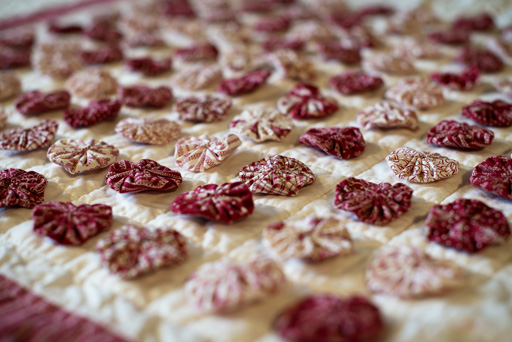 And the good thing is that I've finally found a use for that dumb basting gun that MeMum and I bought years ago.  We hated it for basting, but I think it will come in handy to hold the yoyos in place while I'm hand stitching them down.  The other option was to pin the yoyos down, but I could only see that ending with me being stabbed a lot by all those pins.
I'm off to go play some more with the yoyos now.  I hope you're having a good weekend!
XOXO,
Anna