…a potato peeler all have in common???
Well, they're all new goodies here in ThimbleannaLand.
Yarn:
I'm a sucker. When I got an e-mail saying Allison had a new Lorna's Laces yarn in her shop I had to run down and buy some. And do you know why??? Because some brilliant marketer named it Downton Abbey, that's why.  Lead me to the slaughter.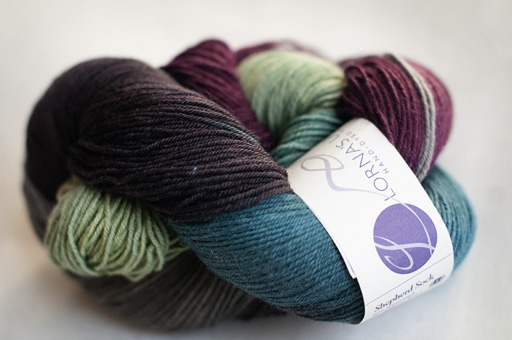 I couldn't help myself. But the colors are pretty. She doesn't have many skeins left but she said more will be coming soon. If you have to have some too, you can order it here.
Fabric:
The new charm packs for Glamping and Avalon have arrived. I immediately ran to the dungeon and laid out some of the Glamping charm pack in my favorite easy quilt pattern, just to check it out.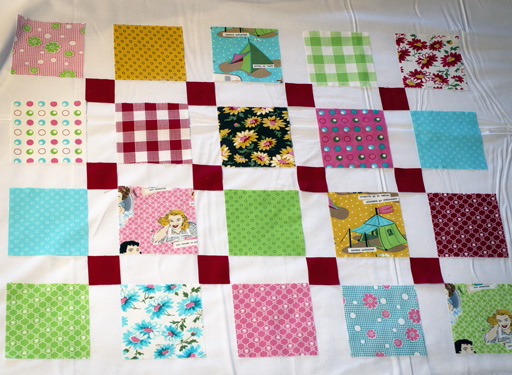 There are a ton of patterns out there for charm packs. Just yesterday I saw Amy's new Square Knots quilt and it has me re-thinking my layout. And this Square Dance pattern from Amber is super cute too. What to do, what to do.
I LOVE this Avalon fabric. I've never paid much attention to the Fig Tree fabrics in the past, but there's something about this new line.
Can you tell which print is my favorite? (Hint: the little rosebud LOL.) It reminds me of Amy.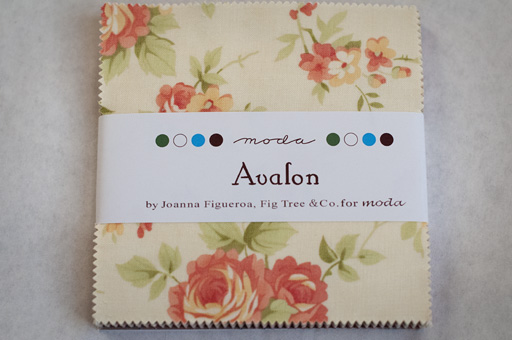 If you'd like some Glamping or Avalon charm packs, I've put some in my teeny little store. They're $1.00 off of suggested retail. These fabrics aren't due to be released until February and March — be the first on your block to have a quilt made from either line!!! ;-D
Potato Peelers:
Behold, my trusty old potato peeler of 30+ years.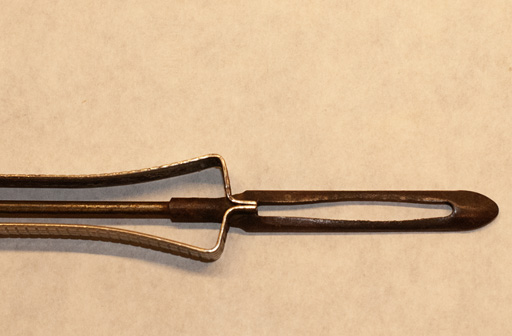 I've LOVED that potato peeler, but as you can see, her blades are getting pretty thin in the middle and for the last few years, she hasn't been in top form. I bought a new little peeler about a year ago, but it's been such a struggle. It's a piece of crap. Even the extra cooks here in the kitchen at Christmastime complained. I'd resigned myself to crappy potato peeling for the rest of my life.
But then, after Christmas, I had a little extra Williams Sonoma money to spend, so I decided to throw caution to the wind and buy their ridiculously expensive potato peeler.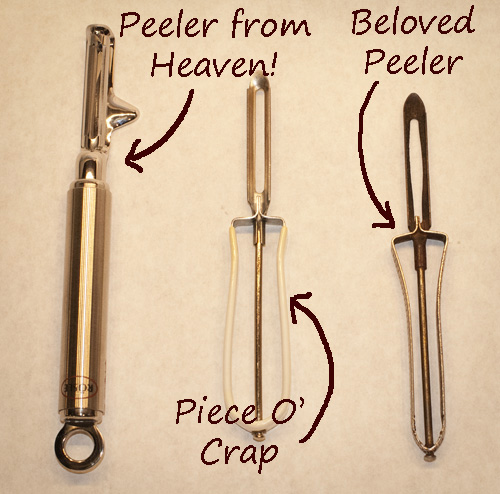 The clouds have parted, the angels are singing, and I'm in heaven! It's a fantastic potato peeler. Like peeling butter. Just thought I'd let you know, in case you, like me, had given up on ever finding a good potato peeler.
Ok…off to do a little quilting…yipee!  Have a good weekend!
XOXO,
Anna