Yaaaay! You've made the jump. Hopefully it wasn't too painful.
And hopefully we'll soon be at home here. I've done a little redecorating from the old blog — new wallpaper, a new sign over the door, and a few new rooms. Unfortunately, all the old furniture (blog entries) wasn't able to make the move. WordPress has a slick way of importing an existing blog, but, sadly, my host isn't set up for the socket in your wocket (not to be confused with Lucys Locket's Pocket), or some such thing. (Gee, sure wish I'd known THAT.) So, the archives will just have to live at the old blog. I've put a link to them over there on the right. After a time, they'll nary be missed! With any luck, I won't have broken too many other things around here in the move. Nobody likes broken dishes!
But enough yadda yadda. That's not why you're here? Right? Could it be for the 100th post? And a little giveaway? 'Cause that's the tradition, set down in blogland.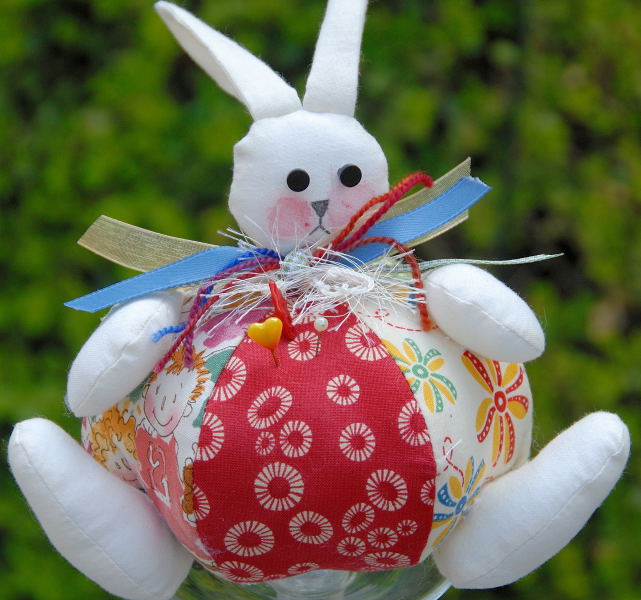 Oh, and a little reminiscing about those first 100. It's been so much fun. I've learned a lot. It's been great getting to know (and be inspired by) all of you. You've made me laugh, and brought an occasional tear to my eye. 'Cause, after all, behind the veil, those are real lives you're all leading and sometimes you all have the best way of tugging at the heartstrings.
So, thanks for all that you've given me. And the comments. (Oh, how we lurve our comments!) Little Red Bunny up there is looking for a new home. You know the drill. If you'd like to add him to your little nest (and stick pins in him ;-) ) just leave me a comment. (And hey, even if you don't want Little Red Bunny, you can still leave a comment.) By, say, next Saturday evening — then I'll draw or random generate one of your names!
XOXO,
Anna