Woohoo — anybody besides me excited that the end of the week is here?  It's Thursday!  Or, as we call it at work, Virtual Friday because we have the day off tomorrow.  Yipee.  Do you all have a plan for the weekend?  I have a list a mile long.  Here's my top 5:
1.  Knit a bit.  Or a lot to finish this sneak peeky project.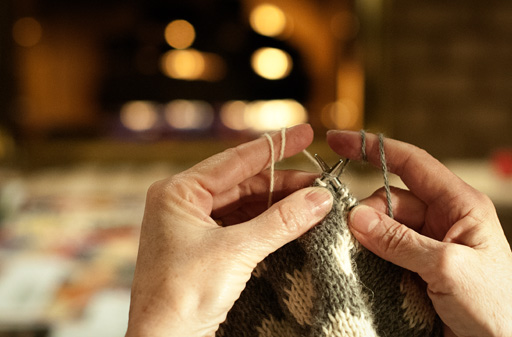 2.  Clean a closet or a drawer.  Or many closets or drawers.  However many I can squeeze in without working too hard.
3.  Bind this quilt — another sneaky peek.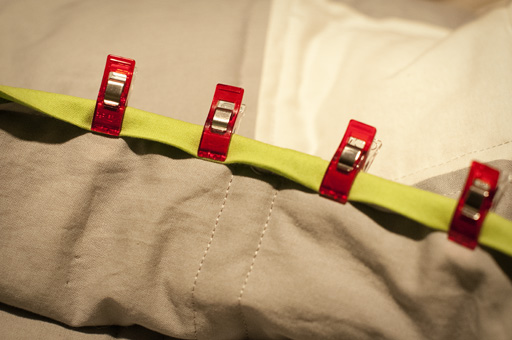 4.  Play some Hand and Foot with MeMum. (Our rules are a little different, there are many variations of Hand and  Foot.)
5.  Pre-shrink this yummy pack of fabric.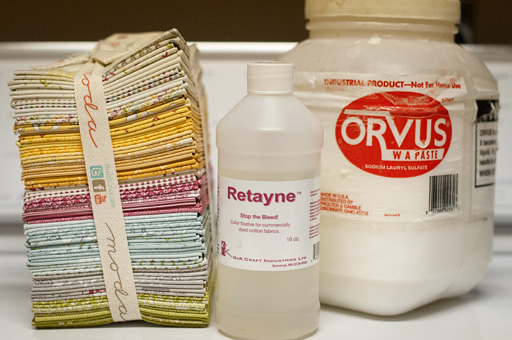 I know that many of you aren't pre-shrinkers.  Even some of you who are near and dear to my heart (you know who you are and don't worry, I won't out you here.)  Becky from Piece O' Cake blog wrote a great post today on just why you should pre-shrink everything.  You really should run over there and read it.  I thought it would be funny to re-create her picture with her pre-shrinking supplies, but to my horror I found that I'm out of color catchers.  They've been added to the grocery list for this weekend.  Whew.  So, in place of the color catchers, I've put my soon-to-be-clean bundle of fabric.  It's Noteworthy by Sweetwater.  And then I realized that I put my bottle of Retayne in my picture instead of my bottle of Synthrapol.  Use your imagination, I'm not going to go re-take that picture!
I should be able to get at least that much done this weekend, don't you think?
XOXO,
Anna
P.S. If you were following along last year with the Aurifil Embroidered Block of the Month, you'll be happy to know that Pat Sloan has sewn our blocks all together into a cute quilt top. Go take a look!
P.P.S. Someone out there sent me an e-mail asking about the wedding quilt.  If you're out there, I'm so sorry, I accidentally hit the delete button and I don't even know who you are to respond, so please send me another e-mail and I'll try not to be so clumsy again!  ;-D