Well, Boys and Girls, it looks like my posts are getting less frequent, rather than more often like I was hoping.  Lots of work happening behind the scenes here, with not much crafty goodness.  BigDaddy came home from the hospital last week and it's been slow going.  MyDadLovesMeBestSister and I have been busy busy managing Dr. appointments, caregivers, and just spending time with MeMum and BigDaddy — not to mention our day jobs.  Thanks to many of you for the sweet e-mails — it seems that several of you are in a similar boat and working hard to help parents.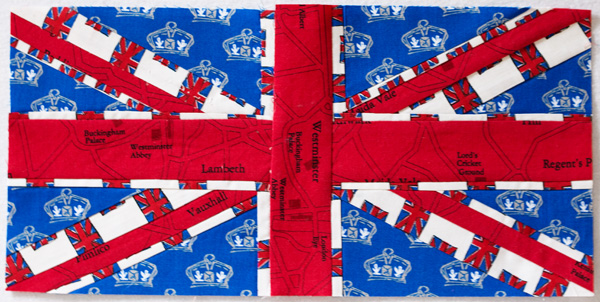 After my last post, Wendy left a heartwarming comment that I found very comforting.  In case you missed it and you're also caring for someone, I thought I'd share her words of wisdom:
"I have had a hand in caring for someone who is ill also. It's amazing how much time is consumed, and how you can feel like you have accomplished so little. But it isn't true, bedside sitting is invaluable, and is an intangible benefit to the patient. I have always been in healthcare, and you can see the difference when patients have the support of loved ones around them. You can't put a price tag on it, but its value is often overlooked. Sometimes it helps to have a visual result (like a hand-knitted sweater and a loved one on the mend) to "quantify" the value of one's efforts. Am I making sense? I have recently been working on "teaching" someone I love how to be a calm and peaceful bedside companion. It can feel so helpless, when you want to be "doing Something". It can be important to realize that "Being There" *is* "Doing Something"."
Thanks Wendy — you're a peach!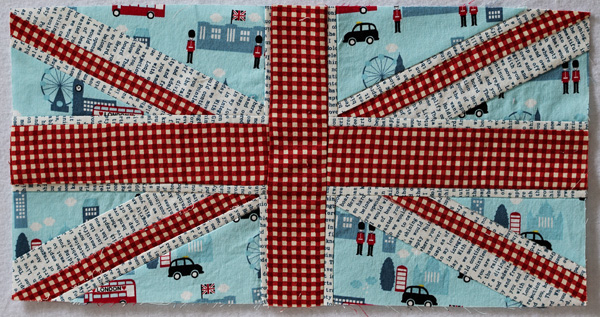 Wendy's peptalk really puts things into perspective and I know that there will be plenty of time for sewing and knitting.  For now, I'm content to sneak in a quilt block here or there.  I've always wanted to make a Union Jack quilt and I've been collecting fabrics.  When the British Invasion line from Riley Blake arrived, I thought I'd make a few blocks and play.  I've seen several patterns and I wanted one that was proportionally correct so, I'm using the pattern in the January/February 2014 McCall's Quilting magazine.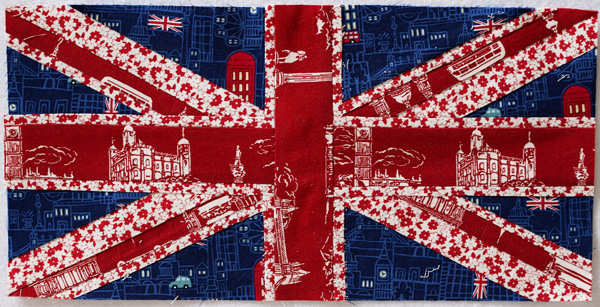 The four quadrants of each block are paper pieced.  I've probably never told you that I detest … urm … HATE paper piecing.  It's so fiddly and slow and wastes fabric.  But, I can't see any other way to piece all those little strips with any hope of getting them remotely even.  So, paper piecing it is.  VERY slow.  I want to make 32 blocks, so this will be a long term project for me!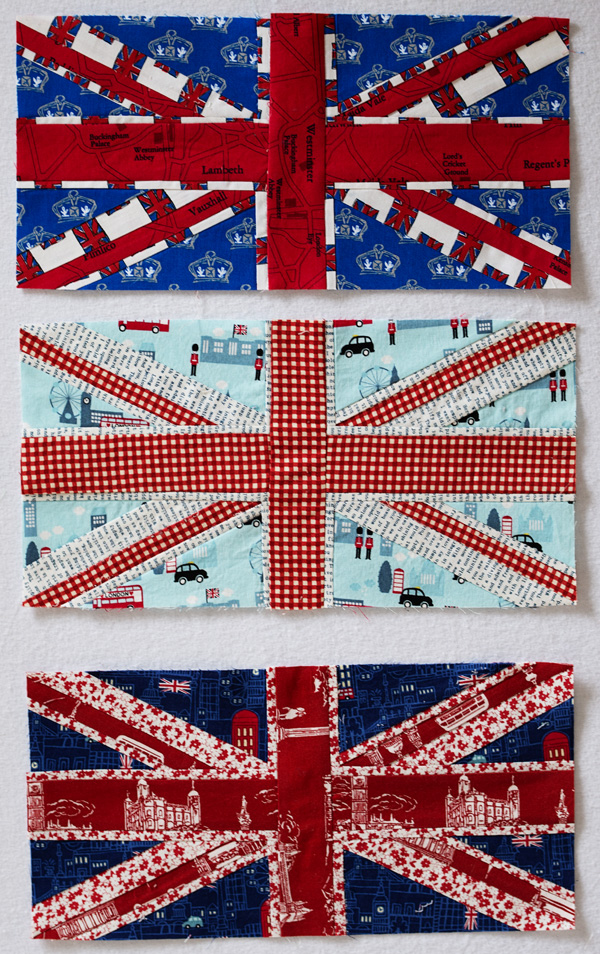 Okey Doke — I'm on night duty tonight, so I'm outta here. Oh — if you'd like some British Invasion for your fabric stash, I have a few fat quarter packs left in my little shop.
XOXO,
Anna