Hey there! Do you remember this cute little mouse that lives at MyDadLovesMeBestSister's house?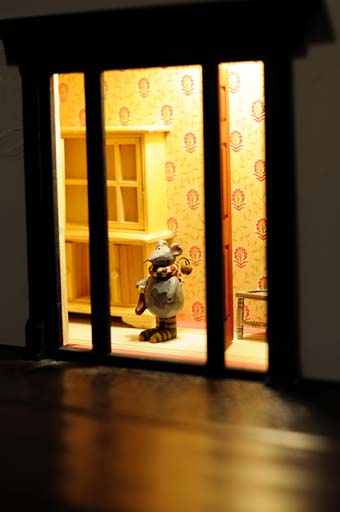 Yeah?  Well, we're not talking about that kind of mouse. Noosireee. A few days ago, PaulKitty started acting funny. We'd find him staring at the wall for no reason. I told TheManoftheHouse that there must be something in there. (Knowing full well exactly what "something" meant.) Then, TheManoftheHouse found Paul Kitty staring at the pantry door. It does look kind of funny.
So, he opened the door and he saw it. IT dashed from the potato bin to hide behind the crockpot. But he couldn't find it and he had stuff to do, so he left PaulKitty in charge. And then we sort of forgot about it. The next morning, both kitties were staring at the washer and dryer.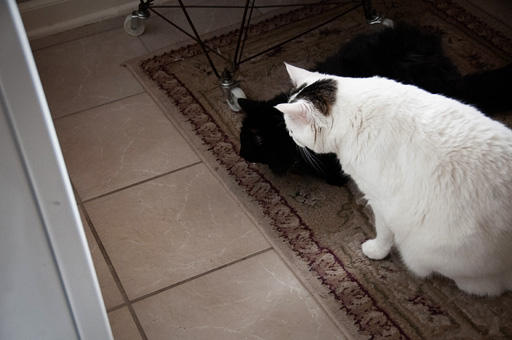 Clearly, our kitties are useless housekitties. Cassie and Sirius, they're not. It had been a few days and I even found teeny tiny crumbs at the cat food station. Did they make friends with little mousy and share their food with him? Slackers. I threw TheManoftheHouse and PaulKitty in the laundry room and told them not to come out empty-handed.  Twenty minutes and a lot of commotion later, TheManoftheHouse emerged victorious. PaulKitty was apparently hopeless. Wanna SEE???
Isn't he cute???
Not.
He ruined the rest of my day. I had a nice relaxing day planned to read and sew a little bit. Instead, I had to clean out the pantry and laundry room. Very, very rude.
My week now is going much better. I hope yours it too!
XOXO,
Anna