Boy.  All you sweet readers sure do make a girl feel good!  Thanks for all your wonderful wedding wishes.  As promised, and because several of you have asked, I thought I'd give you the low-down on the rehearsal dinner cupcakes.  (And before we begin, can I just say how awesome blogland is?  I had LOTS of wonderful tips and hints from many of you during the wedding planning process.  Miss Jean, Nanette, and several of you had invaluable advice for me, a first-time MOG.  And if it hadn't been for an e-mail early on from Ms. Farmhouse detailing all the things she did for her son's rehearsal dinner, it would have never occurred to me to have flowers and favors.  I thought you just arranged for a place to eat and you were done with it.  So, thanks to all of you who provided such great advice!)
For 6 or 8 months now, I've been using the Magnolia recipe for cupcakes.  But the last two times I made them they were terribly dry — and the last time, when the quilty peeps and I met Sharon and Carol in Chicago, I almost had to choke those dry ol' cupcakes down (sorry girls!)  So, I decided that recipe would never do for TheFirstChild — everything must be perfect, right?  For three weeks, I experimented with different recipes.  I tried an old staple from my childhood, but it had 1/4 t. of lemon extract and the first thing SweetiePie said when she tasted it was "Does that have lemon in it?"  (How the heck could she tell with only 1/4 t.???)  The Cake Bible by Rose Levy Beranbaum had a nice white cake recipe, but there just seemed to be a little something missing.
I was ready to try a white cake mix and call it good but then an awesome comment appeared from Brigitte Noblog.  I'd mentioned cupcakes in my post and she got all excited and spent a lot of time typing out the Magnolia Vanilla Cupcake recipe, not realizing that I'd used that recipe before.  So I e-mailed Brigitte and told her, yes, but they're so dry.  And she replied, yes backatcha, but there's no matching that Magnolia vanilla flavor.  Well, that got me thinking and I knew she was right (thank you Brigette!), so I decided to bite the bullet and use the Magnolia recipe anyway.  I watched those babies like a hawk and yanked them from the oven the minute they looked done.  Then I frosted them, packaged them and crossed my fingers all the way to Dayton that day.  Eureka!  They were moist and just right!  They were even decent the next day.  I must have baked them too long in my previous efforts.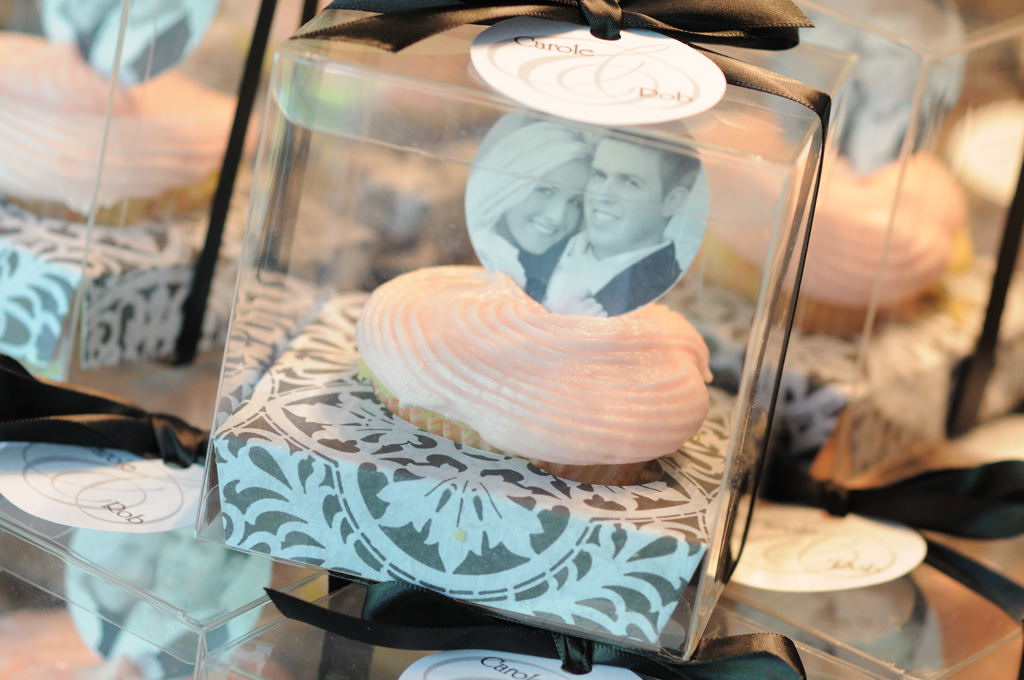 So — the details and why you're here  (sorry for the recycled picture!):
The Cake:  Magnolia Vanilla Cupcake Recipe
The Icing:  Magnolia Vanilla Icing. I used a giant Wilton cake tip.  I'm not at home to look up the tip size, but The Happy Valley Quilter mentioned to me that she uses tip #1B.  It's a similar tip and I think I like her tip even more than mine.
The Pick:  I printed a pictures of the newlyweds, ran them through my little xyron sticker machine and then punched them out with a 2″ punch.  I also punched 2″ circles out of the black and white paper that you see in the bottom of the cupcake box.  Then I stuck the picture circle to the black and white circle with a toothpick between them.
The Clear Plastic Box: A 4x4x4 acetate box purchased from Papermart.com. These come in packs of 50, which was just right for what I needed.
The Cupcake Insert:  I knew if I was going to transport those cupcakes, there must be something to hold them in place in those boxes.  Several people (I think maybe Kairle and Kim?) sent me a link to these inserts.  They come 100 to a box, in white.  I used a spray adhesive and attached SweetiePie's chosen black and white paper to the inserts.  The down side of the inserts is that you can't see the bottom of the cupcake, but it's worth it for the frosting to not be smashed all over the side of your box when you reach your destination.
The Ties:  3/4″ wide black satin ribbon, which I ran out of and ended up using two strands of 1/8″ wide black satin ribbon on some of the boxes.  I also printed out the little wedding logos and punched them out with the 2″ punch and attached them with the ribbon.
Making cupcakes is addictive and these were SO fun.  They were a HUGE hit too — people just whipped out their forks and ate them straight out of the box.  I had a bunch of compliments (especially from those rowdy groomsmen) and I heard at least two people at the end of the night say, "Hey, someone took my cupcake".  Now, that's a compliment!
XOXO,
Anna