How does that merry-go-round saying go? Sheesh! It was another crazy week here with no time for posting. Big Daddy is FINALLY home — Yipee! So, it was a busy, busy week of work and helping him re-adjust to the homefront. I'm ready for things to get back to normal — I'll go back to my regular work schedule tomorrow (no more 5 a.m. to 1 p.m. for me – WooHoo!) AND I can get back to my workout classes at the end of the day. Who knew I'd miss all that aerobic torture???
So, a little random after the crazy stuff:
— I was browsing Country Living magazine one afternoon in the hospital and came across this cute Thimble necklace project. This is right up the ThimbleannaLand alley!
— The last six weeks have been so hectic, we haven't even been able to mourn the end of the Hostess company. Everyone is bemoaning the loss the The Twinkie. Hello??? Who cares about twinkies??? What about the Ding Dong??? Nature's most perfect food. I can't even buy a Ding Dong to take a memorial picture. I'll have to live with my Ding Dong picture where I defiled her beauty with a dollop of pesto. Clearly I wasn't thinking.  Please.  Can we have a moment of silence?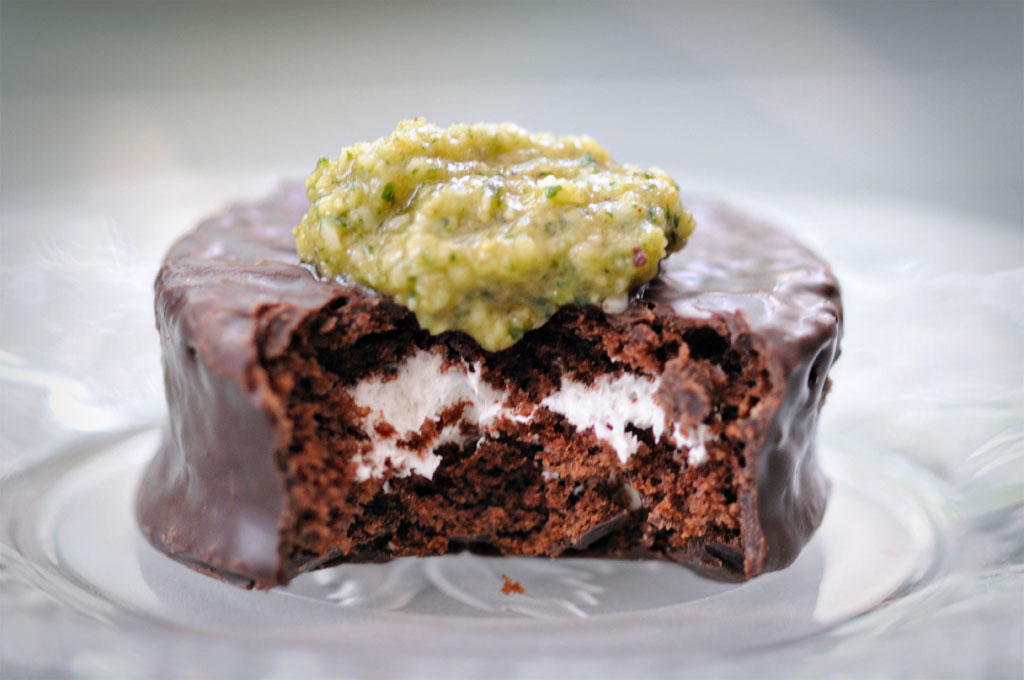 …
…
…
…
— When I said I'm ready for things to get back to normal, were you laughing hysterically? As if that could happen with the holidays coming. Have you "started" yet? I dipped my toe into shopping yesterday and did just a wee bit of decorating today. There's no way I'll get everything done that I want to do and it makes me a little (ok, a lot) sad.
— We have a Hamburger on our tree and it makes me happy. ;-D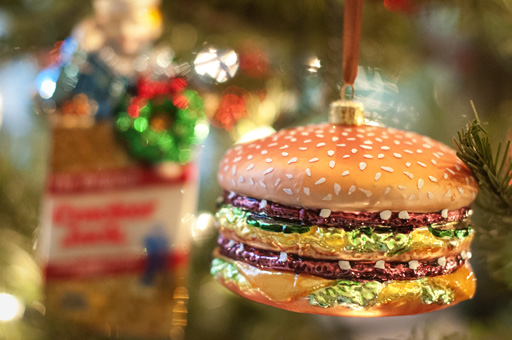 — I started a pair of socks that I forgot to show you. So, I hung them on the tree. What would you think about having a tree of UFO's? Do you think we'd get them finished any faster???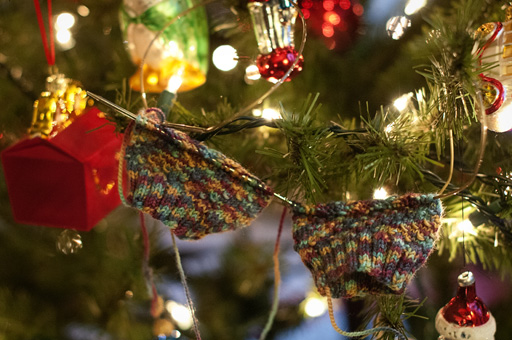 Have a great week!
XOXO,
Anna
P.S. Oooh, I didn't make it here to post last week, but don't forget that the last 3 Aurifil Christmas ornaments are available!  Bari made some super cute ice skates, Roseanne has an adorable God Jul Tompte, and Sarah has a fun little Summer Santa ('cause she's down under!)