First up, is a little business. I'm a few days late announcing the winner of A Quilting Life by Sherri. If you'll recall, I had everyone tell me their favorite cookie. If you didn't answer "Oatmeal Raisin", I threw your entry out!
Just Kidding.
The winner is Jen who said "Oatmeal chocolate chip are my favorites. Punk too. But I don't make them often. I tend to go for the straight chocolate in the sewing room. No cookies necessary. :)" Send me your address Jen!
During my travels during the last month, I've done a bit of shopping and I thought I'd show you the results of my sins. From Quilt Market:
That's Sweetwater's Road 15 in the back, Riley Blake's Checks and Dots on the left, Anna Griffin's Elegance in front and Robert Kaufman's newest Cat in the Hat Prints on the right.
I also got some Flower Sugar from Lecien (in the back).  We went shopping one day while we were in Portland, and I ended up buying quite a few fat quarters for an upcoming project from Hollyhill Quilt Shoppe.  What a cute little shop!  And ooohhhh — did you notice the cute plant markers that Brigette gave me?  She made them herself!  Thanks Brigette!
After market,there was the trip to Iceland.  Of course, I had to buy some Icelandic yarn!  In the back is lots of yarn for a Lopapeysa sweater.  More Lopi on the right for a little stripey scarf.  and I purchased the small balls of yarn on the left in hopes that they will work for some of Julie's Little Cotton Rabbits.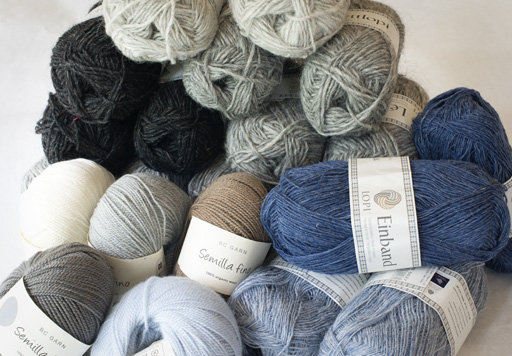 When I met Berglind in Iceland, she was so sweet and she gave me some wonderful gifts.  Among them are beautiful pile of fabrics and a new book, both by Gudrun Erla, an Icelandic designer who now lives in Minnesota.  I love them and I've already picked out a project in the Fast & Furious book that I want to try.  Berglind also gave me a DVD to show me how to knit my lopapeysa — how perfect is that?  I can't wait to watch it and get knitting!  Thank you so much Berglind!
And, of course, when I was shopping with Berglind, I had to buy some Tilda fabrics.  It was hard to only choose a few, but my resources were limited!
Oink Oink.  I feel like a little piggy.  Now I just need to stay home and get some work done.  I have had some quilting time this weekend.  (In addition to helping TheFirstChild and SweetiePie pack their kitchen up for their move.)  I finished the quilt top I was piecing and I strapped it onto the Flynn Frame and started quilting.  What a mess — I've decided the older I get, the more I hate that frame.  Not sure I'll be using it again.
Anyway, I quilted about 1/4 of the quilt and decided to bail out.  TheManoftheHouse and his trusty dental tool are very kindly helping me unpick the quilting.  New plan coming soon.
I hope you've had a good weekend!
XOXO,
Anna
Follow my blog with Bloglovin