Sheesh! I meant to post yesterday, but by the time I got home from work, ate dinner, and went to visit MeMum and BigDaddy, the evening was over.  Then tonight, we went to a movie (Trouble with the Curve — cute movie!) and when we got home we had to deal with a little credit card fraud.  (Apparently, I've lost my card and whoever found it went on a little 5 digit spending spree.)
Anyway, there's been actual knitting around here! With the help of a little airplane time on the recent Scotland trip, I managed to finish my Flock Socks. Or, as I call them, my Sheepie Socks. They're a little loose, but I love them.
I knit them so that the sheepies would show through the "window" of my shoes.  (Pardon those need-to-be-polished scruffy shoes.)
I purchased the yarn at our fab local yarn shop, which has a website.  They also have the link to the pattern.  The sheepies had fun strolling through the grass.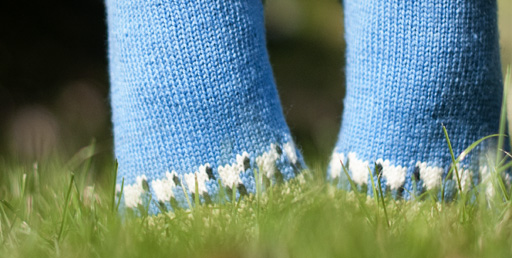 Too bad I didn't finish them up on the trip, they could have had a little stroll with real sheepies.
And just because, I'll leave you with a Zinnia shot. My inaugural zinnias have been beautiful and I'll definitely be growing them again.
Have a great weekend! I'll be back…oh, probably Monday with the winner of the Brit Bunny Pincushion. (There's still time to enter the drawing if you're interested.)
XOXO,
Anna