A few days ago, Nanette posted about her Bernina sewing machine and she mentioned that if she didn't have a Bernina, she'd have a Pfaff. Now, if you know me very well, you know two things: a) when I discover little tidbits about you, I'm known to tease you incessantly (ahem, mashed potato Kim) and b) I'm a die-hard Viking fan. Much to TheSecondChild's dismay, I'm not talking about the Minnesota Vikings. I'm talking Viking sewing machines which totally slipped under poor Nanette's radar.
So, Nanette, I see your Bernina, and I'll raise you a Viking! And since we're on the blogger playground, all our quilty peeps will probably pound me to a pulp! Quilters are Bernina-Lovers. They go together like Fred and Ginger; like peanut butter and jelly; like needle and thread. What's up with that? I blame this on PKM's celebrity, Alex, and on quilter word-of-mouth.
Not me though. My heart belongs to Husqvarna Viking. (Notice I didn't say Singer Viking Pfaff. Or Pfaff Viking Singer. Or whatever they're calling themselves. We're not happy about this little indiscretion one little bit, so let's not talk about it, ok?) This is the Viking I learned to sew on — the grandmother of my current baby Hester.
When I was a little girl, BigDaddy came home one day with this then top-of-the-line Viking. MeMum didn't even know how to sew. She said this beauty sat in a corner for a year before she even touched it. She had no interest in sewing, but she finally took a sewing class and learned how to sew. They gave it to me when I left for college — what a workhorse of a machine It has gears so you can slow the speed down for heavy-duty sewing. One day I even sewed through the leather backing on an old penny loafer shoe! All these years I've thanked MeMum for introducing sewing to me, but maybe I should really be thanking BigDaddy. I mean, what if he'd never come home with that fabulous machine in the first place?
Here is Hester's mother.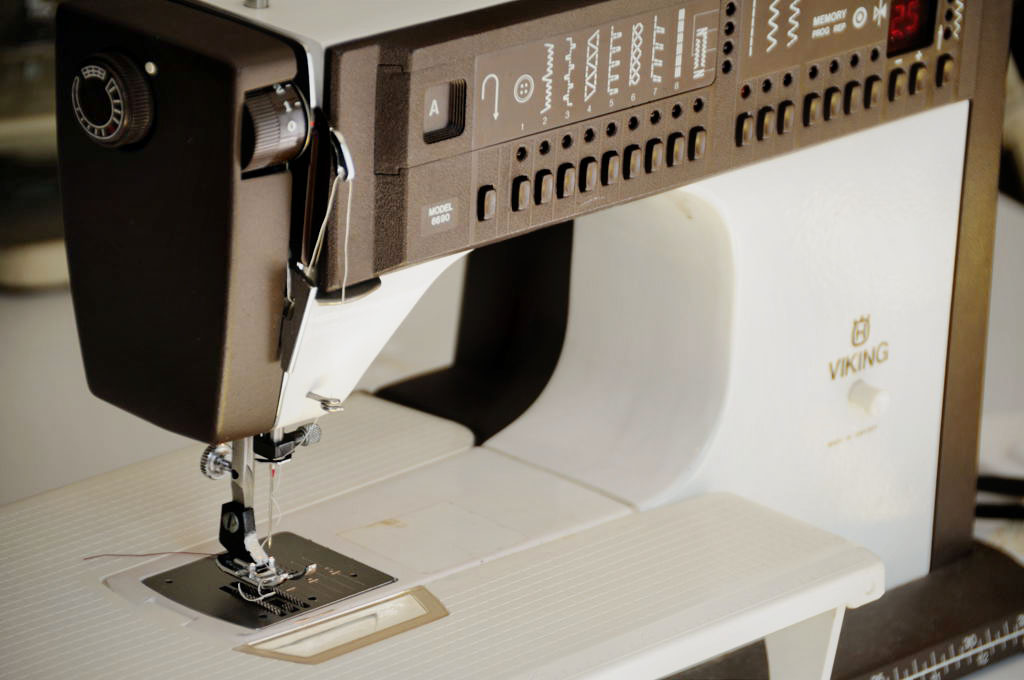 As young newlyweds, we lived in Germany where Husqvarna Viking sewing machines sold for about 1/2 of what they cost in the U.S. (that was back when the U.S. dollar was at an all-time high against other currencies.) It was a deal that was just too good to pass up — I think this was Viking's first computerized model and I was star-struck.
And here is Hester's newest little niece.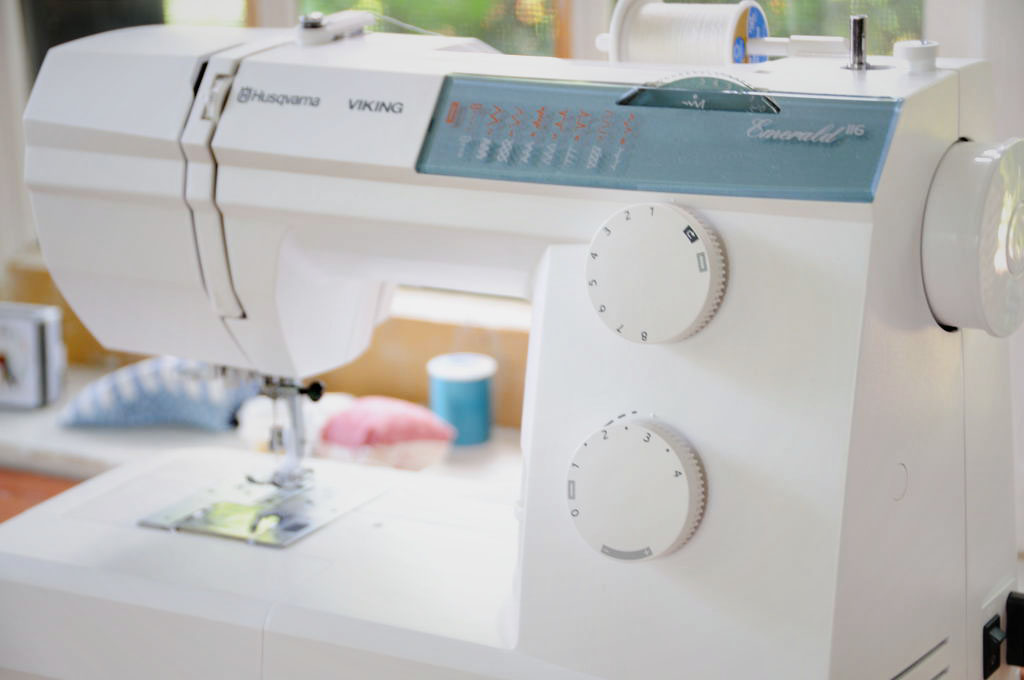 Just born last week, she lives at MyDadLovesMeBestSister's house and will be used to teach my cute cupcake niece how to sew. This looks to be a great little machine for a beginning sewer, and of course, I'm excited that they chose a Viking — keeping it all in the family.
Now remember, I'm the shy little girl with braids over in the corner of the playground so don't hit me too hard. Maybe some of you will come and play with me? ;-) And whatever you sew with, I hope you're lucky enough to have a love affair with your machine(s) like I do!
XOXO,
Anna
P.S.1 Thanks for all your fabulous comments on Aunt Annie's Awesome Sweet Rolls! Rowan asked a great question that others of you might be wondering — how much is a package of dry yeast? One package of dry yeast = a scant 2 1/2 teaspoons of dry yeast.
P.S.2 The fabulous Miss Melly has found a fun new obsession. This is my blog on Wordle. Go play and have fun!