Ok, let's get this show on the road.  As I said in the last post, I didn't get a lot of photos that I wish I had — it was just so busy.  Plus, in the past, I've always been helping Kellie, so it was possible to get photos of booths before market opened — without all the people in them.  Some of these photos are at weird angles — that means that someone was in the way, making it hard to get a good straight on shot.
So, off the bat, the Moda booth that you've probably seen everywhere by now.  All those leaves were so pretty.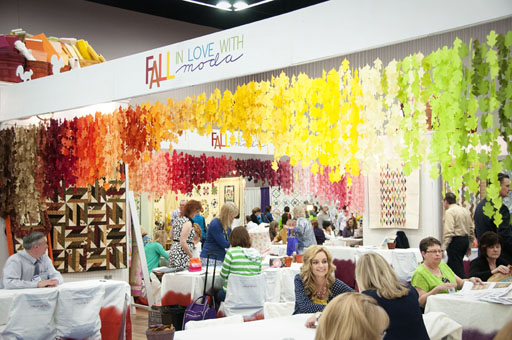 Moda did an interesting thing this year with their designers.  Rather than have them each have full booths, they had mini-spaces next to each other.  Here are Sweetwater and Bunny Hill.  What a relief this must have been for their designers — much less work in a mini-booth.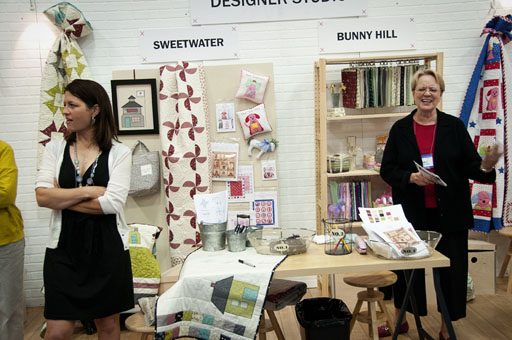 Riley Blake.  Those chevrons have popularity staying power.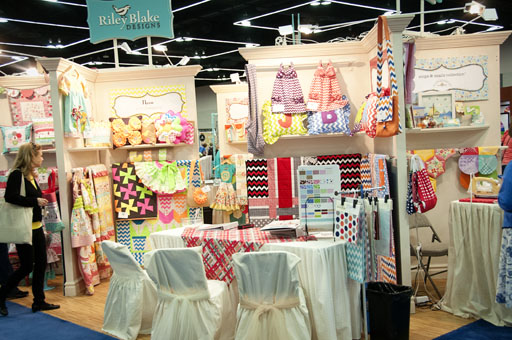 The modkid booth was really cute.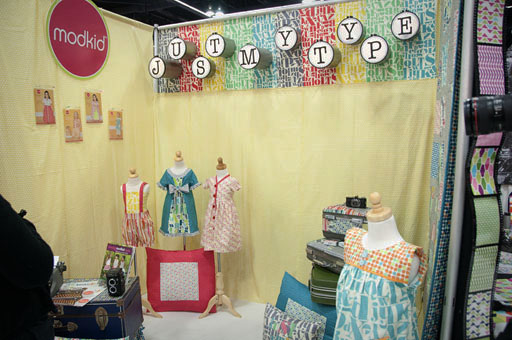 I love her new fabric — all those letters.  That colored alphabet that is third from the bottom in the quilt reminds me of an old Ikea print that I never managed to find.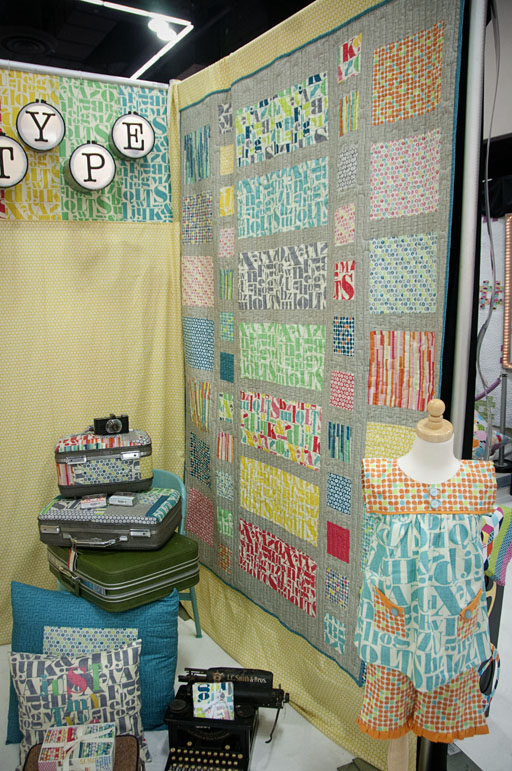 Mo Bedell's pretty booth.  I think maybe she got an award for her booth?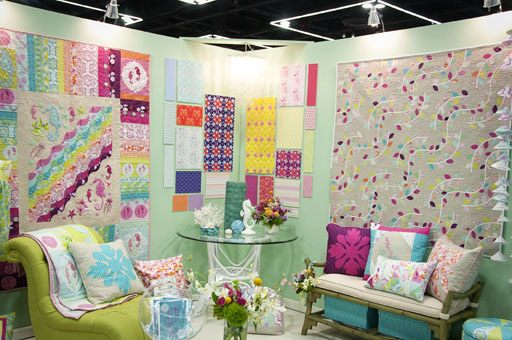 Heather Bailey did a fun thing with the wall of her booth.  This was a giant embroidery done with yarn. She also had real, live sod on the floor of her booth — can you see it?  I would have liked to see that on Sunday afternoon.  Did they water it every day LOL?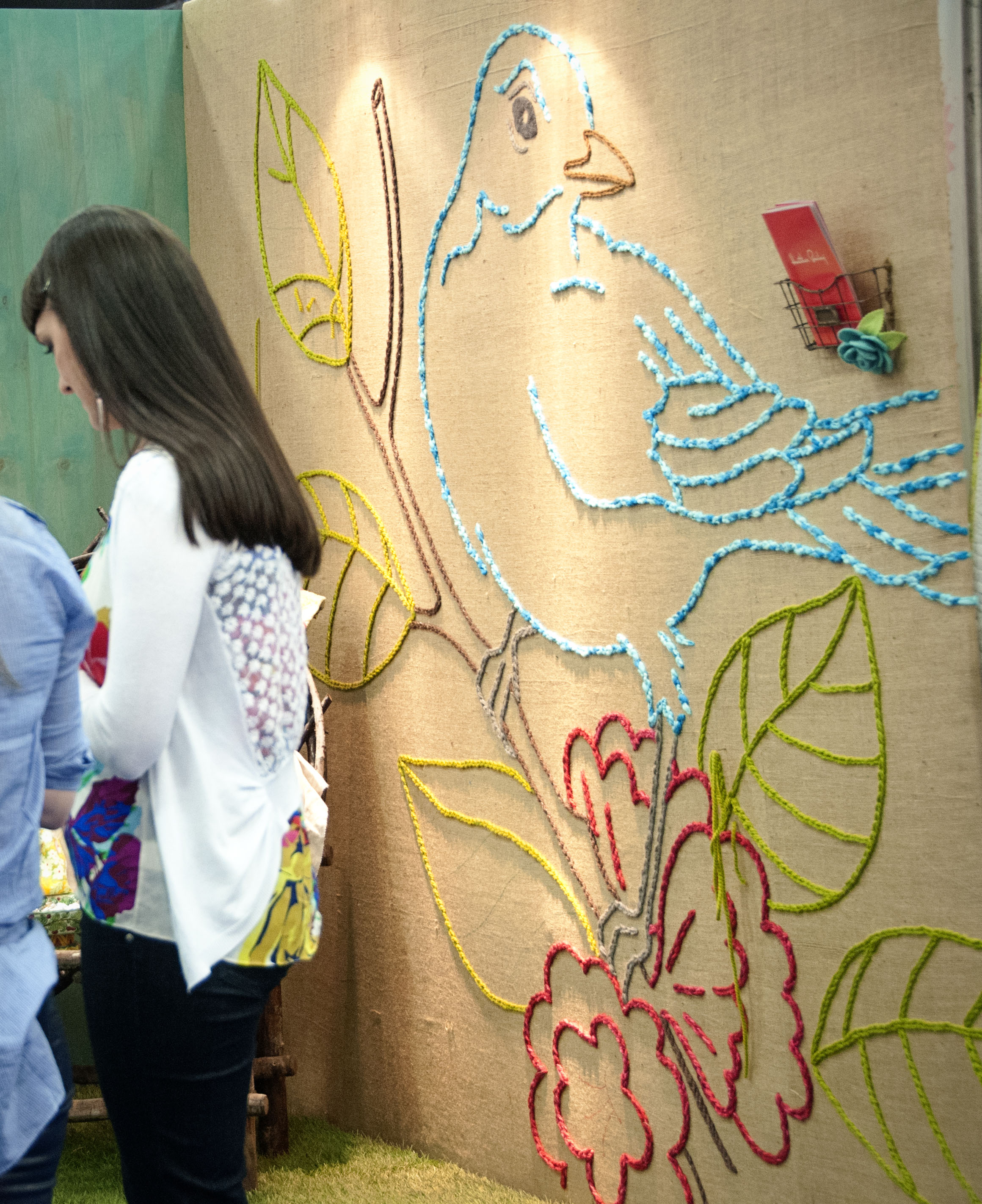 This is a quilt in The Quilted Fish booth.  There were a lot of people at the front of this booth, so I had to take pictures of the side walls.  That cute little wall hanging to the left was made by Stephanie.  I was so sad that I didn't get a bigger picture of it.  I'll bet she'll post a better picture soon.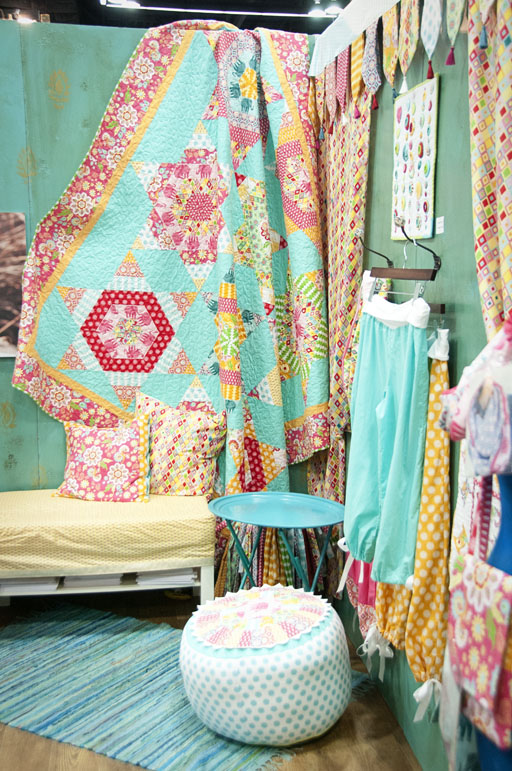 Another pretty quilt in The Quilted Fish booth.  And I missed the pretty little quilt by Jana — maybe she'll post it on her blog too.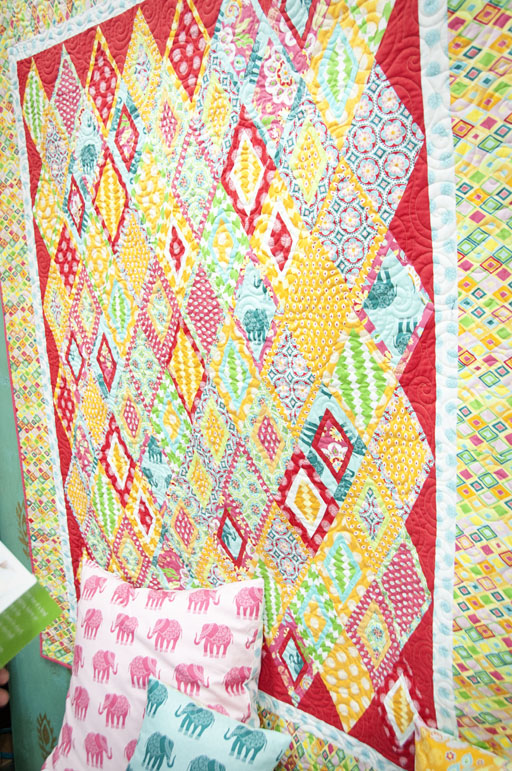 This was an adorable booth.  Hudson's Holidays Designs.  I'd never heard of her, but her stuff sure is cute.
I loved this booth.  Busy Bee Quilt Designs.  Check out the famous Union Jack quilt in black and whites.  And I love that circle quilt on the couch too.  I need a quilt in those colors for our family room.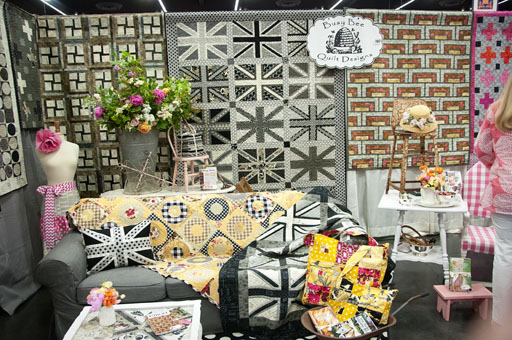 Ok, that's enough for now. I saved the best for last — Next time!
XOXO,
Anna