Dear Ms. Pesto,
Are you sitting on the edge of your chair wondering how my pesto experiment went? You know I don't like that green icky stuff, but I decided I'd try your recipe anyway — 'cause you never know, maybe the one and only time I tried it, the flavor was just too strong.
So, on Sunday afternoon, I went to MeMum's and we had a little pesto adventure with TheManoftheHouse, BigDaddy and my nephew as willing taste testers. I know you'll probably gasp in disbelief, but none of us had ever really had pesto. We gathered our supplies, as meticulously laid out in your very clear recipe.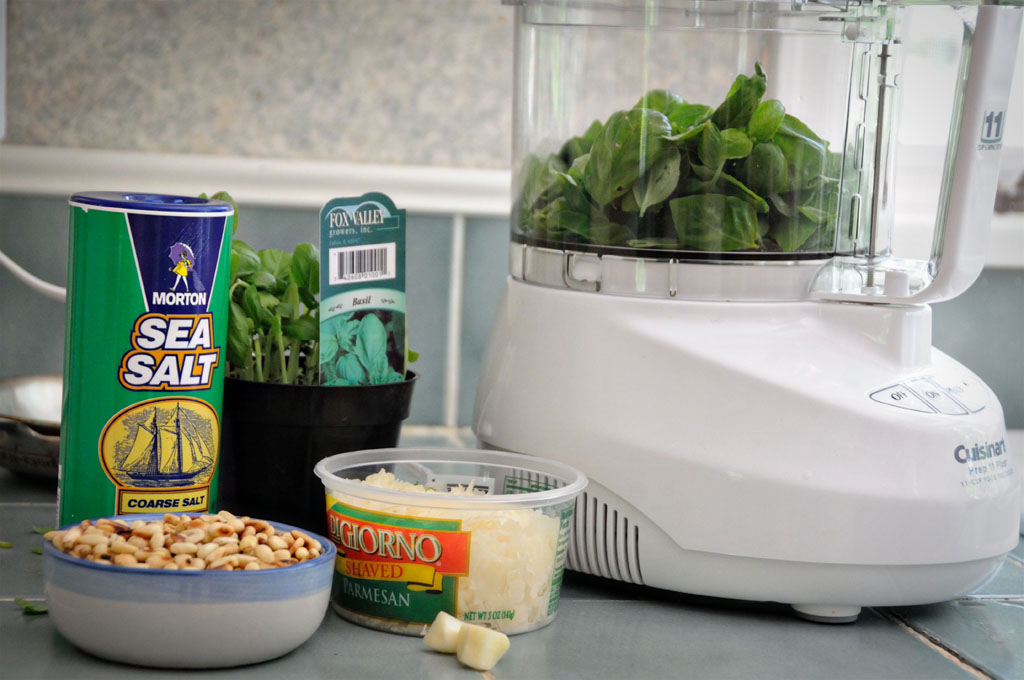 We dutifully chopped, blended and poured. (Ad btw…do you think this is a Holiday Inn Express? We don't have a Trader Joe's anywhere in the vicinity, so I had to toast my own pine nuts. I just felt darn fortunate that I didn't have to go out and harvest them from our pine trees. I think I may have scorched a few of them, but all that green stuff will cover the black marks, right?) I didn't take a picture of the green goo, 'cause it looked just like yours.
Now to taste. Is there some sort of official pesto connoisseur tasting exercise we should have followed? You know, like wine tasters do things — swirl, sniff, yadda, yadda? We all peered over the edge of the food processor bowl, and with our little testing spoons, we each took a sample. We gingerly placed a bit on our tongues….hmmmm….
WAIT! You said to put it on pasta. But why limit ourselves? We should broaden our horizons and try it on a few other things no? How 'bout bananas? You know I love bananas…
Not bad! Not bad at all! Could be the delicious banana overshadowing that gunky stuff though … how 'bout a potato chip?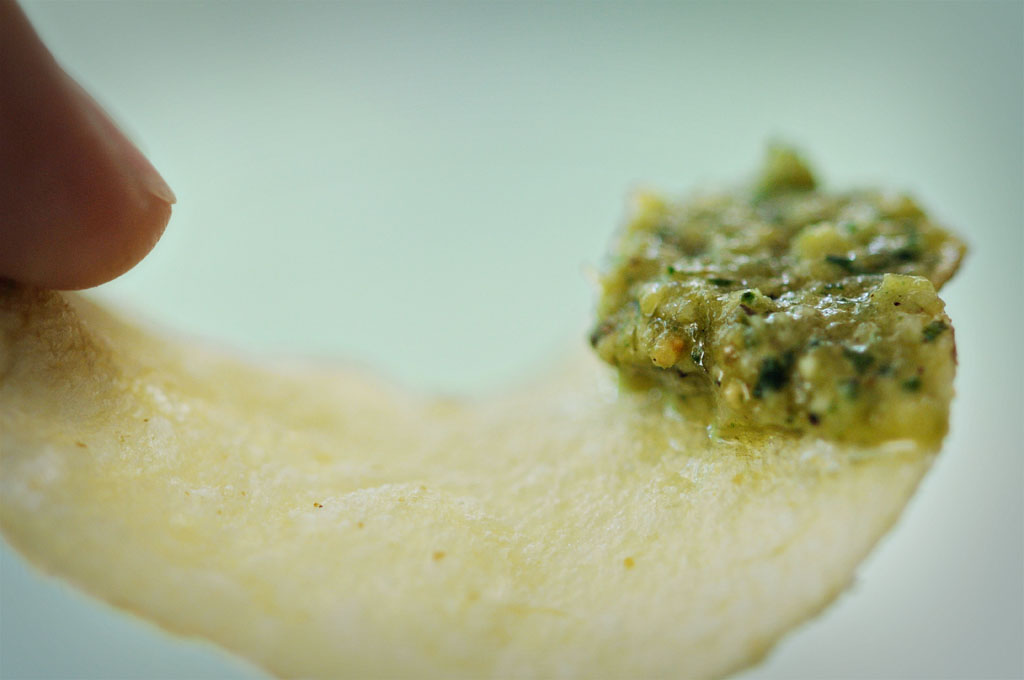 Umm…maybe not so much. But then I love bananas more than potato chips so that could be the problem. So, how 'bout a fig?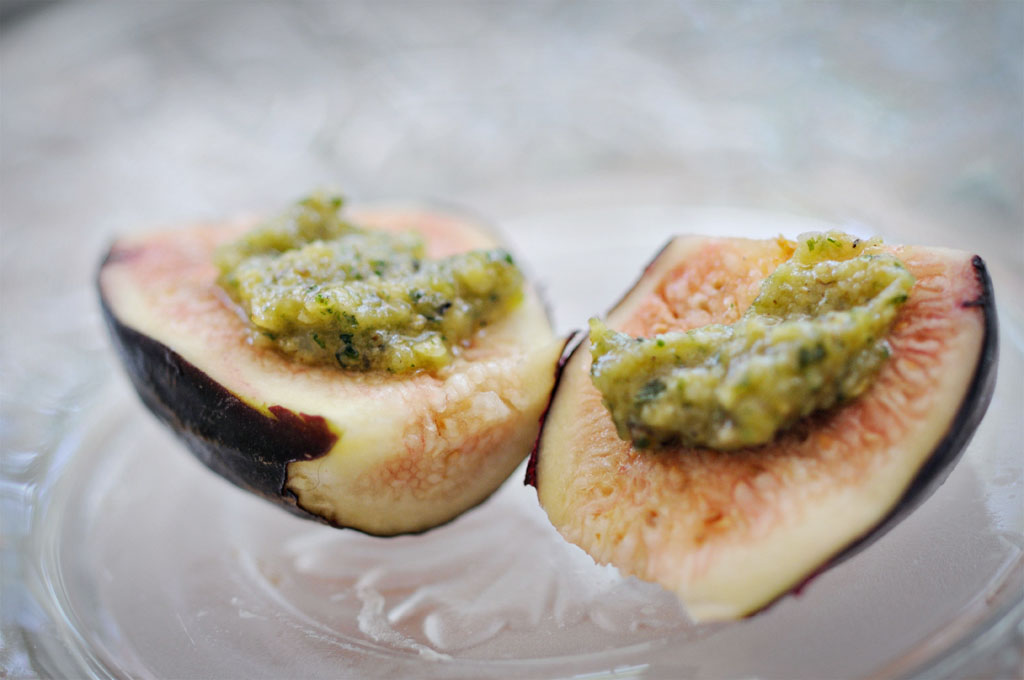 Aren't you proud of us? We're not only trying pesto, but figs too! I think we liked the pesto better than the figs — we didn't dislike figs, but they were very bland. (We tried them with drizzled honey too, but that's another discussion.) And you should have been here for a good laugh during the fig cutting. Are we supposed to eat that skin or not? We eat peach skin, so we ate fig skin. Was that proper?
Ok, now the real test…Pesto on a Ding Dong…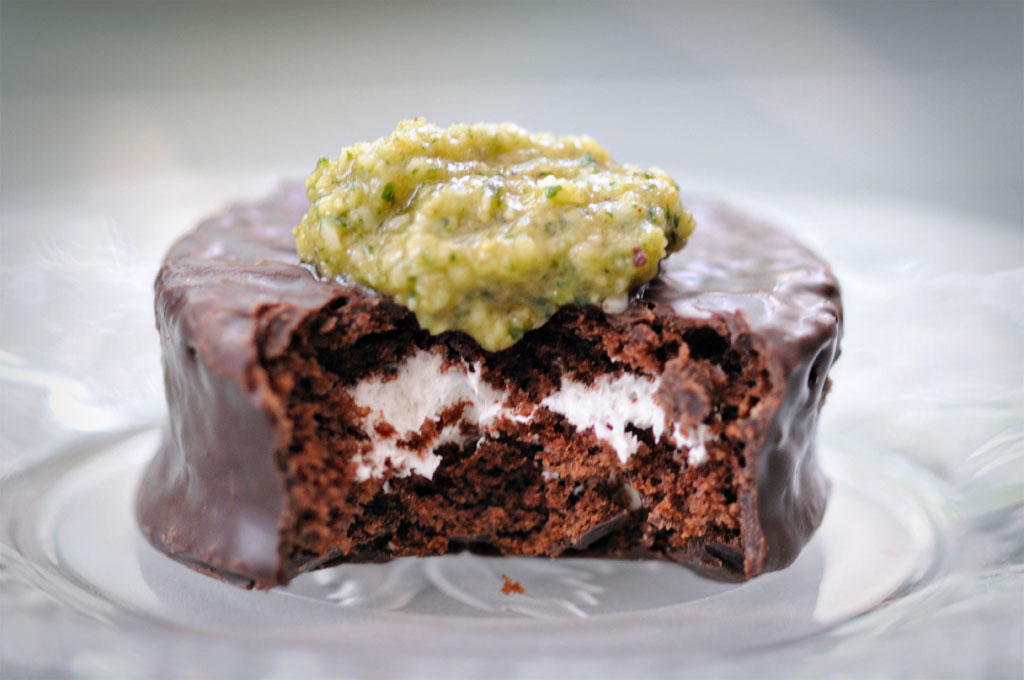 Yeah Baby, that's what I'm talkin' about! I know you think I didn't really taste that, but I did. Not bad at all, but hey, it's chocolate, so what's not to love?
Ok…Ok…you've been pretty patient Ms. Pesto. As you noticed above, we did put your pesto on radiatore pasta as instructed…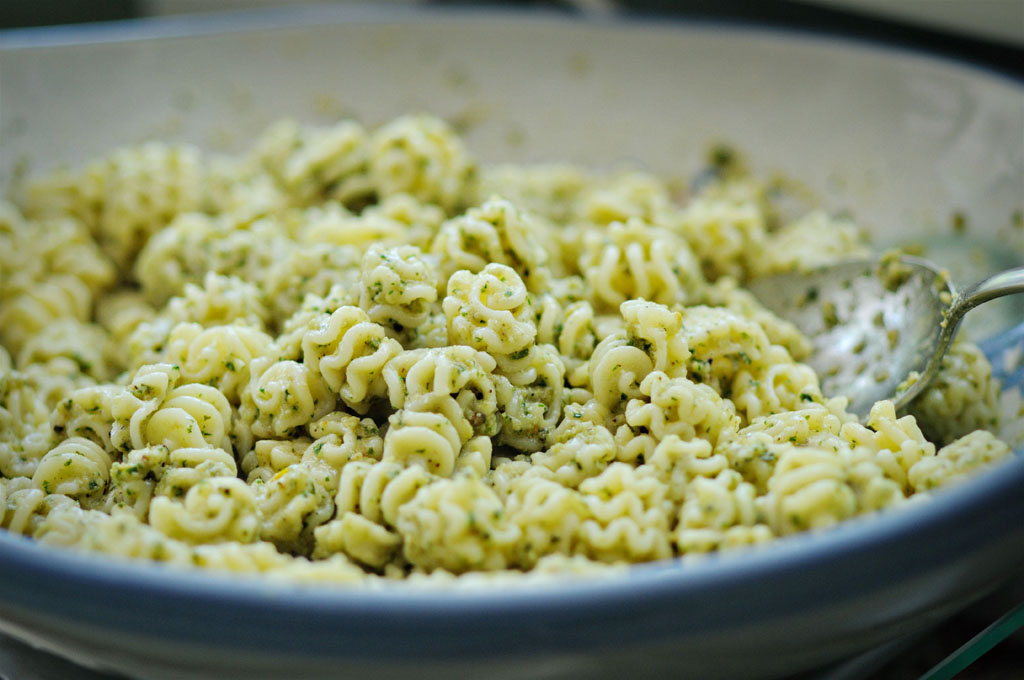 SMILES all around!!! We LIKED it! Dare I say, a few of us even REALLY liked it? I think you're right…if someone doesn't like pesto, it's 'cause they haven't had your pesto. So, thanks for broadening our horizons here in the unique-food-challenged heartland. We had great fun and we've found something new and exciting to have for dinner.
You ROCK, Ms. Pesto!
XOXO,
Anna
Oh, and two more little things…
Kim…oh Kim…are you there? Although I forgot to try it, I really think you should try pesto on mashed potatoes. This stuff is so good, it might cure your mashed potato phobia!
and…
Happy Birthday BigDaddy! You're the best Dad ever and I LOVE you dearly!!! You make us all so happy with your wacky sense of humor and adventurous spirit. And thanks for trying the Pesto!!!
*Thanks Ms. Pesto for a great post title!