Boy, you have all certainly been busy while I was gone. I just can't seem to get caught up, but it's been fun reading some of your blogs and being inspired. You all need vacations! I don't think I've even whittled my bloglines down 50%, and the weekend is coming again. I always get behind on the weekend. Can you get behind if you're already behind?
I'm on business travel again until tomorrow, so that means I'm posting a recipe. These chicken enchiladas should be what my little family had for dinner tonight — I made them in advance and left them for my HungryMen. This is one of our favorite recipes for a number of reasons. First, they're rich and delicious. If you're on a diet, you should probably just skip this post altogether. (Unless, of course, you have incredible willpower and can eat a very small portion.) Second, they might look a little detailed to make, but they're really pretty easy. And third, they're very versatile. I first had them at a VERY nice dinner party, so they dress up well. Or, they can dress down, as we usually have them — nothing fancy. They're pictured here with the VERY yummy jalapeno poppers that were featured on Pioneer Woman Cooks recently. The enchiladas are looking quite over-done in this picture 'cause I love the cheese nice and crusty brown, but trust me, they're REALLY good. MeMum and I make them for several people who have visited us and they always ask for the recipe.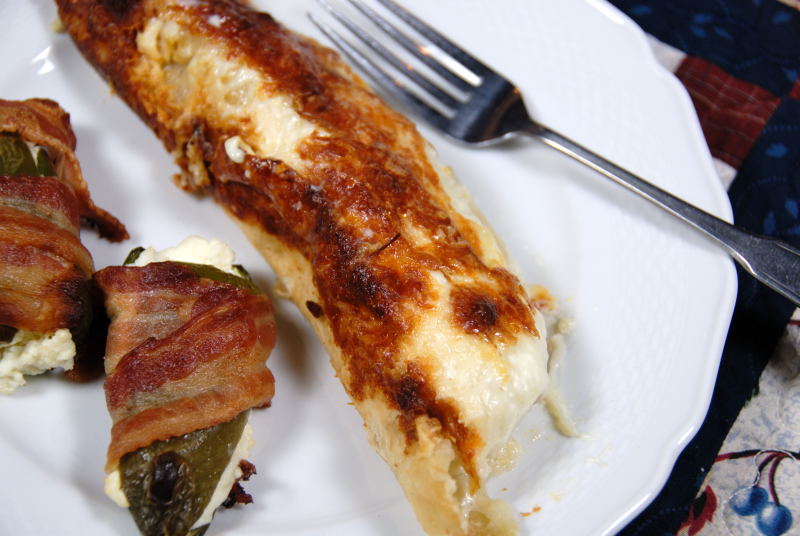 Creamy Chicken Enchiladas
1 T. butter
1 medium onion, chopped
1 4.5 oz. can chopped green chilies
1 8 oz. pkg. cream cheese, softened
8 8-inch flour tortillas
2 8-oz. packages Monterrey Jack cheese, shredded
2 c. whipping cream
3 1/2 c. chopped, cooked chicken breast
Melt butter in large skillet over medium heat; add onion, and saute 5 minutes. Add green chilies; saute 1 minute. Stir in cream cheese and chicken; cook, stirring constantly, until cheese melts.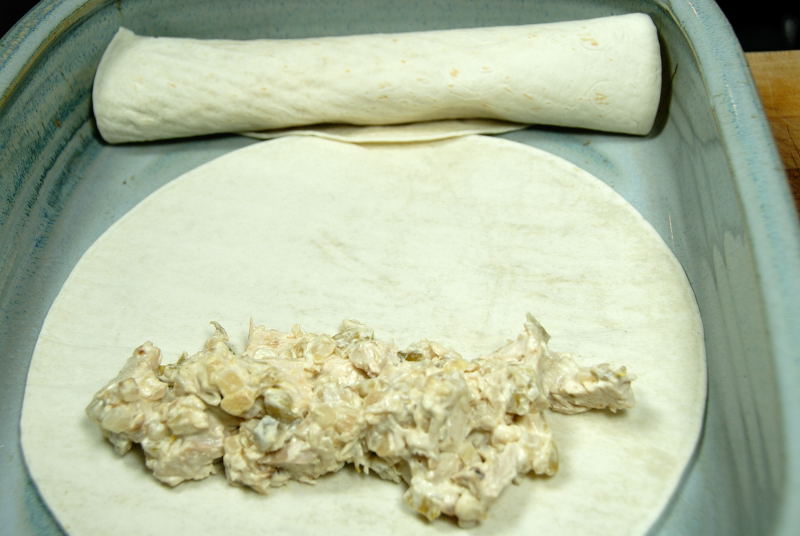 Spoon 2-3 T. chicken mixture down center of each tortilla. Roll up tortillas and place seam side down, in a lightly greased 13 x 9 baking dish. Sprinkle with Monterrey Jack cheese and drizzle with whipping cream. To lighten, substitute half milk. (But we never do, we're oinkers!)
Bake at 350 degrees for 45 minutes, or until bubbly and browned just the way you like them.
Yum, Yum. I hope they have some left when I get home!
XOXO,
Anna