Thanks for all your wonderful comments about Shipshewana! I promised I would tell you why we really go to Shipshewana and there were some really fun guesses in your comments and e-mails.
Is it the food? No, but that's a great guess. There are many good restaurants in Shipshewana. The two most popular are The Blue Gate, just a block away from the auction and the Essenhaus, which, technically is in Middlebury, a neighboring town. These are Amish family style restaurants — you have your choice of menu dining, or you can eat in family style rooms, where everyone orders the same food and it comes on big platters. See the little girl there eating the cookie? (Picture from the Essenhaus website.) Those frosted sugar cookies are fabulous. We used to buy those cookies by the dozens and bring them home and freeze them. But that was back when they were 40 cents each. Once they realized how popular their cookies are, the prices skyrocketed to $1.00 each, so now we only buy a few cookies whenever we visit.
Is it the quilts? No, but you can buy some wonderful hand quilted quilts in Shipshewana. Sadly, I don't have any pictures — since it was auction day, we didn't have time to go to any of the shops with quilts in them.
Is it for the beautiful scenery? To see all the Amish buggies? And Amish homes with their beautiful gardens? (My favorite time for garden viewing is August when the flowers are big and beautiful.) No, but that's another great guess.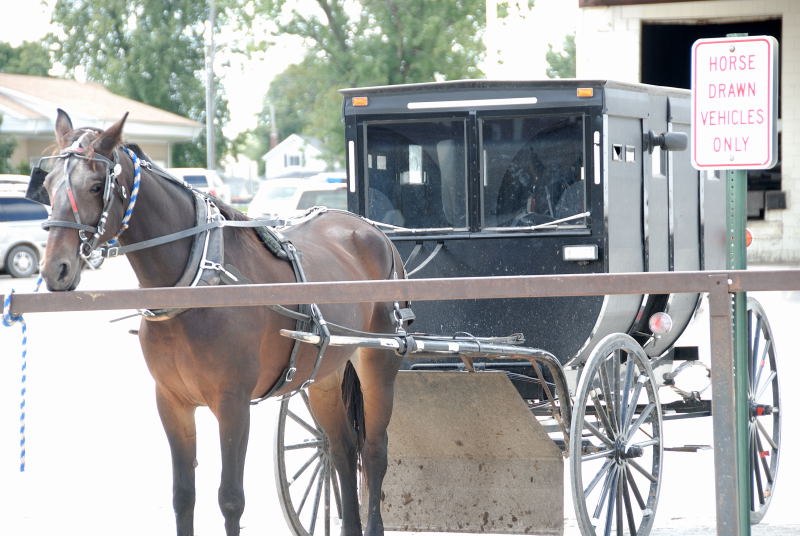 How 'bout the fabric? YES!!! That's why we go to Shipshewana! Shipshewana has two great quilt shops: Lolly's and Yoder's. Ignore the pictures on the Lolly's site. A few years ago their shop burned down and the pictures are from when they were in a temporary location. Below are two pictures from their new shop. Also, Lolly's has a new little outlet shop in the basement of their building — all fabrics are $5.00. It's older fabric that they're trying to sell. There are also lots of fun other shops in the same building that Lolly's is in — in addition to a carousel on the top floor for the kiddies. (Doesn't that guy in the photo look like he's having fu-u-un? LOL.)
Sadly, I didn't get any good pictures at Yoder's, but check out their website. Yoder's is much more than a quilt shop. It's like four stores under one roof — groceries, hardware, clothing and fabrics. Over half of their fabrics are non-quilt related — lots of fabric for clothing and home dec. Yoder's prices are better than Lolly's, sometimes as much as $2.00 less per yard for the exact same fabric. Yoder's also seems to be more friendly, but Lolly's is a little more trendy. You just have to visit both shops!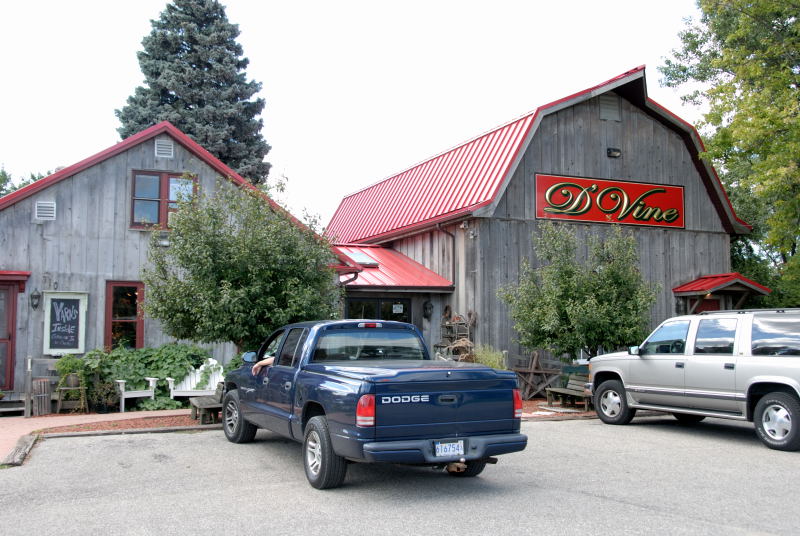 See the building with the red roof? (Quilty peeps, have you seen this yet?) This used to be a great little herb shop with the most beautiful gardens out back. They always had a fun Mayfest, where you could buy lots of herbs to grow in your own garden. They've recently sold though (the new name is D'Vine), and much to my surprise, on this last trip I discovered the building on the left is now a little yarn shop. I've always wondered why Shipshewana didn't have a yarn shop, and now they do. The building on the right has the old garden-y types of items along with a little tea shop. While I like that there's a yarn shop, I really miss that herb shop. And I really hate the cutesy name and all that new RED garishness. What's up with that? Kind of makes me expect some stripper named D'Vine to poke her head out the door. Someone must have been smokin' a few of the herbs out back when they came up with the new decor!
I've rambled on long enough — thanks for sticking with it. I've you're ever in northern Indiana, I hope you'll stop by Shipshewana — it's well worth the visit. For some really great tourist info, you can visit their website and have a virtual tour. Hope you're all having a great weekend!
XOXO,
Anna