Well, how's it going out there? Are you all busy working on holiday projects this weekend?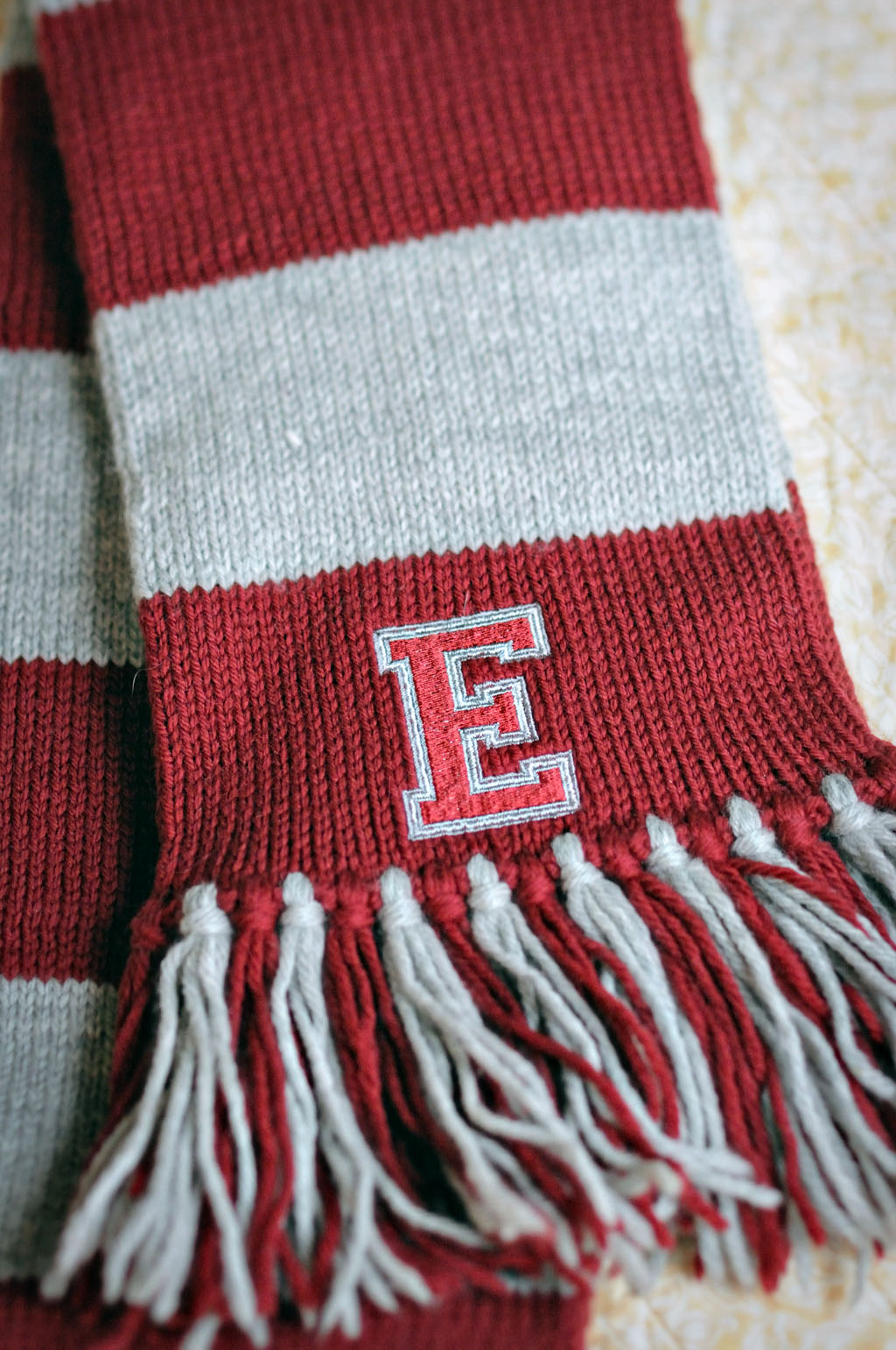 I've been sewing all day and plan to do more tomorrow. I would normally put up our real Christmas tree this weekend, but I have too much sewing to do and didn't think I could afford to lose the weekend to decorating. I'll work on the tree this week after work.
A few weeks ago, when I posted the knitted hats pattern, I mentioned to a few of you in e-mail that I have a scarf pattern that can be knit to match the hat.   Just like the hat pattern, our now-out-of-business yarn shop provided this pattern when I purchased yarn from them. It's a great scarf — it's knit in the round, so it's effectively a two layer scarf and it's nice and cozy and warm!
I made this hat and scarf a few years ago for TheFirstChild. I knit it in his school colors and before I put the fringe on the end of the scarf, I used my embroidery machine to add an "E" (he went to Earlham College) to one end before I closed the end with the fringe. It's a fairly quick knit — the year I made it I started about 10 days before Christmas and had it finished in time for a Christmas present. (This pattern can also be used to create a Harry Potter type of scarf without a letter.)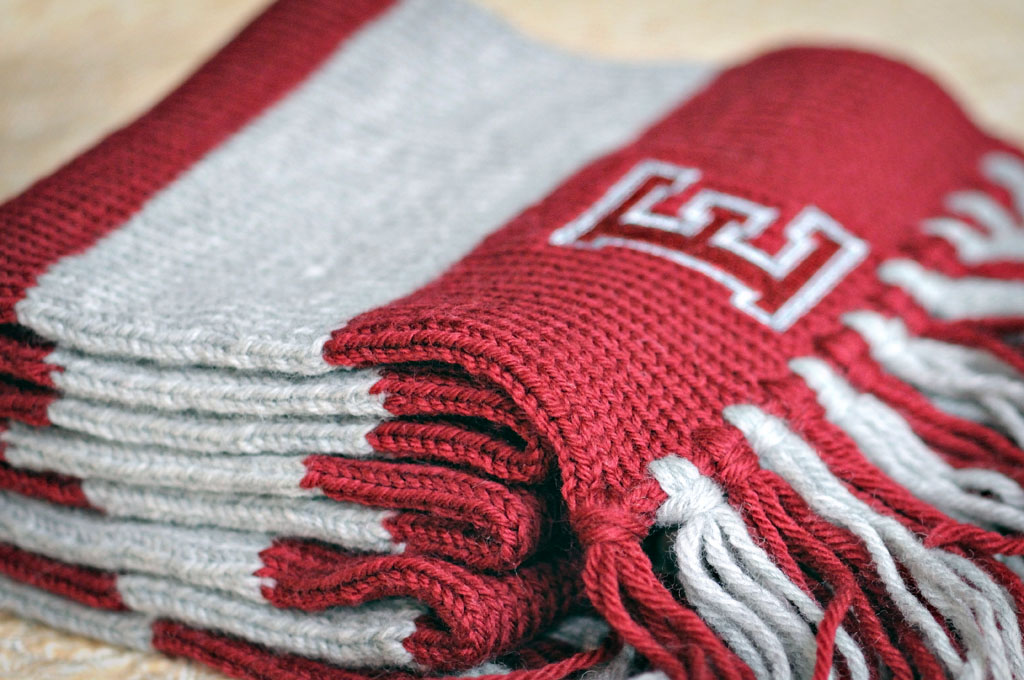 The "E" is from Husqvarna Viking's baseball font set. I loved this font when the kids were in high school. One year I made our family baseball sweatshirts with our last name across the back of the shirts. Very Dorky, but everyone knew who we were there to support!
Collegiate Scarf
Sizes: Children's (Adult's)
Measurements: approx 6.5″ x 60″ (8″ x 84″) excluding fringe
Materials: 2 skeins each gray wool (Cascade 220, Encore, etc. — I used Cascade 220) and burgundy wool, 16″ #8 circular needle, piece of cardboard 4″ x 7″, size F or G crochet hook and yarn needle.
Note: Cut fringe before beginning scarf — with gray, wind 48 (56) times around the 7″ length of the cardboard. Cut one end and set aside. With the burgundy wind around the cardboard 56(64) times.
Scarf: With burgundy yarn, cast on 60 (72) stitches and join being careful not to twist cast on edge. Knit 20 (25) rounds. Change to gray and knit 20 (25) rounds. Repeat this color sequence for 17 (21) stripes, ending with burgundy. Bind off all stitches loosely. Using an overcast stitch, sew the ends of the scarf closed.
Fringe: Beginning with burgundy and alternating colors, attach fringe with crochet hook using 4 strands per fringe for a total of 13 (15) times. Trim edges of fringe even.
My front door Santa seemed very happy to have a little warmth — it's cold out there.  He's not alone, even TheEmptyNestChild loves this scarf!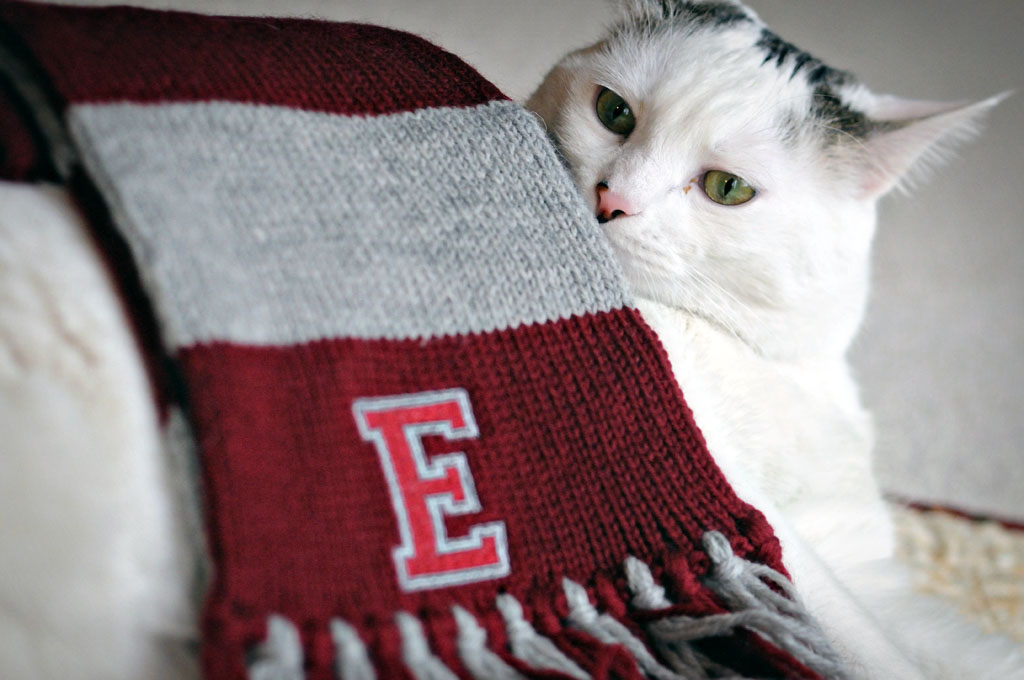 And for the non-knitters among you, primarily Isabelle (who I'm sure is only temporarily a non-knitter), I offer my front door Christmas lights. Isabelle posted her front door (make that beautiful front door with the gorgeous stained glass window!) with a description of how it will look after Mr. Life puts some lights on her little tree. Rather than wait on TheManoftheHouse to put lights on our trees, I've resorted to two little fake trees and a garland that get put into the attic with lights in tact every year.  That way I can just pull them out of the attic and plug them in.  The Christmas tree in the window is fake too (although it gets taken apart, so it's more work) and it's inside where it can be decorated in warmth.  The red bells in the window were my grandparents and they're one of my most treasured Christmas ornaments.  They're not valuable (SweetiePie just bought some on e-bay for $3.00) but very sentimental.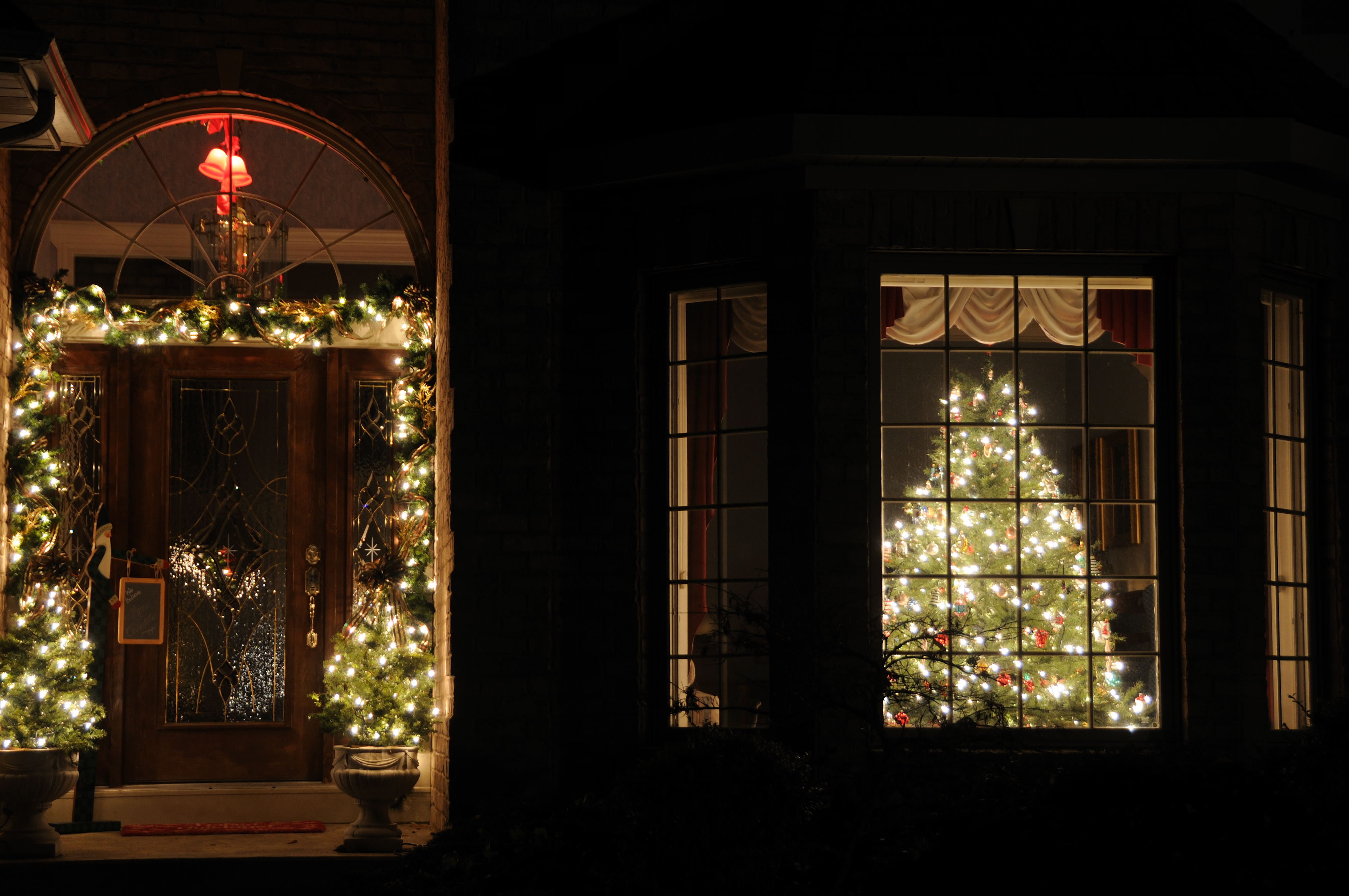 Oh! And I had a really weird thing happen last night. I was commenting on someone's blogspot blog and the verification word that popped up was our last name! Has anyone else ever had that happen? Your own last name???  Maybe blogspot is stalking me LOL!
XOXO,
Anna