Camille and Carrie are hosting a "My First Quilt" show, so I thought it only fair to burn your retinas with a little 1980's pink and blue. Oh wait, it was "mauve" and "country blue" back then, wasn't it?
This was my first quilt. It was 1987 and I was on the verge of birthing TheSecondChild, so being on maternity leave and having unlimited access to the master quilter (MeMum), we decided that I should learn how to quilt.  We had a new little house and I made this quilt to hang in our entry hall.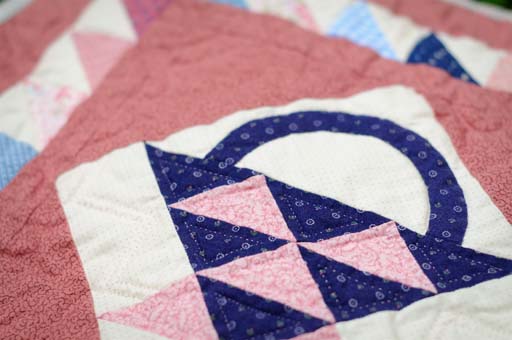 Camille also asked what we have learned between our first quilt and our last quilt. I've learned that I wish I could get back to hand-quilting. It's always been my favorite. My quilts now seem to be easier and quicker. It would be nice to go back to more detailed blocks and hand quilting.
I'm also supposed to show you my most recent quilt.  Here it is: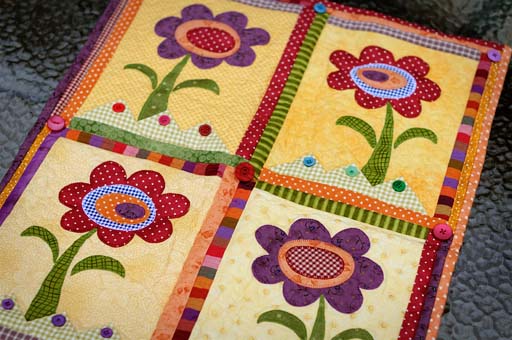 Oh, I'm KIDDING! My most recent quilts were those t-shirt quilts and seeing them once is enough. THIS  ADORABLE little quilt came all the way from Australia from Toni of The Red Boot Quilt Co. Isn't it the sweetest thing?
I LOVE LOVE LOVE it! I love the happy, bright colors and the big fat flowers. And Toni's work is PERFECT. Perrrr-Fect!  It's just beautiful. Look at those pretty stitches!  And look at all the other goodies Toni sent. Three (THREE!) of her patterns– they all have flowers on them.  Eeeek, they're so cute!  And, I LOVE TimTams Toni — how did you know? We had them here at Target for about 5 seconds and now they don't carry them anymore. I'm going to HIDE savor every single cookie. They're my favorite combination — chocolate and carmel. Yum, Yum!
But wait!  There's more!  Vegemite.  I haven't dared try it yet — TheSecondChild said he tried it in Sydney and didn't like it.  I'm not going to let that prejudice me though — Toni gave me a tip for eating it.  If any of you other Australians have any great tips for becoming a Vegemite lover, I'm all ears!  It can't be all bad, can it — look at that gorgeous packaging!!!
Toni!  Thank you, THANK YOU so much for your generosity!  I already have the perfect place picked out in my little sunroom where I'm going to hang your cute quilt.  I can't wait.  What a wonderful gift — you've made my day.  And if the rest of you haven't visited Toni, run over there.  She's on a little blog break, but there's lots of great stuff to see and I promise, you won't be sorry!
XOXO,
Anna