Merry, Merry Christmas! It's that quiet moment in our morning before everyone is up, so I thought I'd quickly pop in to record our mayhem for posterity. The ovens arrived right on modified schedule — just in time to spend all day the 22nd making cookies. It's a good thing too — I desperately needed my traditional Christmas Eve morning breakfast!
TheSecondChild arrived home on cookie making afternoon, bringing his travel companion, Moofie. The kitties have been having a grand time.
Moofie is the naughty kitty in the upper left. He got spooked on Saturday morning and bit TheSecondChild. So, late on Saturday evening, with a swollen hand, there was a visit to the ER for a little IV antibiotic therapy. I waited at home and tried to catch up on all the wrapping and cleaning — I've been so terribly behind schedule all fall. We all finally fell into bed at 5:30 a.m. The 23rd kept up busy with the annual Gingerbread Competition and suddenly, Christmas Eve was upon us! We had our traditional Christmas Eve dinner and managed to open a few presents before sending TheSecondChild back to the ER, that nasty infection seems to be spreading. More IV antibiotics and luckily, due to the holiday, the Dr. said he could come home overnight. We've modified our normal Christmas morning schedule while he's gone again this morning for yet another round of antibiotics. Hopefully, they'll send that infection packing!
So, it's been eventful to say the least. Must run and get the traditional breakfast ready. And then Santa can visit!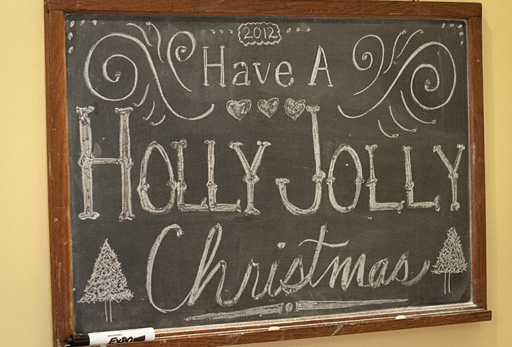 If there's anyone out there, I hope you're having a wonderful holiday! We sure are — even with the crazy schedule and manic disorganization!
MERRY CHRISTMAS!
XOXO,
Anna