Hi There.  I was a little surprised when I checked the blog and realized it's been over a week since my last post.  Time goes by so quickly and I just can't keep up!  There's been a little sewing around here, but it's not very exciting yet, so I'll wait to show it to you next time.
In the meantime, I've been cooking over at MeMum and BigDaddy's a lot more lately and I really love it when I can just get one of my recipes from my blog, rather than having to bring it from home.  So, I thought I'd add another one here, since I have it on their menu in a week or two.
Back in the dark ages when TheManoftheHouse and I were newlyweds, I subscribed to one of those recipe clubs where you could get a pack of recipe cards each month for some paltry sum.  The first month, they sent a recipe box along with the subscription and by the time I was done I had a box full of recipes.  I've long since thrown the box and it's mostly worthless recipes away, but I did find one recipe that we've loved over the years.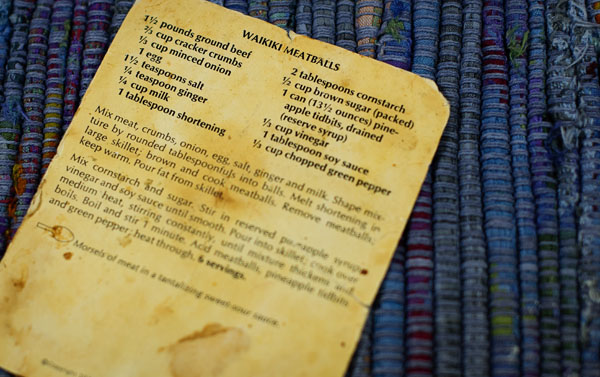 Waikiki Meatballs.  Or as we call them Sweet and Sour Meatballs.  You can see I've spilled a lot of sauce on this card and used this recipe a lot.  These are quick and easy to make on a weeknight — especially if you use frozen meatballs or you've made your meatballs ahead of time.
Waikiki Meatballs
1 1/2 pounds ground beef
2/3 cup cracker crumbs
1/3 cup minced onion
1 egg
1 1/2 teaspoons salt
1/4 teaspoon ginger
1/4 cup milk
1 tablespoon shortening
2 tablespoons cornstarch
1/2 cup brown sugar (packed)
1 large can pineapple chunks, drained (reserve syrup)
1/3 cup vinegar
1 tablespoon soy sauce
1/3 cup chopped green pepper
Mix meat, crumbs, onion, egg, salt, ginger and milk. Shape mixture by rounded tablespoonfuls into balls. Melt shortening in large skillet; brown and cook meatballs. Remove meatballs; keep warm. Pour fat from skillet.
Mix cornstarch and sugar. Stir in reserved pineapple syrup, vinegar and soy sauce until smooth. Pour into skillet; cook over medium heat, stirring constantly, until mixture thickens and boils. Boil and stir 1 minute. Add meatballs, pineapple chunks and green pepper; heat through.
6 servings
I'll leave you with a shot of a local culprit we found this weekend. This is why our bird feeders are usually empty. I watched this little stinker climb the pole on the right side of the picture, and just before he reached the squirrel baffle, he leaped over to the seed tray. Look at those cheeks! You'd think the little pig was getting ready for winter.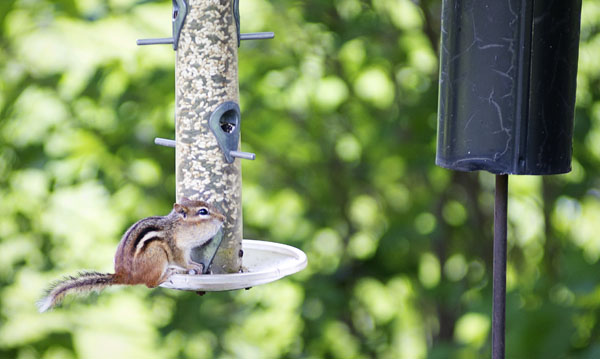 Have a Chipmunk Bountiful week!
XOXO,
Anna