(Warning:  Long Post Ahead.)
Well, by now, you're probably sick of reading quilt market posts all over blogland.  I'm always slow since I don't take my laptop with me and I'm so tired when I get home.  Market was tons of fun, but a lot of work too.  Kellie opted for a double booth this time and we went from this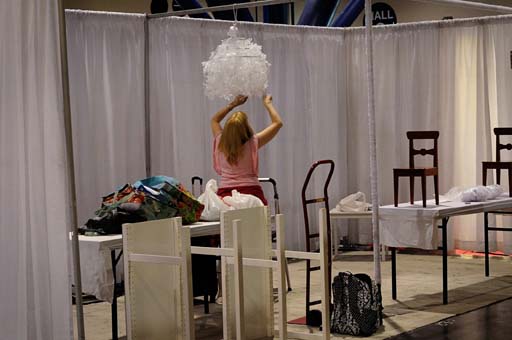 to this.  Good thing she had a double booth — it was crowded like this a lot.  I didn't manage to get a good empty-booth shot.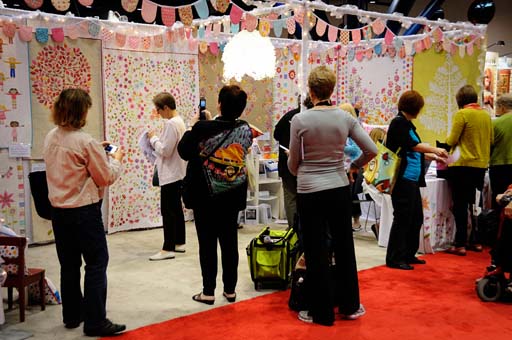 Poor Shandi wasn't able to make the trip (not going to trust my baby to any shipping guy!) so Kellie brought a new light fixture from Australia.  Isn't it pretty?  All those little flowers are cut out of plastic and we put it together the night before set up.  I'm wondering how she made the trip home — it seems like she must've been squished.
Anyway, on to the people.  My first encounter was a total surprise.  My sweet blog friend Karin couldn't come to market, so she sent me a present, hand delivered by a friend that works in a quilt shop with her.  Look at this beautiful necklace, hand made by Karin!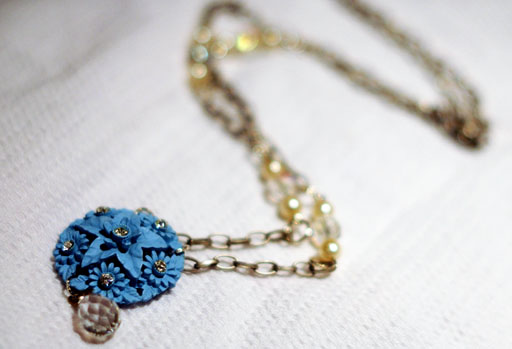 What a thoughtful gift.  I had no idea that Karin was sending me something and it was such a nice surprise after two days working to set up the booth.  Thank you so much Karin — I LOVE it!!!
Then, I was thrilled to meet Flat Nat, all the way from Australia.  I've read about her with envy, so I was so excited to actually meet and hold her.  (I might have whispered sweet nothings into her ear.)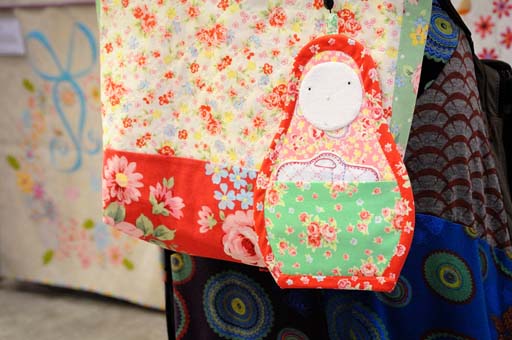 And look who she brought with her — her mother Natalie and Leanne.  Soooo fun to meet these two — they stopped by several times during market and they're both just as sweet and cute as can be.  I felt like the booth just lit up every time they came by.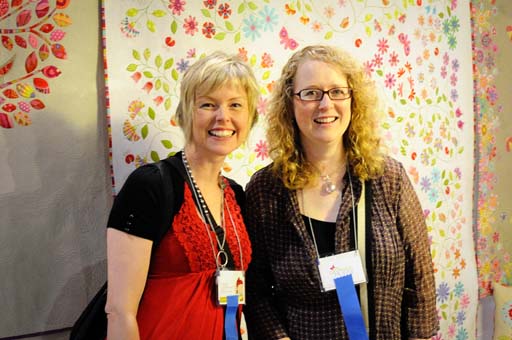 The next few days were a big blur and I get a big fat F+ in remembering to get the camera out.  Beth was my first invisible friend to stop by and luckily for me, she came back to visit a few more times 'cause it got busy in the booth.  What a cutie!  And what a surprise — I had it in my mind that she's short and blond — haha — she's tall and brunette!  It's so cool to meet imaginary friends in real life!  Another surprise was Penny.  She always posts about outdoor trips with her hubby so I pictured her more as the rugged outdoor type.  She was so amazingly soft-spoken and pretty with her cute curly hair!  (Hi you two — thanks for stopping by several times — I so enjoyed talking to you both!)  I also had fun meeting Sheree (Penny was her sidekick) — her booth was right next to the ladies room, so I waved as I ran by.  Shortly after meeting Penny, Jackie came along.  Jackie and I have e-mailed for years (ha! — that's blog years) so it was super fun to meet her too.  There were lots of others too — Elizabeth, PKM (apparently before her accident), Kathy, Pat, and probably a few that I can't remember (I'm sorry — you can't expect much from someone who had to crawl around on the floor as much as I did!  Aaaccckkkk! And  Sharon!  How could I forget Sharon???  She was wandering around with Nancy NoBlogBlogs and I practically accosted her when I saw her!)
We also had a steady supply of the famous too.  Brandon Mably was absolutely smitten with Kellie's designs.  Early Saturday morning, before Jan and I arrived at the booth, he brought Kaffe by for a visit.  Kellie was on the ceiling the rest of the day!  I only got two pictures of the famous with Kellie.  Here are the Piece O' Cake girls — I've loved their designs for years and I'm so sad I missed their booth.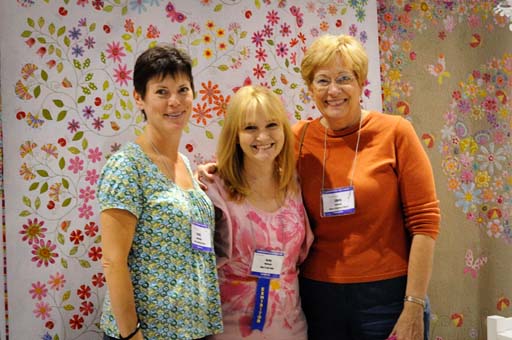 And Jane Sassaman — just as sweet as can be.  (Ok, I do have one more picture of Kellie with someone, but I have no idea who it is, so I can't post it and embarrass myself — you know, in case it's someone REALLY famous!)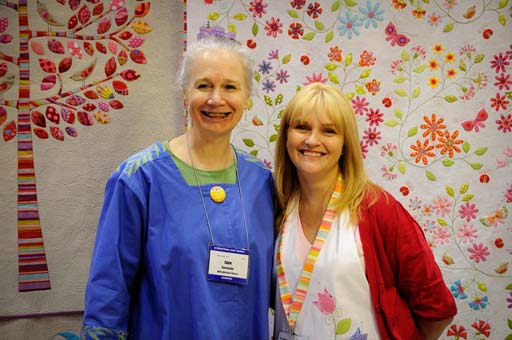 Kellie's booth was in prime real estate territory.  Right in front of us was Anna Griffin.  ANNA GRIFFIN!  Ohhh, the eye candy!  Her booth was gorgeous — walls at each corner so that guests entered the booth in the middle of each of the four sides.  There was a beautiful big vase of fresh flowers in the very middle of the booth.
Each outside wall had an idea board for each of her four fabric lines.  This is the wall that was directly across from us.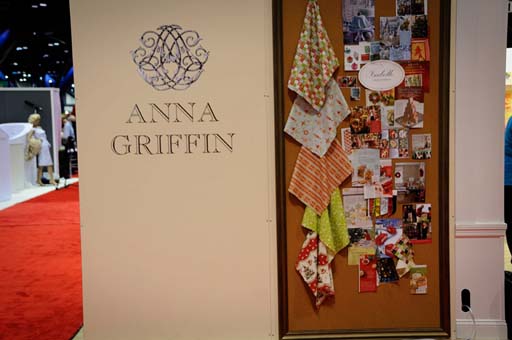 It contains her new Christmas line, due out in May 2011 — I think it's beautiful!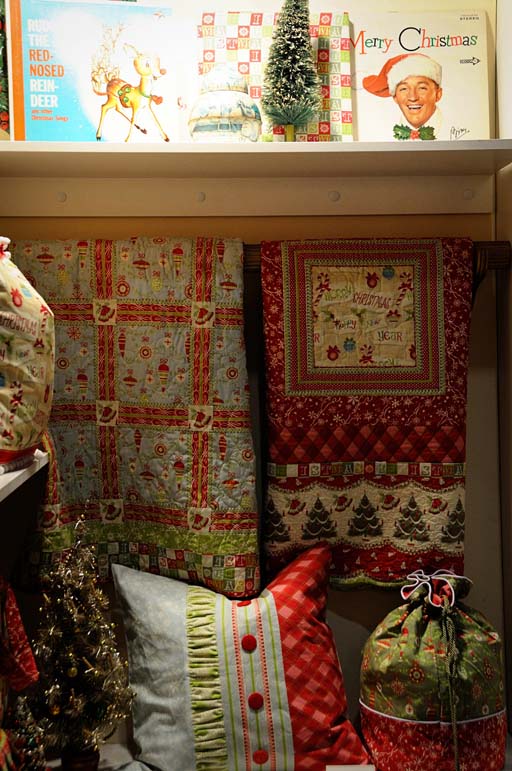 Kitty-corner and behind us was Kaffe Fasset's booth.  During a quiet moment, Jan and I ran around to his booth.  Jan managed to sit down and have a little chat with him.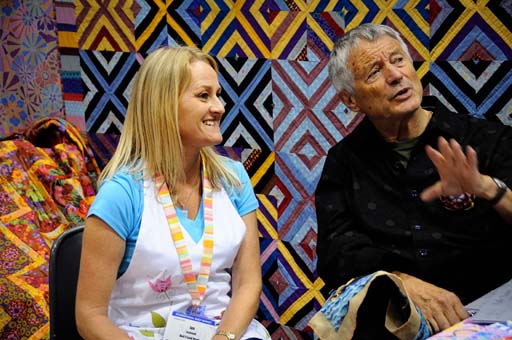 What a nice man!  He was working on a needlepoint of a fish.
And isn't his booth beautiful?
Kitty-corner behind the Anna Griffin booth was Michael Miller.  They always have a fun time and this time, they had one of those booths where you grab a bunch of paper.  I have no idea what it was for, but this guy was having a good time.
I loved the big mannequins in the Michael Miller booth.  And see those big porthole windows at the top of the picture?  That's where people stand and take all those aerial views of quilt market.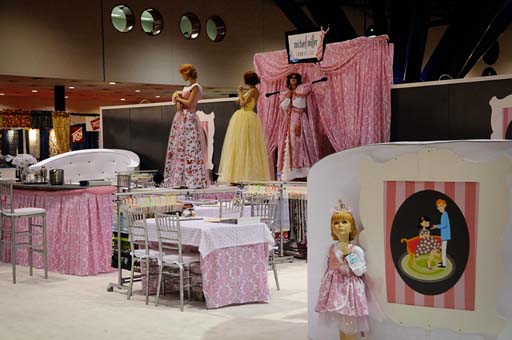 Like this one!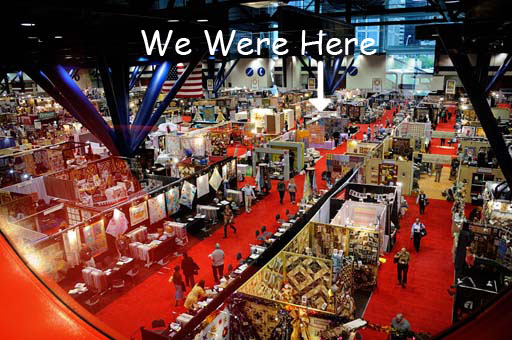 I didn't even come close to seeing all the booths at market, and I certainly didn't get many pictures.  I always love to get a picture of Anne's gorgeous booth though.  It was fun to see Anne and her sidekick Anne again.  Next time we need to have a picture taken of an Anne-Anna-Anne sandwich!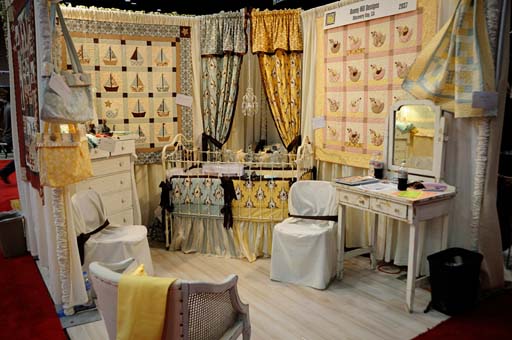 And one last picture (whew!) — this must be the nicest designer in all of marketland.  I don't think I've ever seen her without a smile on her face.  Jan and I happened by her booth during set up and she treated us like old friends, even though she had no idea who we were — what a sweetheart.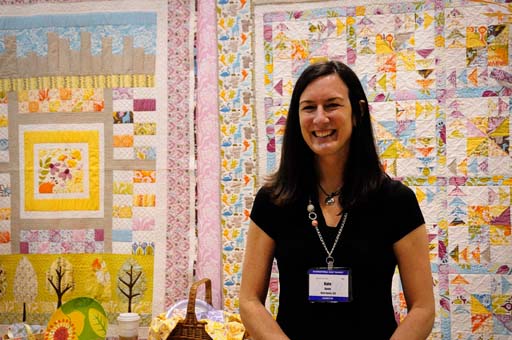 Ok, that's enough.  Sorry it was so long!  One more here's-what-I-bought-at-sample-spree post and we'll be done.  Trust me, market posts are way more exciting than what's going on around here — which is a whole lotta nothing.  (Oooh, I forgot, I did get together with the quilty peeps — I'll have to show you what they're working on.)
XOXO,
Anna