How is your week going?  Things are very slow around here — I think I might be in vacation letdown.  I have a lot of projects I'd love to start, but the house is still a mess from lack of cleaning.  I'm trying to clean one room each night after work — that's the slow way to do it, but hopefully it will mean I won't have to spend all weekend cleaning.
I have been reading a little (Precious Bane, which I'm loving — thanks for the recommendation Molly!) and knitting a very little bit.  Here are the socks I'm working on.
It seems like they've been on the needles forever.  I hung them on my Gerbera Daisies because I couldn't think of anywhere else to put them.  Those daisies don't look particularly happy, do they?
I also forgot to show you a smock apron that I made before vacation and took to my Aunt Annie.  I couldn't show you before we left as I'm not sure if she reads my blog.
When we were out there a few years ago, I noticed that Aunt Annie likes her smock aprons, so I took one of them and traced out the pattern on some craft paper.  It was very easy to make — 2 basic pieces, yoke seams on the front and back and then just put pre-packaged binding around all the raw edges.  I love a no-fuss pattern like that!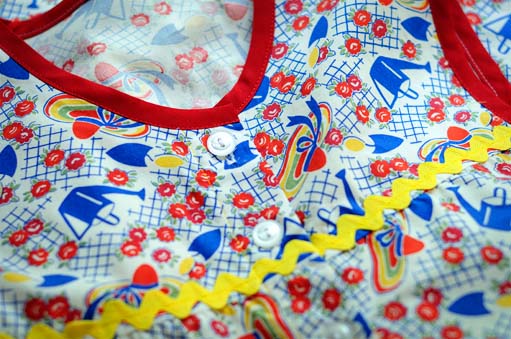 Well…not much else to report.  Our weather has been beautiful — it's a perfect 70 degrees outside with a beautiful full moon.  And when you start talking about the weather, you've run out of things to say and it's time to sign off.  Have a great week!
XOXO,
Anna