Long time, no blog, huh? I seem to be having a bit of trouble keeping up these days. Do you ever feel like you're doing a lot but not getting anything done? That's how it is here in ThimbleannaLand, plus it feels like things are falling down all around me. I could probably write my to-do list in the dust on the furniture! Ah well, busy is happy, right?
TheFirstChild had his orientation for medical school this weekend and families were invited to attend the White Coat ceremony. We arrived early and I was glad we did because it was cool to see all of the white coats neatly laid out on the student seats before the students started arriving.
It was a wonderful ceremony and in a tradition that we saw when TheFirstChild went to his undergrad orientation at a different college, the Dean of Admissions spoke about the characteristics of the students in this class. He spoke of the diversity of their gender (56%M/44%F), race, age (19 – 41), and home countries, states and counties. As you can imagine, they come from very different backgrounds and some have overcome hardships to make it to med school. He read excerpts from a few essays by the students — my favorite was from a young man who had been an army medic and had been to Iraq three times. They are also an incredibly talented bunch — among them they have enough musical talent to form an orchestra, with the exception of a bassoon. The Dean read a list of a few of their hobbies and at the end he said they had knitters, crocheters and sewers among them who would hopefully use those skills in surgery. That comment got a lot of laughs!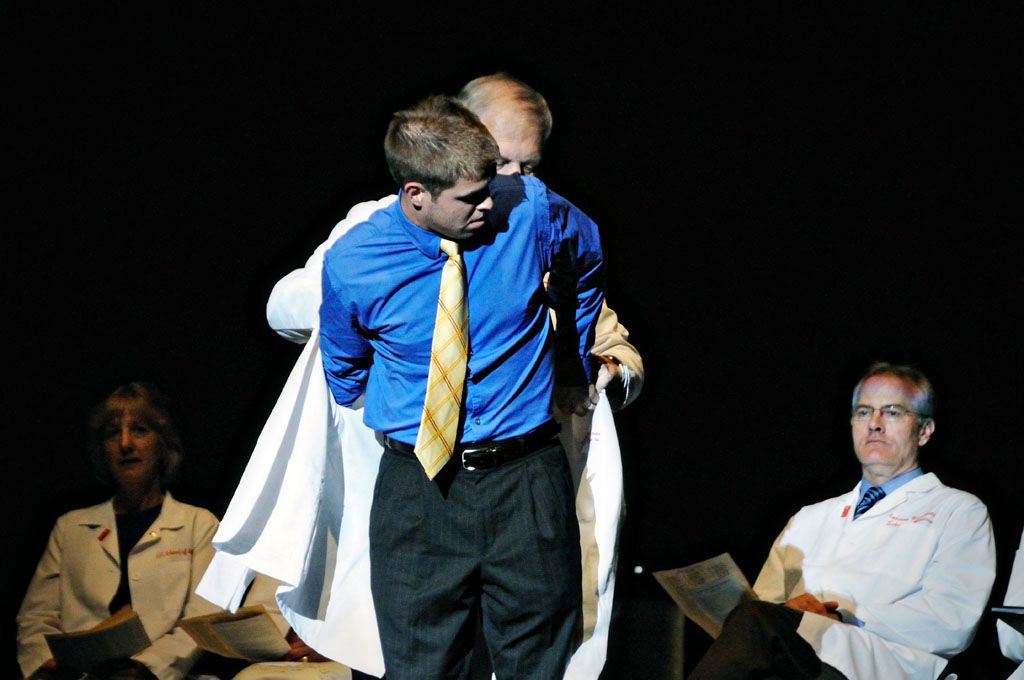 There are approximately 305 students in this class which, I think, is the largest med school class in the US. Each student walked across the stage and handed his white coat to his dean who then helped him put it on.  One of TheFirstChild's friends since kindergarten (and a groomsman) is also in this class so we had the added bonus of seeing him receive his white coat too. Before we knew it the ceremony was over and it was time to go. We had dinner with the newlyweds and then sent them on their way.
I suddenly find myself joining Isabelle in the ranks of the melancholy. The newlywed's wedding and their move were small potatoes compared to this.  This time it's real.   They're off on their own now to work long hard hours in pursuit of their dreams.  My little butterfly slipped out of my grasp when I mistakenly had my palm open. What was I thinking? I should have held on tight.
XOXO,
Anna