Hmmm, I seem to be dragging my blogging feet around here, but I have a pretty good excuse. I've been slaving away on my applique border! When I get home from work I make dinner and then sew a little before bed, so, not much time for posts.
In addition to my applique, I managed to get my Amy Butler corduroy shirt finished.  Garment sewing is probably my first crafty love, so that makes me deliriously happy!   I chose Hot Patterns Plain and Simple Superfantastic Shirt pattern for my shirt. Have you heard of Hot Patterns? When I purchased my fabric at The French Seam, I asked if they had any good shirt patterns. She showed me the Hot Patterns section and let me browse.  After I chose my pattern, I asked the shop owner what she thought of them — were they pretty true to size?  She said that the directions weren't the best, but the sizing seemed to be pretty accurate.  I don't usually read the directions in patterns real closely anyway, so we both decided this pattern should work just fine.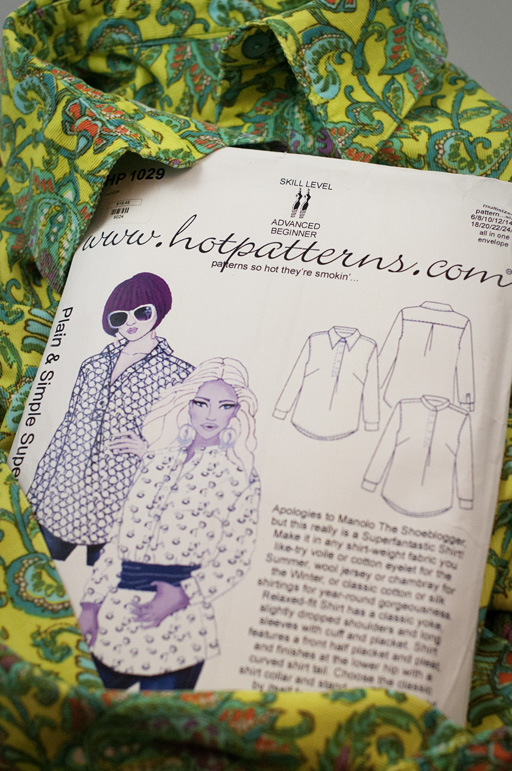 And it did.  But when I first started sewing there were several little annoying things (like where most patterns say cut 2 she says cut a pair, and yardage requirements were for 60″ wide fabric — nothing for 45″ wide fabric) so I was pretty prepared to give it a very lackluster review.  The shop owner was correct, the directions are definitely lacking.  If you're a beginning sewer, you will have to consult other sources for some of the steps.  For example, as you can see below, the sleeve has a few pleats in it.  The instructions simply said to put the cuff on the sleeve.  No instructions (or markings on the cuff) as to where to put those pleats or buttons.  The instructions were a little better for the button placket, but probably because it is a pretty unique way of doing the placket.  There is only one dot marking the end of the dart for all pattern sizes.  And since the shirt sizes range from 6 to 26, that's a pretty big problem.  Since I'm on the lower end of that range, my darts are a little too deep.   Oh, and while I'm whining, the pattern is multiple sizes on heavy paper — which is good, except that I hate actually cutting into the paper.  With normal patterns, I can fold the pattern tissue here and there to cut the patterns.  For this pattern, I used a very thin fabric and drew out and cut the pattern pieces to my size.  Pretty time consuming.
Having whined said all that, I LOVE LOVE LOVE this pattern!  Just as the shop owner said, the sizing is pretty accurate.  (Although, I have long arms and legs — I always have to add an inch or two to sleeve and pant lengths, but I didn't have to with this pattern – Yipee!)  I also (just 10 minutes ago) checked out the Hot Patterns website and I wish I'd seen it before I made my shirt.  There are videos for some of the patterns (three for this particular shirt, which are very helpful).  The owner/designers of Hot Patterns are British, living in Florida, so that explains away the little differences in terminology.  The woman in the video even says that she's pretty laid back about the instructions — she likes to let you do things your way.   I LOVE the way my new shirt fits and that soft corduroy makes it wear like a dream.  I also really love the way she constructed the placket — it's very clean and quick and clever.
So, to sum up … if you're a beginning sewer, you'll probably need some help with these patterns. Otherwise, I think they're wonderful and I give them two big thumbs up. I'm a big fan now and I'll definitely be using them again — I can see many more versions of this shirt alone in my closet.
Happy Sewing!
XOXO,
Anna