Can you believe it?  It's May already (not that I'm telling you anything that you don't already know).
For May Day I made a little quilted bag for MeMum.  Just a little something to hang some pretty flowers from her doorknob this morning.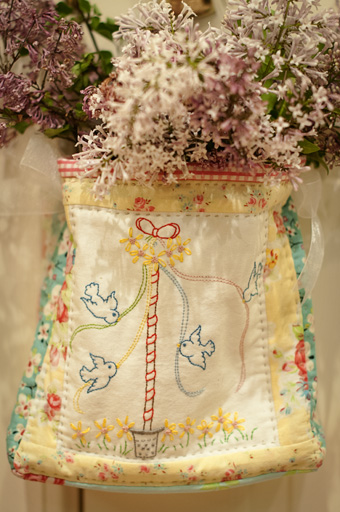 It's hard to see from the picture, but there are grommets in the sides so that I could tie the ribbon to the bag.
And what better flower for May? Lilacs are a favorite of ours — I've often wondered if it's because the name contains the name of MeMum's mother — Lila. So pretty!  (And they smell soooo good!)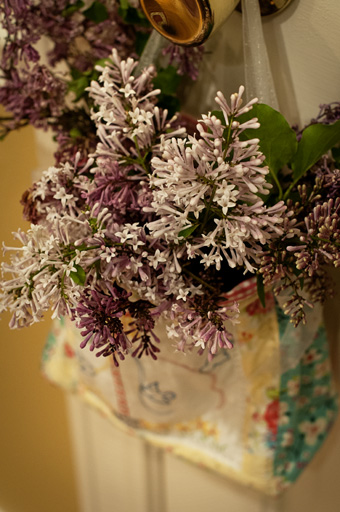 Anyway, that's not the only reason I made this little bag. If you remember correctly, it's May. And I'm Miss May in the Aurifil Block of the Month. I've created the little Maypole embroidery for the May block and I wanted to work it up in a different colorway just for fun. Here's my block in the fabric and Aurifil colors that were provided to us for the Aurifil quilt.
You can read more about my block and get the pattern on the Aurifil blog.  (If the post isn't up yet, it will be soon).   And don't forget, if you're making the Aurifil blocks, you can post your block (and see lots of other pretty blocks) on the Aurifil Flickr page.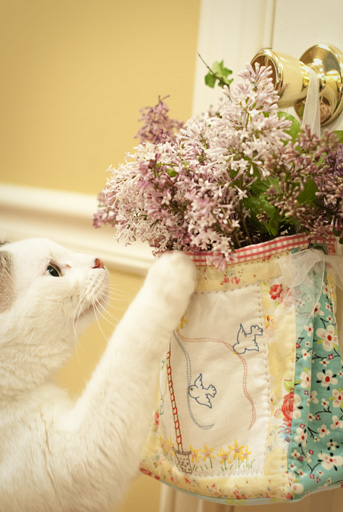 And Scruff would like to say Thanks for your visit — but he's busy trying to get a whiff of those flowers.  Have a good week!
XOXO,
Anna