****Warning:  Picture Heavy Post!****
Hello there!  I hope you're busy having a good weekend.  I've been trying to get a little cleaning done around here.  Mail, e-mail, and camera photo cards are the bane of my existence — I just can't seem to keep on top of them.  Anyway, in cleaning out my camera photo cards, I discovered some pictures of a Gwen Marston lecture that I went to last fall and never blogged about.
Gwen spoke at the local quilt guild in November.  I wasn't sure I'd be able to make it as she was speaking at 7:00 p.m. on the day I came home from fall quilt market.  My plane touched down at 5:30, I popped in for a quick visit at MeMum and BigDaddy's, and made it to the guild meeting just in time.  The ever so sweet Jenny (and hahaha — I just clicked over to Jenny's blog to set up this link and she's posted a beautiful new quilt and mentioned Gwen too — funny!) was there saving me a seat.  I'll chit chat here and there while I show you the photos from Gwen's presentation.
I was a big fan of Gwen's in the 90's.  (Man, that sounds so long ago.  The roaring 90's LOL.)  In 1990, MeMum, MyDadLovesMeBestSister, Aunt Annie and I all went to one of Gwen's quilt retreats on Beaver Island.  We had a fantastic time.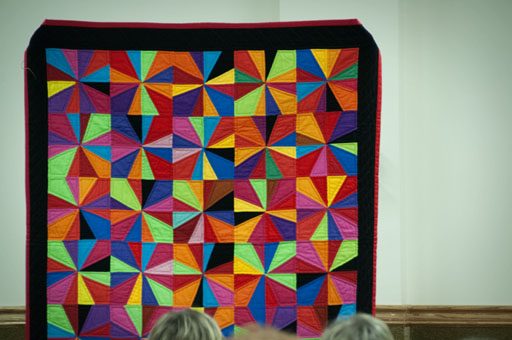 It was really fun to see Gwen again.  And I'm sure she remembered me.  (Haha.  Not!)  Her style has changed a lot over the years, although her message is still the same.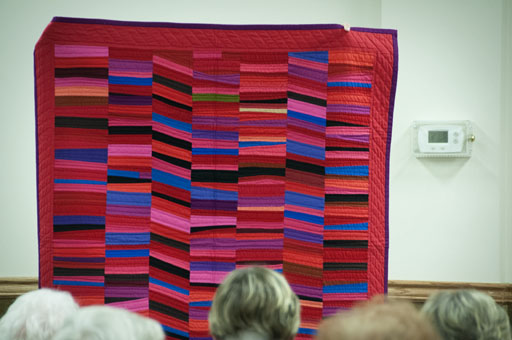 She's much more modern and brightly colored now.  But she's always had a very free style.  If points don't match?  So What.  Quilting should make you happy.
When we went to the quilt retreat, we were all asked to bring a bag of scraps.  We all mixed them up and put them into brown paper bags.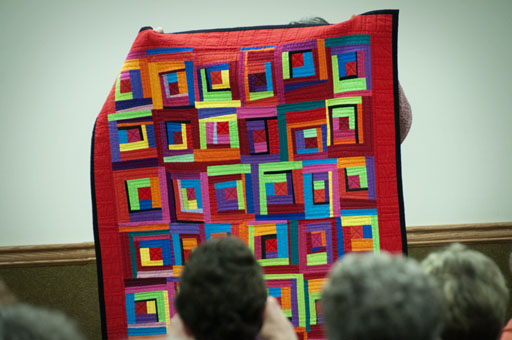 Then, we had to randomly pull fabrics out of our bags and make a quilt.  Those quilts were all BUTT-Ugly, but it was a fun exercise.
(Oooh, look!  That's Jenny!  She was the honorable quilt holder.  She's playing hide and seek with Gwen in the above picture!)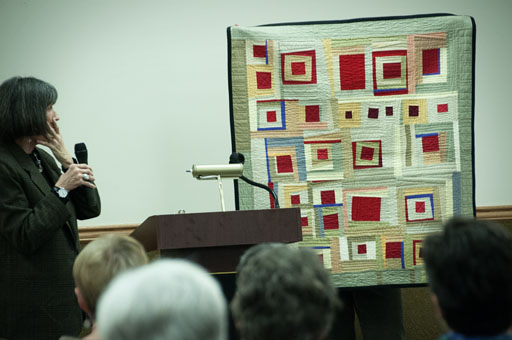 It was interesting to me to see how Gwen has migrated to all solids now.  I don't remember that being the case in her early years.
I think Gwen quilts all of her quilts herself.  She's an amazing and prolific quilter.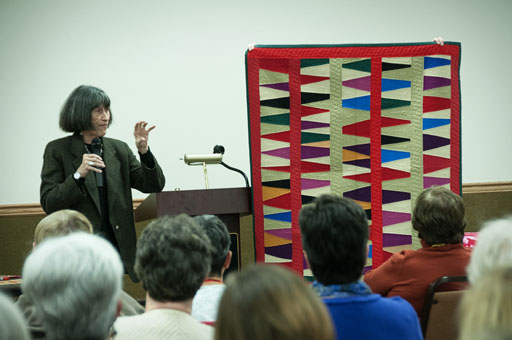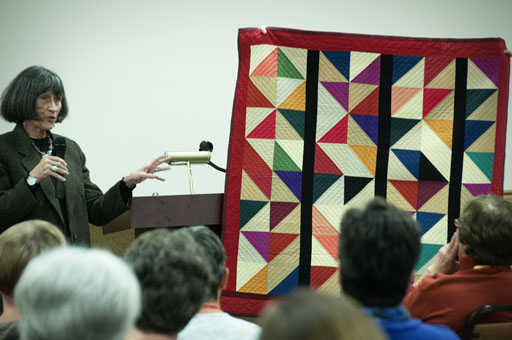 Gwen also had a collection of mini quilts.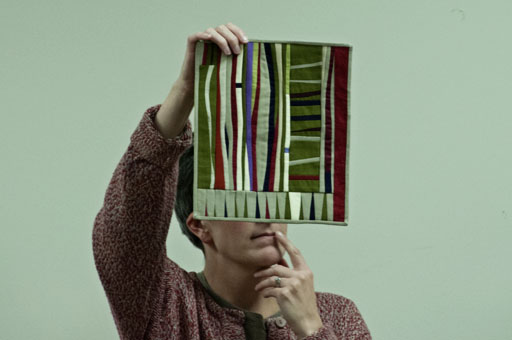 This one caused deep pondering by Jenny ;-D.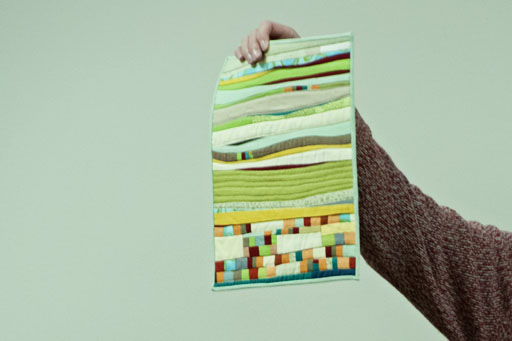 And, in some cases, she had mini quilt replicas of her larger quilts.
After Gwen's presentation, they had a show and tell from the workshops that she held during the day.  I thought these little baskets were super cute and I wouldn't mind making some of those myself.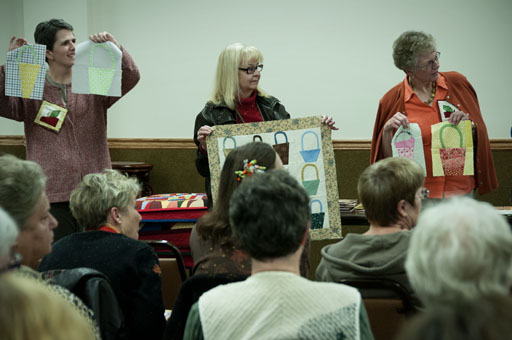 They also had a show and tell from all of the members.  And I have to say…THIS quilt below was my favorite quilt from the night.  Even over Gwen's quilts (I'm a traditional girl and ooooh, baby , I love a nice simple patchy patch quilt.)  I'm very lucky to know the artist — It's Jenny!  I LOVE that deep teal used to set off all of her prints.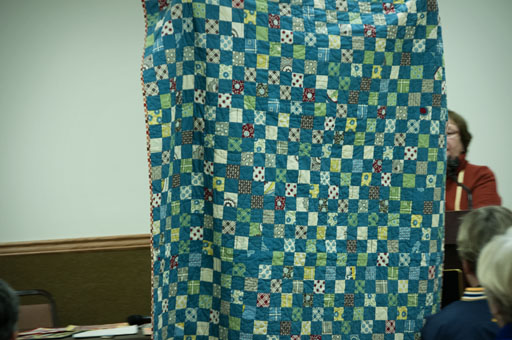 So, that's it for Gwen's workshop.  If you get a chance to hear her speak, you should definitely go.  She's one of the "greats" of quilting and she's going to retire in the next year or two, so there's not much time left.
Ooooh, and before I go … have you noticed that the March block for the Aurifil Block of the Month is up?  It's by Victoria of Bumble Beans and I LOVE it!  Isn't it adorable?  So perfect for March.
If you're playing along with the block of the month, don't forget to add your pictures to the flickr group. There are great prizes every month!
XOXO,
Anna