Otherwise known as Friday Five but I just couldn't get around to it on Friday — or Saturday!
1.  First and Foremost — I hope all of you in the U.S. had a great 4th of July.  We had a fun mix of people here for a cookout — our little family was scattered and we were missing one CrazyBIL (who is being Crazy in Brazil at the moment) and three of the five kids.  We were joined by family friends though, and they made it extra festive by providing party hats.  Lots of fun and laughs.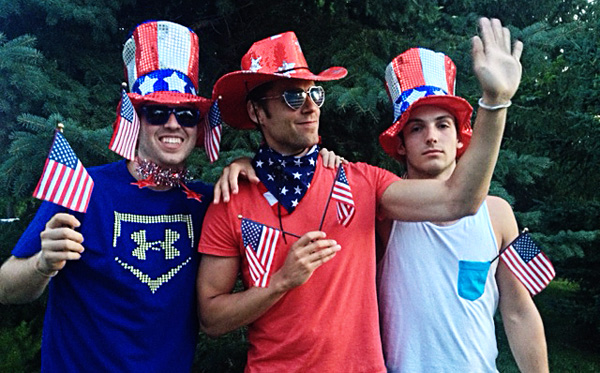 2.  Winston (sporting his new summer haircut) was here for a visit too.  Some of you have asked how Winston gets along with the resident cats.  It's a Love/Hate relationship — Winston loves the cats, they hate him LOL.  Poor little Winston — since he's still a puppy, he's all over the place and he wants to play with anything that moves.  Paulkitty is mostly terrified and runs to hide.  The Scruffster is a different story though.  He has a mean hiss and he's discovered that he can scare Winston.  So, he's in charge and poor Winston does whatever he wants.  I think Scruff is like a grumpy old many though — he has to be mean but really wants to be nice.  Here he is, cautiously checking out that bouncing puppy who finally fell asleep.  He didn't dare go any closer — for fear he'd have to rear up on his hind legs and let out a ferocious growl to maintain control of the house if that puppy woke up.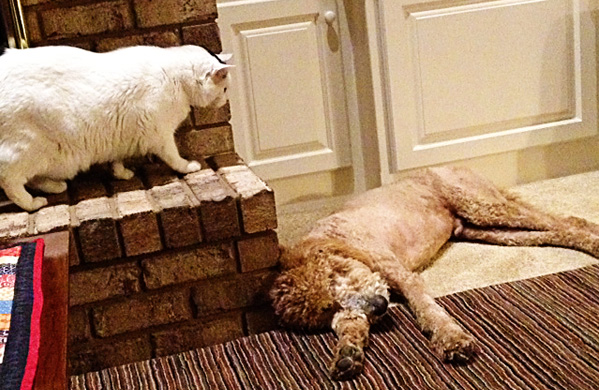 3.  I started crocheting a pink Happy Birthday pillowcase using this fabulous tutorial and this fabric.  Love, Love, Love!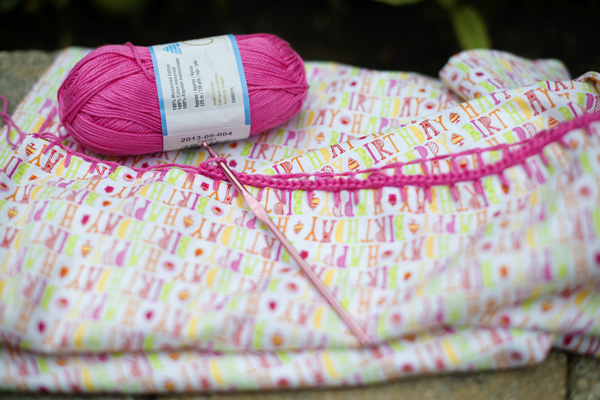 4.  My Zinnias are looking beautiful this year.  Last year I hardly had any because of a hail storm and this year …  I'm a little disappointed again!  I've ended up with some dwarfy version of a zinnia.  They need spinach or something to be real zinnias!!!  Apparently third time is a charm, so I'm hopeful for next year — I'll be more careful when picking my seeds.  They're pretty and healthy this year though — even if they are microscopic LOL!
5.  We've had the most beautiful weather the last few days — unseasonably cool.  So, if you'll excuse me, my bike is out and I'm off for a bike ride to visit MeMum and BigDaddy!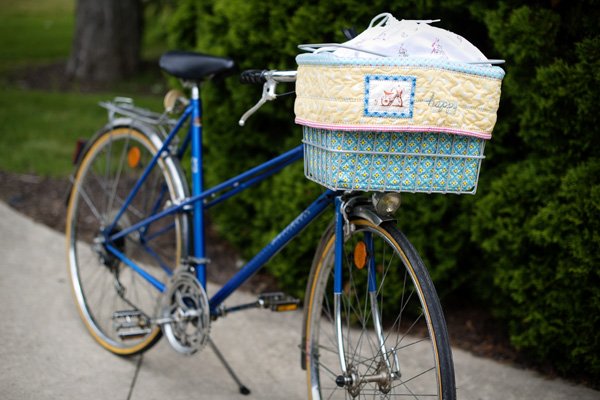 XOXO,
Anna