We finally have a quilt finish around here!  I actually finished the Ghastlies before Christmas (just barely) but I couldn't show them to you because I made three of them — one for MeMum and BigDaddy, one for MyDadLovesMeBestSister and CrazyBIL and one for us.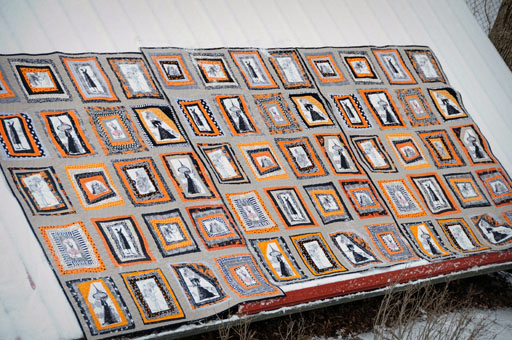 I love that they're getting their little photo session in the winter.  Ghastlies should be surrounded by the stark black and whiteness of the cold, not the pretty greens or autumn colors of the other seasons.
I had a hard time deciding how to quilt the little creepers.  Since the pattern is a wonky log cabin and I chose to "float" them on a bed of gray, the gray sashing isn't straight.  I ended up quilting big wonky zig zags in the gray.  In my mind, I was thinking of the visual version of that screeching music from the movie Psycho.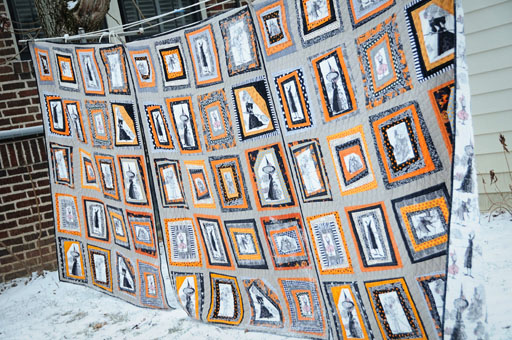 Then I free-motioned around each little character and did 1/4″ quilting along each color of the log cabin.  Try that on a domestic machine — it was a pain in the behind.  Stitch down a side, turn, stitch down the next side, turn…round and round to complete each block.  I didn't think I'd be able to keep the stitching straight if I tried to free-motion it.  I'm really happy with the quilting, but it was very time-consuming.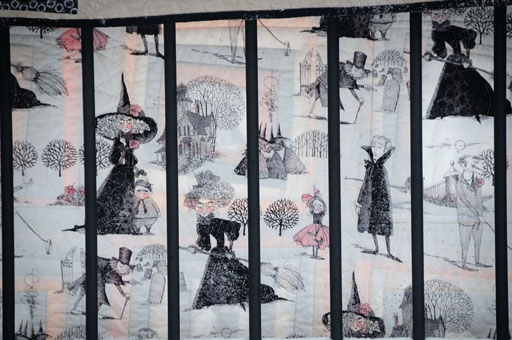 I backed the quilts with a solid piece of the ghastlie print.  This is the only picture I got of the back — rather sinister looking in jail, I think.  The blocks are each 14″ and each quilt measures 56″ x 70″.  Perfect for snuggling while listening to werewolves howling outside.
At the end of our photo session, I took the Ghastlies for a little swing in MyDadLovesMeBestSister's tire swing.  They seemed to really love the ride.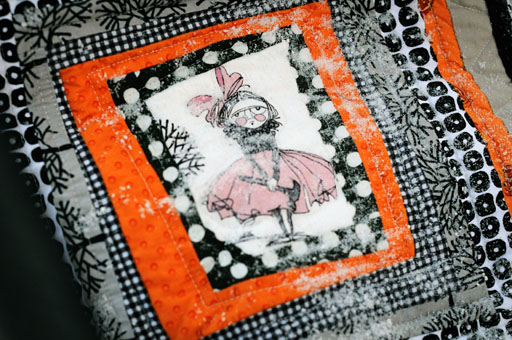 What they didn't love was the snowy adventure.  Little hammer girl was very unimpressed.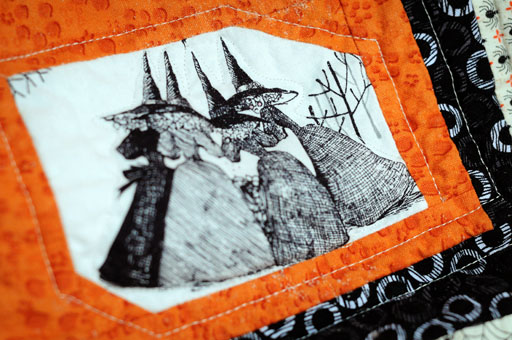 And the coven of witches were downright whizzed off.  They were whispering about me and when I tried to get close enough to hear what they were saying, that skinny little witch on the right turned around and gave me a death stare.
Fine.  I dried them off, folded them up, and put them in the cupboard.  They have until October to wipe those scowls off of their faces!
XOXO,
Anna