We made the trek to the Big City yesterday to visit TheFirstChild and SweetiePie.  We had two main reasons for visiting:
The first reason was to give SweetiePie her very belated birthday presents.  If you'll recall, a few weeks ago, I showed you a knitting project.  In late December, I took a class and learned how to double knit.  Double Knitting involves using both hands and it was a BIG challenge for me.  I've never been able to use my left hand effectively.  Years ago, when we lived in Germany, I used to ride the train to work everyday, watching ladies knitting on the train in continental style.  It seemed so much faster than the old English method of  throwing the yarn.  I tried and tried to teach myself continental style to no avail.  Fast forward 30 years, and now I can knit with both hands!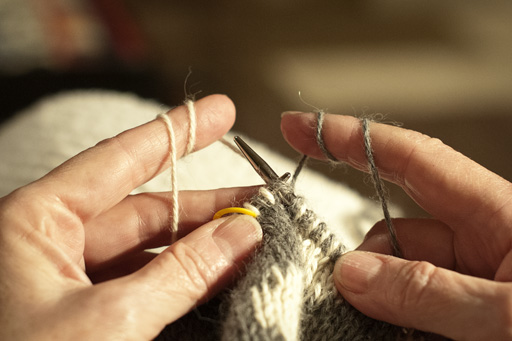 Ha.  I'm not very good at it yet (and I'm VERY slow), but I'm thinking I'll give continental style a try again.  Anyway, this project was for a Cowl from the pattern Double Knit Three: Dots, Spots & Arrows by Hilary Smith Callis.  Here's the outside of the cowl.
Double knitting is pretty cool — it produces a reversible piece of knitting.  Every other stitch belongs to the other side.  Did that make sense?  For example, the odd stitches are knitting the outside and the even stitches are knitting the inside.  Here's the inside.  you can see that I was having tension issues here and there, but hopefully I'll get better.
I love the feel of double knitting — two soft, plush layers.  I'm not sure I'll ever knit anything terribly big with this method though — it is rather tedious.  Here's SweetiePie modeling her new cowl.  We probably should have artfully placed it around her neck, but we were in a hurry and goofing off.
The reason we were in a hurry was because the boys were waiting on us.  Which brings us to the second reason we were visiting the kids – to relive a piece of the boys' childhood.  Sadly, TheSecondChild couldn't be with us.  When the boys were little, they loved watching Top Gun.  TheFirstChild was obsessed with it.  We had little die-cast jet fighters to prove it and SweetiePie has told me that she refuses to watch the DVD version with TheFirstChild because he annoyingly recites all the lines.  (Happily, SweetiePie, agreed to come along with us this time.)  When I told TheSecondChild that we were going to go see the re-released IMAX 3D version, he laughed at me.  Then he reminded me that I used to fast forward through the sex scenes and how could we possibly watch it in a theater where I didn't have control?  Yes, what a dilemma — I'm sure they've never seen those scenes before.  When the time came, I made them cover their eyes.
We had a great time. TheFirstChild even commented he didn't remember all the sexual overtones in the movie.  I didn't either.  Obviously, speeding through the big scenes worked — and the spoken lines were over his head at the time.   Bad Mother!  Ah well, he doesn't seem to have been damaged from it.  The minute the music for the movie started, I could see my little 4-yr.old running around the house chanting "I feel the need…the need for speed!"  How fun to go back and re-live those moments with my little boy.
One last photo for you.  We were back in a corner of the theater taking pictures and laughing.  SweetiePie pulling her model schtick and me snapping away.  This was the best we could do for the sultry, pouty lip shot because we were laughing too hard.
So.  A wonderful weekend in ThimbleannaLand.  I hope you've had a good weekend too!
XOXO,
Anna