Phew!  It's been awhile since I've posted — thanks to all you sweet invisible friends who have checked in on me.  They say, "Into every life, a little rain must fall" and here in ThimbleannaLand, we've had a Monsoon.  We've been on a roller coaster ride through Hell in the last two weeks and I'm hopeful and cautious to say "Every little thing's gonna be alright."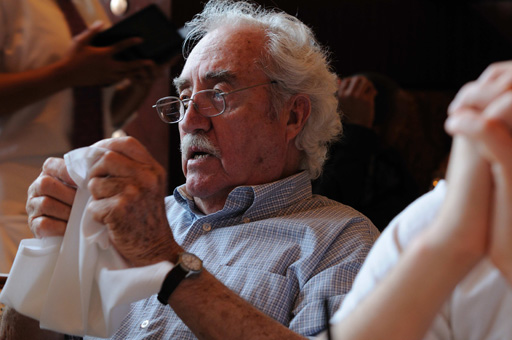 On October 11th, I took BigDaddy in for a little procedure and his heart stopped — which landed him in cardiac intensive care for two weeks.  If you're a long time reader, you know that BigDaddy is the heart of our family.  He's funny with a huge heart and we all adore him.  The first week was up and down and full of tears and after 30 hours off of the vent, he ended up back on it.  Then, the second week was even worse — capped off by calling the kids home and being assigned a palliative care doc.  It seemed that we spent a lot of time trying to convince medical staff that just because you're in your 80's, it doesn't mean that you don't have some life left in you.  MyDadLovesMeBestSister and I decided we should write a book about the experience — I'd like to title it, "Bucking the System When They Already Think You're Dead".
BigDaddy is finally out of ICU and making slow, but sure progress. We couldn't be more relieved — and thrilled. MyDadLovesMeBestSister and I spend all of our time either at the hospital or eeking a few hours out at our jobs. We were sent an angel in the form of Aunt Annie.  She'd had an already planned trip and her plane arrived just two hours after BigDaddy's ill-fated procedure.  She ended up extending her trip and we absolutely couldn't have done it without her.  She was such a huge help and support to MeMum.  She left yesterday and we miss her already.
Anyway, there hasn't been any time for blog reading or posting.  There has been hospital room sock knitting though.  Maybe I'll take a picture of new socks on a hospital bed LOL.  The next few weeks will still be sparse on-line — we'll be concentrating on helping BigDaddy get well and back home.    I hope you're all having a beautiful fall (or spring if you're down under) — it looks like it was gorgeous here — as viewed from hospital room windows!  ;-D
XOXO,
Anna