I've had that goofy song by Pharrell Williams running through my head all week. The Happy Song — it's so, … um … happy haha. (Did you know they call that an earworm when a song gets stuck in your head like that?)  Google the Happy Song if you need an earworm too — it's fun!
Anyway, the reason for all this Happy is the arrival of Surprise!, the fun line of fabric from Riley Blake.  I ordered it way back in February and I was really excited to see it at spring quilt market. And now it's here and I've been having fun playing and making some gifts — because a fabric that says Happy Birthday on it is perfect for gifts.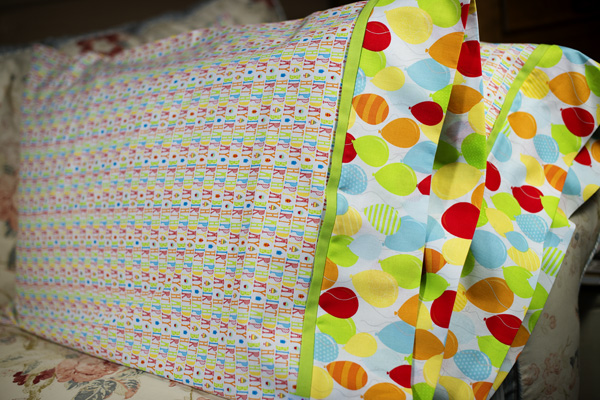 I started with pillow cases. Sooo easy! And I included a little Happy Birthday Tag-It in the seamline. Next up, I want to make You Go Girl's cute crochet-edged pillowcases with the pink Happy Birthday print.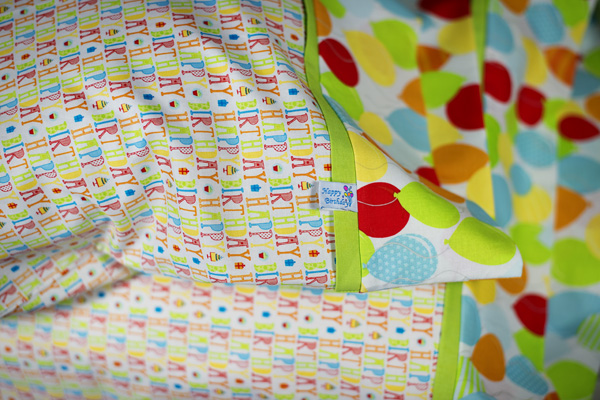 Then, I decided I wanted to make some little giftbags.  (I might be a little obsessed.  Like many of you, I love fabrics with words on them and the colors in these prints sent me over the edge LOL.)
Each gift bag took a basically a fat quarter (split between a cute print and the Happy Birthday print) for the bag and a fat quarter for the lining, with a scrap for the binding.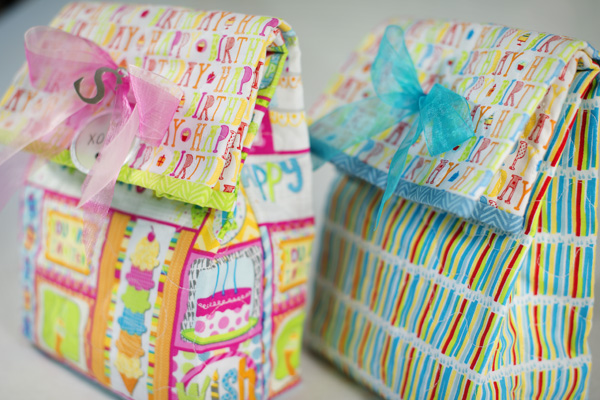 I threw in a little Happy Birthday Tag-it on the gift bag too ('cause they're like Lay's potato chips — you can't stop!).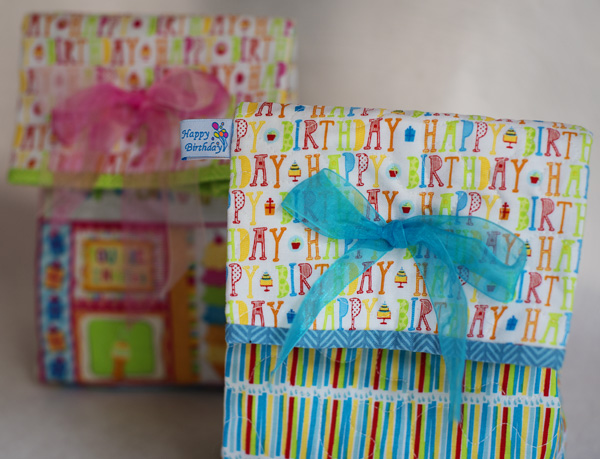 Anyway, it's been fun playing and I have a ton of other ideas for this fabric too.  Wouldn't a pincushion or sewing accessories for your sewing buddies be cute on their birthday?  You've probably already guessed that I have fat quarter packs and some yardage in my little shop.  You can make a LOT of those gift bags with a fat quarter pack (free pdf pattern comes with the fat quarter pack). 
(And speaking of the shop, if you missed the first order of the little Better Buddy Sewing Cases, they're restocked and lime green is even an option now too.)
Ok, off to fondle happy fabric.  Have a great weekend — it's almost here!
XOXO,
Anna