We're in Holiday denial here in ThimbleannaLand.  I'm seeing beautiful, festive images all over the internet, but not here.  I'm savoring just a few more days of fall.  Even though it's snowing outside and there's nothing fall-like about the fr-r-r-osty temps out there.
So, in true denial form, here's a little table topper I recently finished.  It's made from Moda's Circa 1934 + a few additions from my stash.  Circa 1934 has green in it, but I'm more of a blue girl, so I threw some blue into the palette.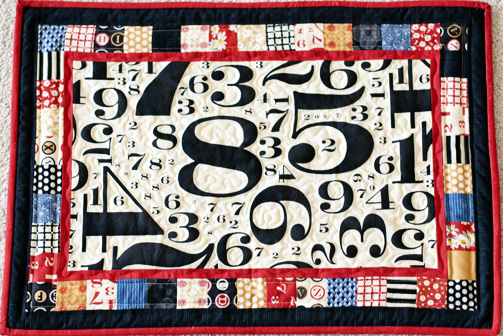 This little topper is for the table that sits beside TheManoftheHouse's "chair".   We're a little rough on our tables, so I like to cover them.  We have a coffee table too, and I'm hoping to make a coordinating topper for it sometime during the holidays (after Christmas) when I have a little extra time.  (Ha!)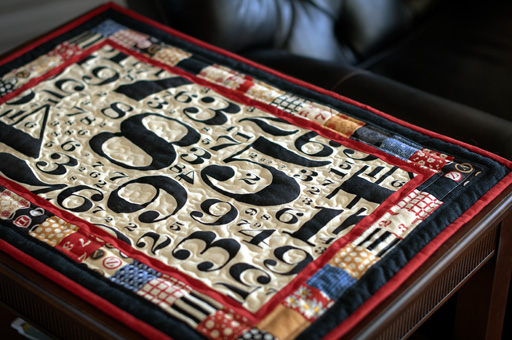 This is the tame version of what it will look like most of the time.  At least there won't be any drink rings on the table top!
Also, here's a few linky-links you might be interested in:
Nicolette received the cutest Christmas runner in a recent swap.
I'm so excited to see Raina able to post a bit more.  I love her blog and photography, and she's posted a gorgeous picture of her tree with a pretty granny pillow.
I don't get any bonus points for telling you or anything, but Nicole is having a giveaway.  If you win you get to pick 4 fat quarters of your choice from her shop.  I know telling you decreases my chances significantly, but … well, you know … 'tis the season to be sharing!
Have a good week!
XOXO,
Anna