Oh man!  Mother Goose had a big scare today — they decided to mow the lawns at work.  I could hear the mowers but it was about 15 minutes before I could go check on her.  She was off the nest and didn't look too happy about going back.  The good news is that Father Goose was right there with her — it was nice to see him for a change.  A friend of mine said she was watching when the mower went by and the poor parents both went flying off.  A few of us watched her for about 5 minutes and she was just staring at the nest.  And the wind was blowing the feathers around a little which made us all think maybe the eggs were hatching (we're a little far away to see clearly).  False alarm!  When I left work tonight she was happily (well maybe) sitting back on the nest again.  Whew!
In the meantime, Guess What Guess What???? The Yoyos have been conquered!  Hopefully I can rustle up a few pictures and get back here later this week.  While I was sewing the yoyos with reckless abandon, I was thinking about my next project. Which made me start thinking about charm packs. When charm packs first came out, I just didn't get the attraction. Why would anyone buy little packs of squares when you can buy bigger pieces? Fortunately, the internet is full of people who "got it" and now I'm seeing the light. I decided to make a mosaic of some of my favorite types of quilts that can be made with charm packs. Even though some of the quilts in my picture were made with scraps, they could easily be adapted to charm packs.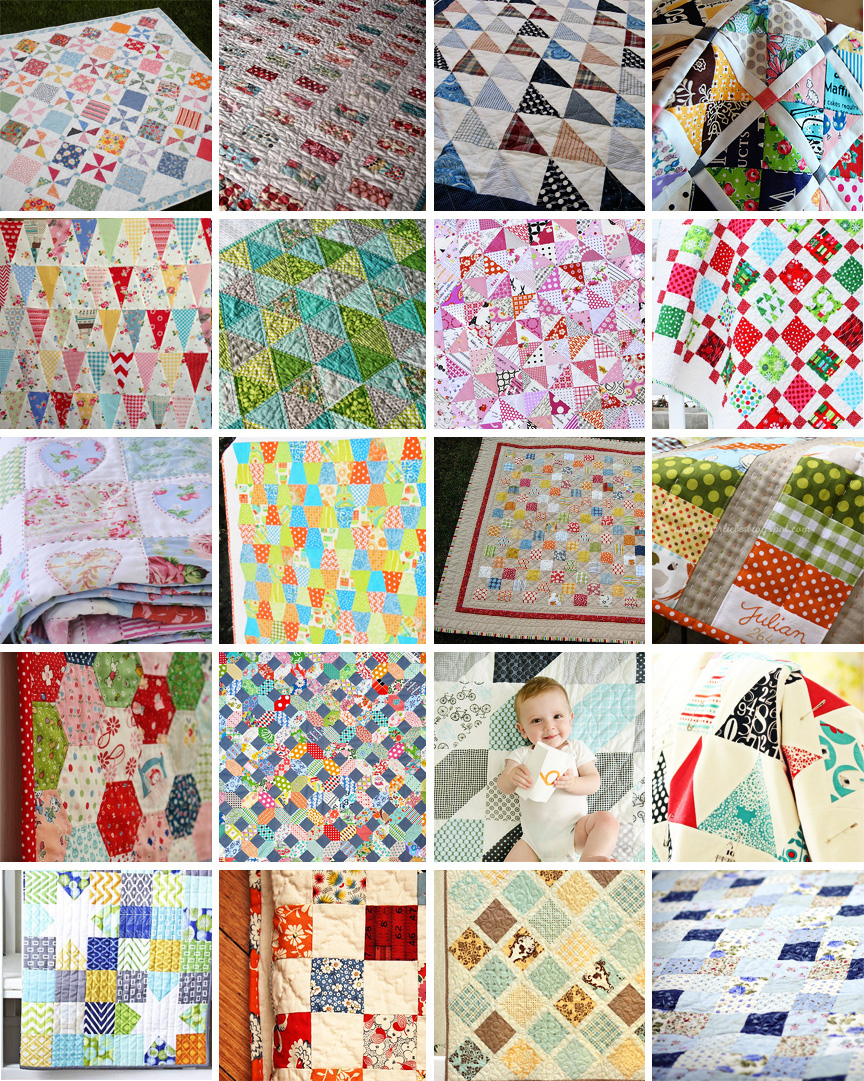 1.  Cute Pinwheel Quilt by A Quilting Life
2.  Baby Coin Quilt by Tall Grass Prarie Studio
3.  Sheets and Shirts HST by Creative Chicks at Play
4.  Scrappy Hour Glass by Pink Penguin
5.  Patchwork Triangles by Freda's Hive
6.  Baby Spring Triangle by Film in the Fridge
7.  Pink Hourglass by Red Pepper Quilts
8.  Christmas Quilt by Diary of a Quilter
9.  Strawberry Hearts by Helen Philipps
10.  Tumblers by Making More with Less
11.  Scrappy Squares Baby Quilt by Teaginny Designs
12.  Stacked Coins by Hamburger Liebe
13. Hexagons by  Nana Company
14.  Kansas Dugout by Red Pepper Quilts
15.  Slanted Star by Camille Rosekelley (the only picture I could find was with her cute baby!)
16.  Triangle Quilt by Blue Elephant Stitches
17.  Reverse Hopscotch by V & Co.
18.  Simple Nine Patch by Penelope Waits
19.  Baby Lattice by Amy Smart
20.  Isabelle's Quilt by Me
I know there are LOTS more quilts out there that could be made with charm pack squares.   As I noted in my EPP stars post, I'm going to be making some stars out of charm squares. They're definitely not as limited at they seem at first glance.
XOXO,
Anna