I've been having fun reading everyone's new year's resolutions and goals. My goals usually involve working on UFOs, but I really loved what Vreni said about UFO's in this post. She basically said that life's too short to worry about them, so if you see a new project you want to start, why not go for it? Bravo Vreni!  Sadly, I'm stuck somewhere between adopting that attitude and watching all of you scrappy trippers drive me crazy with your wonderful, scrappy quilts. I'm resisting for the time being, as I have a project or two that I really need to finish. Then, who knows, maybe my inner Vreni will emerge!
Vreni also mentioned that she likes to review the highs and lows of the past year. For me, the low absolutely had to be BigDaddy's heart event. That put our little family in a big fog and I feel like it's just starting to clear. The high, though, was definitely the trip to the UK that I had with SweetiePie. I've been cleaning up trip pictures this week and re-living our fun. And our memorable mountain climb from hell. I came from that day feeling like I definitely owed SweetiePie a BIG favor. That's why, when she hinted that she'd like a cable knit throw for Christmas, I couldn't say no.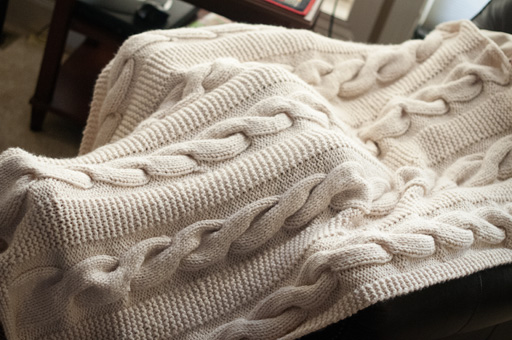 BigDaddy was having a nap over the Christmas break, so I covered him up and took a few pictures. This is the Cable Knit Throw from Lion Brand Yarns. The free pattern is available here. I made a few changes to the pattern. It originally calls for knitting each cable in an individual panel, so that you have 5 cables with a 2-stitch garter stitch row along each edge. Then, when you're done knitting, you sew the 5 long panels together to create the throw.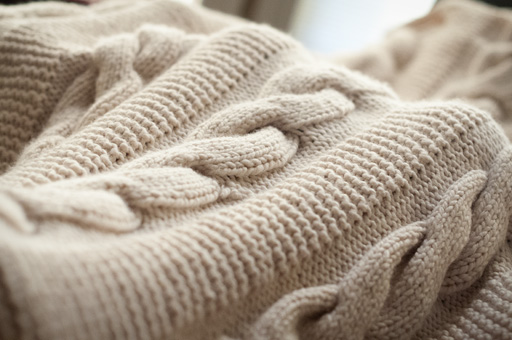 My VERY least favorite thing to do in knitting is to sew seams together. I detest it and I never do a very good job. So, I decided to knit all 5 panels at once on a big circular needle. It worked great! By the time I was about half-way, the blanket was getting pretty heavy, but it wasn't anything I couldn't handle. I also doubled the width of the garter stitch columns (increasing the edges from 2 stitches to 4 stitches and the inner columns from 4 stitches to 8 stitches) — I wanted the overall throw to be a little wider.
Then, I just knit until I thought the throw was long enough. The pattern called for 9 skeins of yarn but I didn't think that was long enough. I ended up using 12 skeins and I really could have used one more — a little longer wouldn't hurt!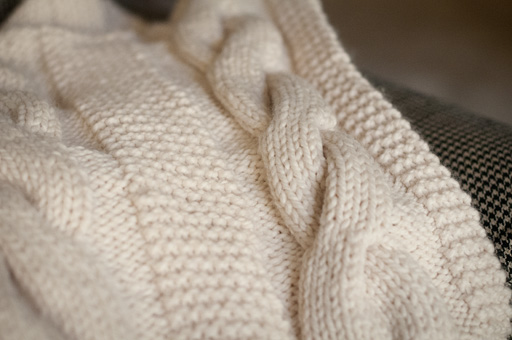 This was a pretty quick knit. A Friend to Knit With made this throw a few years ago and she estimated that each cable panel took her 4 hours. Which would make the entire throw a 20 hour project. I'd say my time was closer to 40 hours, but then I'm a pretty slow knitter.
I'm really happy with the way this throw turned out and I think SweetiePie is too. It's really comfy — I wouldn't mind making one for myself!
XOXO,
Anna