Thank You for all the birthday love for our little FinallyAGirl.  We sure had a fun birthday weekend and I wish we could do it all again!  Sadly, the little family is moving to Utah this week — they're in the middle of the move as we speak.  The U-Haul full of goods is somewhere in Wyoming, FinallyAGirl and her Mummy are flying today, and the Girls Roadtrip Car Brigade (that's MyDadLovesMeBestSister, MeMum and I) will be leaving soon.  I LOVE a good Roadtrip, so I can't wait!
As I mentioned in my last post, I made some clothes for FinallyAGirl for her first birthday.  In the rush of getting everything done, there wasn't time to get any pictures of her actually IN her new clothes, but I'll be working on that in the next week or two.  In the meantime, here's all my fun sewing:
I made two little dresses/tops and two rompers.  Here's the first dress — a little ruffly, girly sundress.  The pattern is Elyse by Bonnie Blue Designs and the fabrics are Sarah Jane's Summer Garden Bloom and the Japanese honeycomb dots in pink.
This is a super easy pattern — although, with all those ruffles, not particularly quick.  I do love a cute little ruffle-butt though!
For the other little dress, I wanted something fairly simple-looking.  I had a white linen blend in my stash and I teamed it up with the Spechler Vogel Pima Cotton Classic 1/32″ Check in Red from my little etsy shop.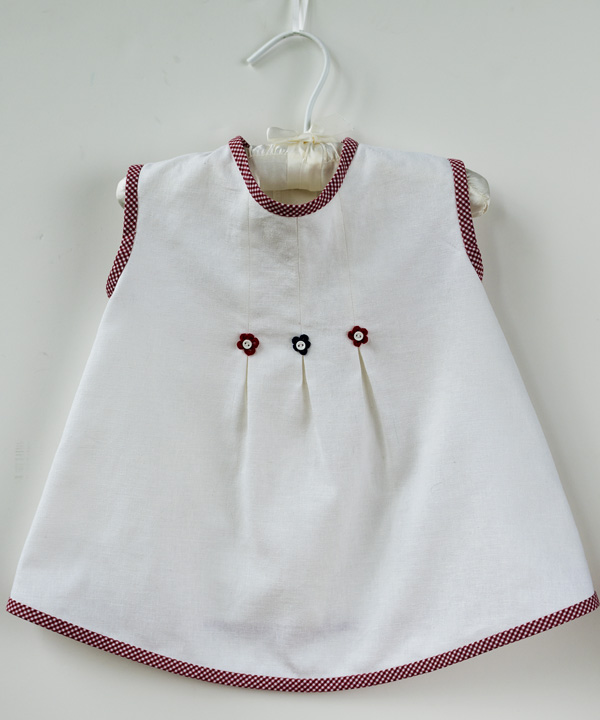 I embroidered these little red and blue flowers at the pleats and then gave them a tiny button center.  (The instructions for these flowers are contained in the Blair romper pattern mentioned below.)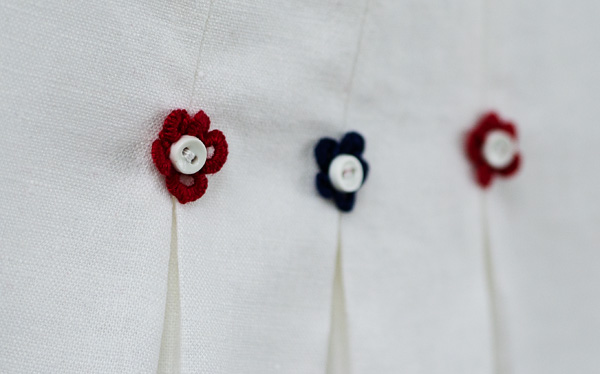 The pattern is Butterick 3405 and I had to make a little Purl Soho sunbonnet to match.  FinallyAGirl will be living in the land of sunshine-all-the-time, so she'll need a little face/eye protection.  We LOVE those Purl Soho bonnets!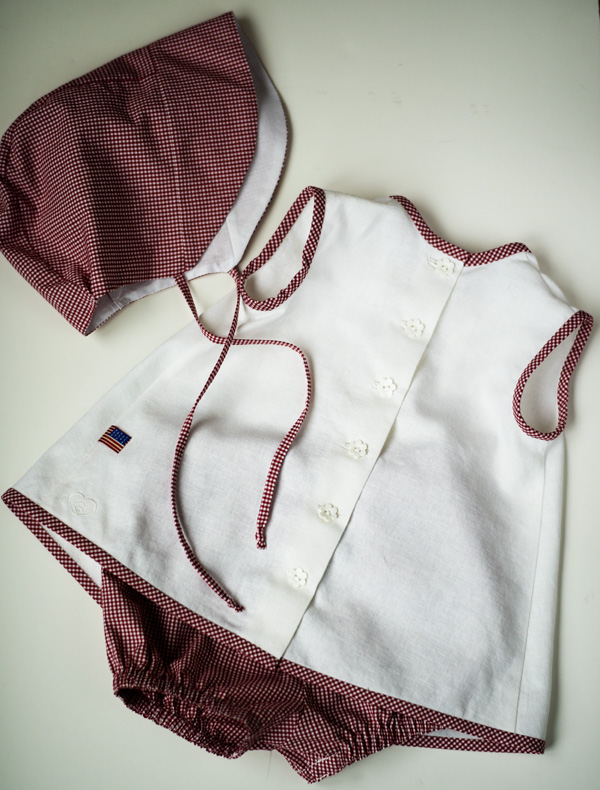 SweetiePie will probably not thank me for having buttons all the way down the back — FinallyAGirl is a wiggly little baby — she doesn't have time for dressing as it interferes with play time!  Hopefully a little flag ribbon and stamp at the side seams will make up for it ;-D.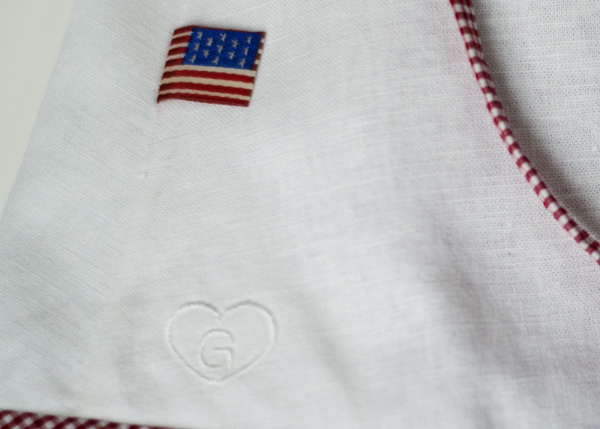 After dresses, I made two little rompers — we LOVE babies in rompers !  The first little romper came from a free pattern that was included with the Summer 2016 issue of Classic Sewing Magazine.   It's called the Blair Romper and I very unimaginatively used the same fabric that they used in the magazine – Liberty of London Phoebe in pink and aqua.  There are four white flower buttons at the shoulders, but I had to wait to put them on until I had a rough idea of where to place them.  FinallyAGirl will have a little growing room in this bubble.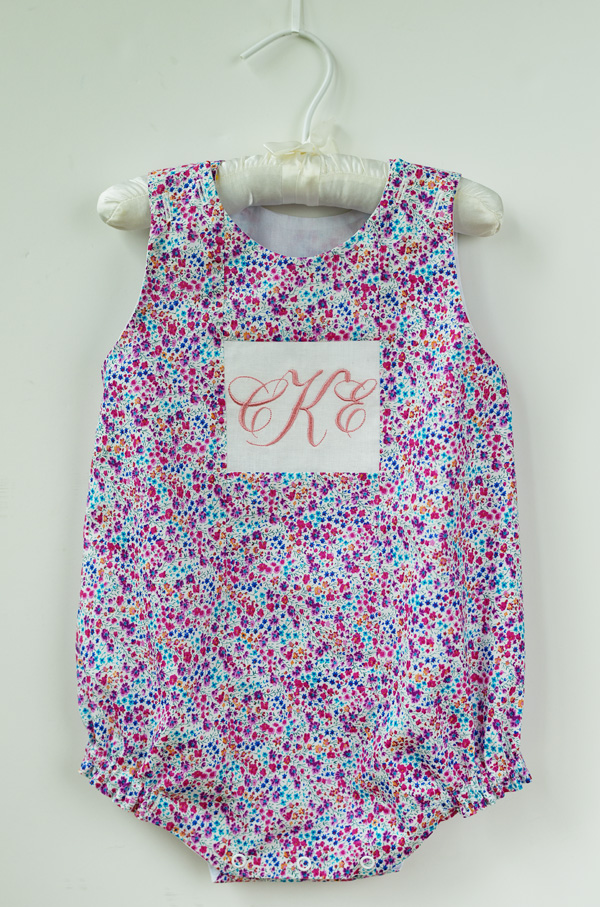 I've saved my favorite for last ;-DDDD.  This little bubble is from a downloadable Australian pattern (of course!) — the Rose Bud Romper by Felicity Sewing Patterns.  I LOVE this cute pattern and the instructions were very detailed and easy to follow.  The straps are just pinned to the hanger in this picture, but they'll actually be tied into cute bows on the baby's shoulders.  The fabric is Liberty of London Felicite in Pink and Blue.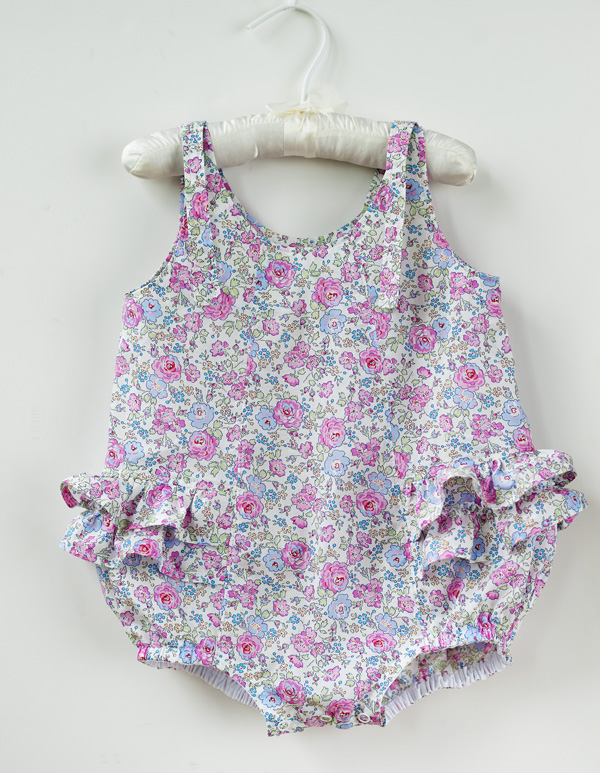 Another sunbonnet and ruffle-butt!  I can't wait to see FinallyAGirl wearing this little outfit.
So, Grandma got a little carried away this time.  Can you tell that after only boys, I'm having a great time sewing for a little girl LOL???  Ok — must run — lots to do! Have a wonderful weekend!!!
XOXO,
Anna