Thank you for all your entries for the giveaway of A Quilting Life.  It's been so fun to read everyone's favorite cookie of choice.  I love that some of you stood up to me and don't even like to snack on cookies while quilting — chocolate will do very nicely thank you very much.  And I was a bit shocked that some of you don't even allow food or drink in your sewing room.  A lofty goal indeed — but not one that I could ever keep.  I'm too weak!  The giveaway is open until the 14th, so if you're interested in the book and haven't entered, go here.
So, before the giveaway, I promised to tell you the tale of my little blog meet-up in Iceland.  About two months before our trip was scheduled, I noticed a comment left on someone's blog that was signed by "Berglind from Iceland".  I was immediately intrigued, since I knew we would be going to Iceland soon, so I clicked on the link.  What a wonderful treat!  Berglind's blog is just beautiful!  I immediately e-mailed her, told her that we'd be coming to Iceland soon and asked if she had any suggestions for our trip.  I was surprised and thrilled when she suggested that we meet and she would take me to a few of her favorite shops.  Wow!  What a fantastic offer!
We were going to be in Reykjavik on Thursday, Friday and Saturday, so the plan was for Berglind to pick me up at the hotel on Saturday morning and we would shop for 3 or 4 hours.  And then the flights-from-hell happened and our three days in Reykjavik were reduced to one.  I couldn't ask my family to wait around while I spent half a day shopping with Berglind, so I e-mailed her to cancel.  I was SO upset — I love meeting local people when I travel and the perfect opportunity was slipping through my fingers.  Then, the brilliant FirstChild suggested that we add a day to our trip so I e-mailed Berglind again.  She was so sweet and so flexible — and I was VERY lucky.  Our meeting was moved to the following Friday, at the end of our trip, and even better, since our time together would be shorter, Berglind suggested that we meet at her house.
What a thrill for me!  I got to meet Berglind AND see her beautiful home AND get a tour of her sewing room.  I'm kicking myself for not taking pictures of some of Berglind's beautiful quilts.  There were piles of them in several rooms.  I have no idea how she gets time for all her quilting.  (BTW, I'm very proud to say that Berglind is a Viking girl like me — I would expect no less, coming from the land of Vikings LOL!)   Berglind is just gorgeous!  She has four children — the oldest two were in school, but I was lucky enough to meet her adorable little four-year-old (almost five!) Arna and her new two month old baby boy.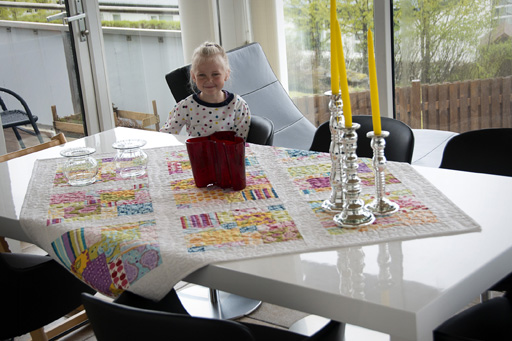 Isn't Arna a doll???  I'm sure you can imagine that I wanted to take her home with me.  And look at her perfect little braid!  (Oooh, and I hope you're noticing those beautiful quilts too!)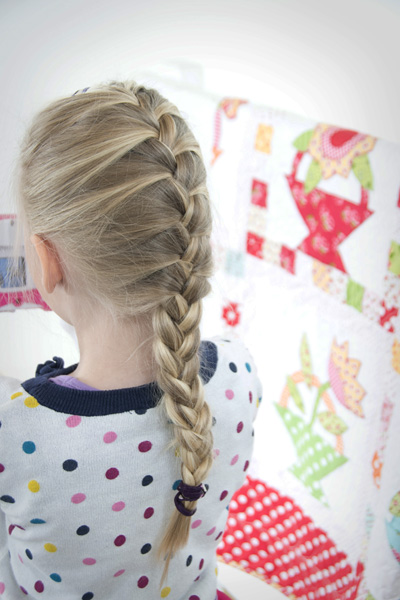 After a quick visit at Berglind's home, we had to get down to business and go shopping.  We only had time for two shops — I had been to a few of the yarn shops (more in a bit) while shopping with my family, so Berglind narrowed our choices down.  She took me to see her favorite place that carries Tilda fabric — I had mentioned that I can't get Tilda fabric anywhere near me.  The Tilda fabric is actually in a larger store — Berglind called it a stationary store, but it had a lot of craft items — it reminded me a bit of a small Michael's — only with more atmosphere.  Here are the Tilda fabrics — ummmm, Yum!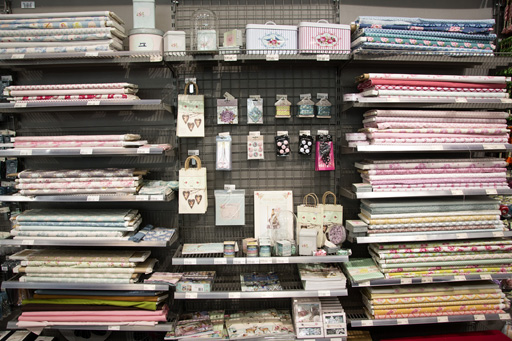 While we were fondling fabrics, Little Arna was on a mission of her own.  She spied some fun pink yarns — Berglind said she and her older sister love to make bracelets with them.  Clearly, Berglind is doing her duty to pass on the love of crafting to the next generation LOL!  How cute is Arna in her little polka-dot jacket?  I'm so sorry I didn't get a picture of her full outfit — she was wearing the cutest glittery tennis shoes.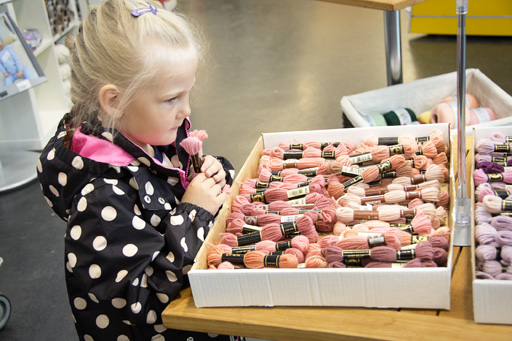 Berlind's other choice for me was the cream-of-the-yarn-shop crop, litla prjonabudin (sorry, I don't know how to get those special characters out of my keyboard.)  (The link will take you to their facebook page — you might not understand the language, but I guarantee you'll understand the pretty pictures!)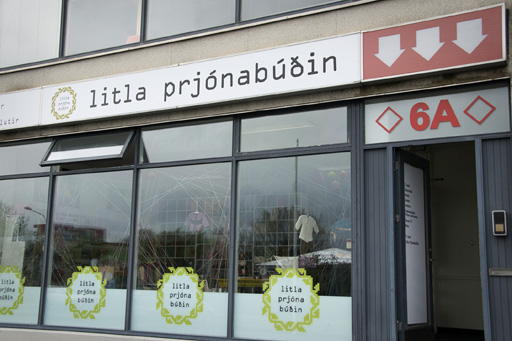 What a treasure!  This is just a small little shop, but they had the most beautiful yarns.  And they were so helpful — of course I had to have a few souvenir skeins.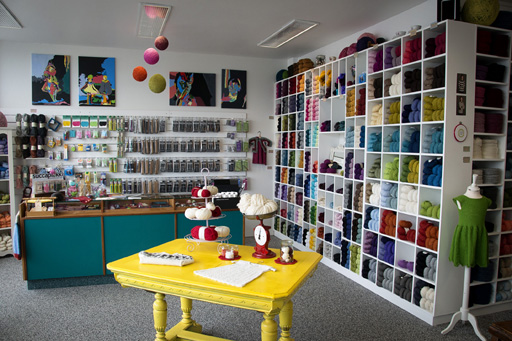 Here's the pretty display in the center of the shop.  And the whole time I was shopping, the perfect baby was sleeping (he never made a peep the whole time I was with Berglind) and sweet little Arna was sitting on a chair being an angel.  Seriously, she never made a peep either, except on occasion if I said something to her via Berglind.  She was so cute — even holding my hand in the parking lot.  Melt my heart!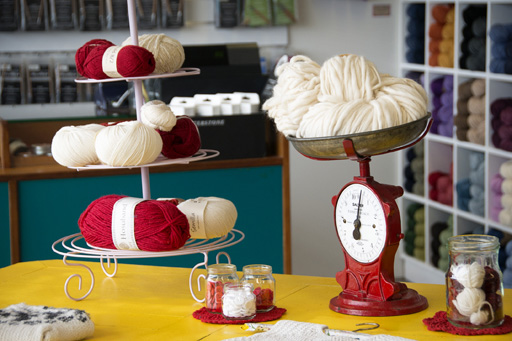 Our little visit was over much too quickly and it was time for Berglind to take me back to the hotel.  I can't even begin to tell you how much fun I had — this visit was definitely a highlight of my trip.  I still pinch myself wondering if it really happened — what an opportunity!  Isn't the internet an amazing thing???
Anyway, just in case you're planning a trip to Iceland and you want to visit the yarn shops, I'll quickly tell you about the other places I visited. (Btw, all five of the places I visited are highly recommended.) Two shops are in the main shopping area of Reykjavik.  The first place we stumbled upon was The Handknitting Association of Iceland.  Iceland is known for their Lopapeysa sweaters, made from Lopi yarn – the 100% wool Icelandic yarn.  The Handknitting Association of Iceland had a TON of sweaters (and mittens and hats and more) to buy and people were standing around trying them on.  We found their prices to be better than any of the other shops that carried sweaters. They also sell lots of Lopi.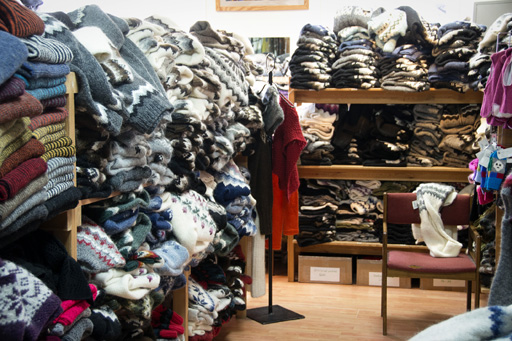 The second shop is Storkurinn.  Storkurinn is a lovely shop — it's a little hard to find though.  I saw the sign on the street and knew immediately that it was a yarn shop, but there was no storefront.  It turns out that it's on the second floor.  They had a great selection of knitting books and yarn.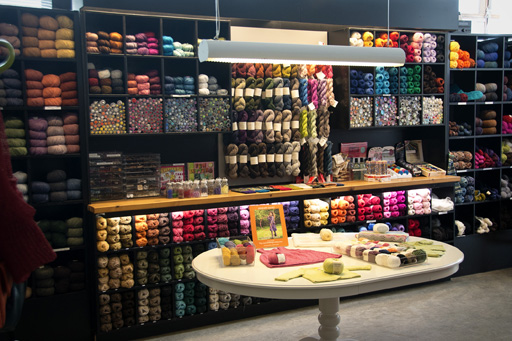 And even a wall of Amy Butler fabrics that eluded my camera.  There wasn't much time in this little shop — I could have easily lingered longer!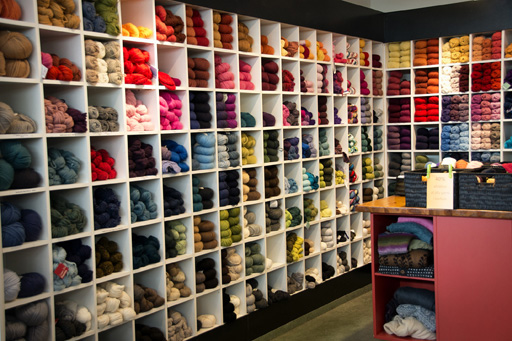 Then, the day before I met Berglind, when we were on our way back to Reykjavik from the southern coast of Iceland, I tricked convinced the family to stop at Alafoss.  This is the Lopi factory outlet in Mosfellsbaer – a suburb of Reykjavik.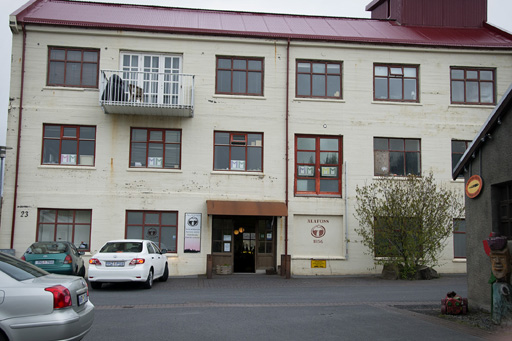 Lots and lots of Lopi in here.  And, of course, I had to indulge.  How could I not?  The average Lopapeysa sweater sold for around $150 – $200 — I could buy the yarn to knit my own for about $50.  Sold!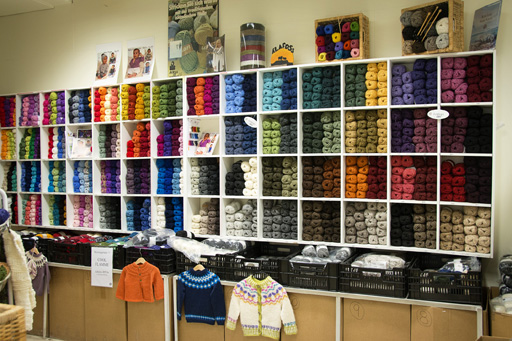 Something Berglind pointed out to me in the store that had the Tilda fabrics was unspun wool.  I would have no idea what to do with this, but Berglind was wearing a pretty brown and white sweater that she had made from this type of yarn.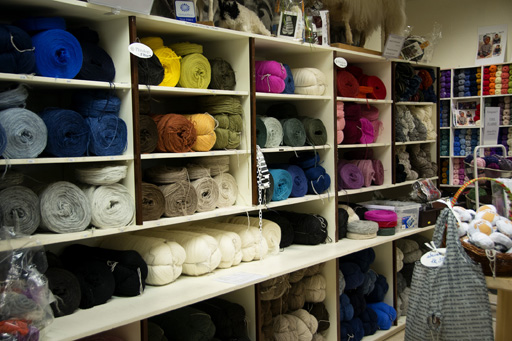 So, that's it! Now I REALLY want to go to Iceland on a knitting tour. Did you know they have them? I found a great write-up of one here.
Who wants to go with me???
XOXO,
Anna
And BTW — And I can't emphasize this enough — if you're not following Berglind, you should be. She has the most beautiful blog. She makes beautiful treasures for her family and she's beautiful and I'm going to say Beautiful a million times in this sentence so you get the point!!!