Hello Hello.  I'm popping in with five quickies — it's shaping up to be a busy month around here.
1.  I've started working on a new quilt.  Blues, grays and red.  It should be fun if I can get a little more sewing time in.  (Oh, and can we please have a moment of silence for that DS gray fabric?  It was so hard for me to cut into it.  I might have to sacrifice and go find more of it.)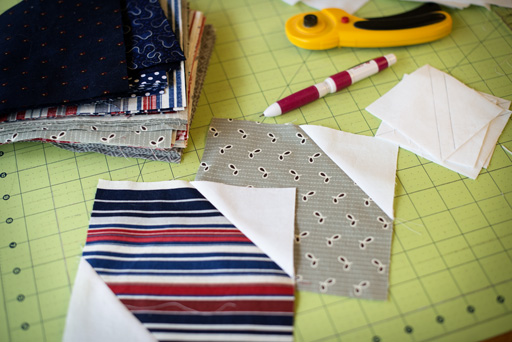 2.  I'm sure there must be a quicker way to make this block.  (I'll bet Sherri knows — she makes it a lot!)  I couldn't stand the thought of all the wasted fabric from the corner pieces, so I'm making half-square triangles at the same time.  Maybe I'll use them on the back.  Maybe not.  I'm enjoying the process though.  And I sure do Love that sewline pencil!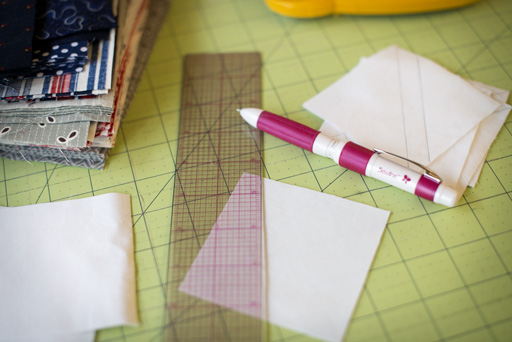 3.  All the crabapple trees around here are in bloom this week.  It's one of the prettiest weeks of the year (I love intense fall colors too.)  Here's our pretty tree in the back.  The heavenly smell almost knocks you over when you step outside.  I love it!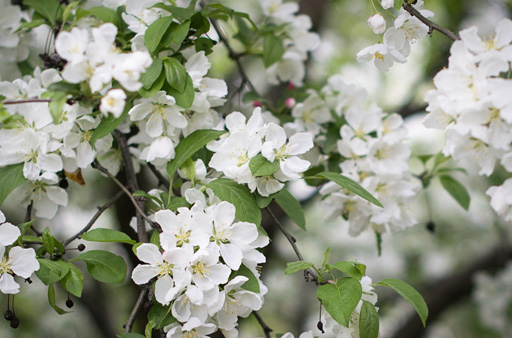 4.  Here's a picture of the same tree in 2010.  Can you tell me why there was so much more pink in 2010???  I felt like a pink tree then.  This year it feels like a white tree.  (And boy, look at the difference the light makes in a photo.  It was sprinkling and cloudy when I took this year's picture.  The 2010 picture was taken on a sunny, early evening.  Such pretty light!)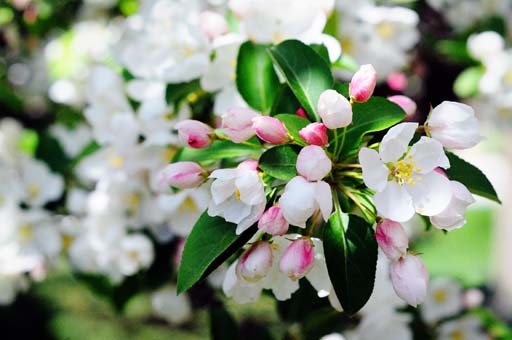 5. I'm betting you've seen THIS commercial. I Loooove it. It's easily in my top five commercials ever. I wonder if those guys who invented the camera phone even came close to imagining the impact it would have on our lives.
Have a great weekend!
XOXO,
Anna