I've had At Last running through my head all day long.  At Last.  At Last!  I've finally finished CrazyMom's nine patch.
As a two-time flunkie of her quilt-along, I'm feeling  very happy to have finally finished this quilt.  And I promise, those edges aren't wavy — it's just the way it's laid out on the grass.  I couldn't find anything tall enough to hang this quilt vertically.  It seemed like it took forever to finish.  The day job is really crimping my style.  (Though, not as much as unemployment would, I'm sure, so I'll try not to whine.)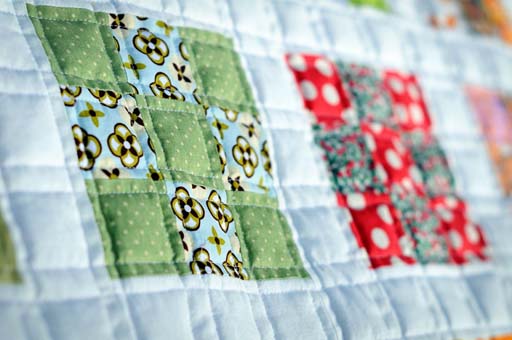 This past spring, Penny invited me to participate in a fabric swap.  There were 8 or 9 of us, and we all swapped at least 25 small scraps of fabric.  The deal was that we were supposed to swap fabrics and then make something out of our scraps and post it to the flickr pool by Oct. 1st.  I flunked that assignment too, but I guess six weeks late is better than never.  ;-)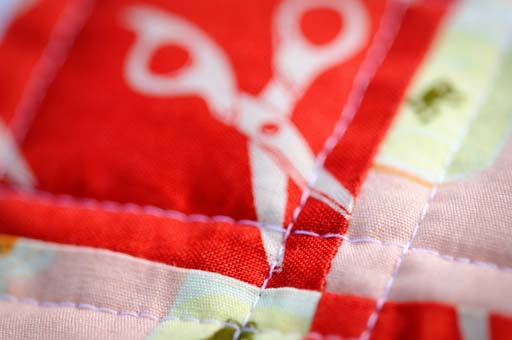 I've been inspired by all the beautiful straight-line quilting that Ms. Red Pepper does, so I decided to quilt this nine patch that way.  I love the way it turned out.  I have no idea though, how CrazyMom and Ms. Red Pepper manage to get SO many quilts done.  They're incredibly inspiring!
While I was outside taking pictures today (it was gorgeous) Mrs. Ladybug came by to give her approval.  I sang the little Ladybug song, and she dutifully flew away after posing for me.
CrazyMom made two of these quilts, and like her, I think I might have another one in me.  I'd like to have a second one, so there will be one for each of my guest beds.  This took me awhile to make though, so I'll have to wait awhile before I start a second version.  And it probably won't be as cute as this one, because I don't have as many modern scraps.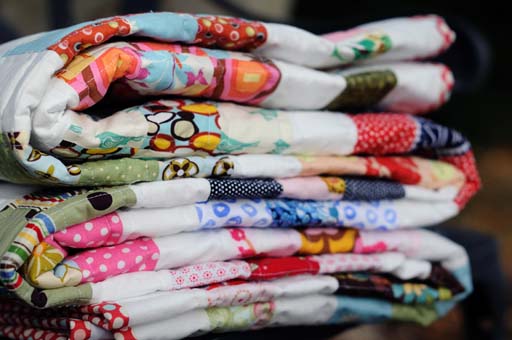 Thanks Penny for the fantastic swap idea.  Thanks Ms. Red Pepper for sharing all your wonderful quilts.  And Thanks CrazyMom for your endless quilting inspiration and for having a great quilt-along.  Twice.  'Cause some of us need remedial training!
Have a great weekend!
XOXO,
Anna