Every year for Christmas, my in-laws give me an Amazon Gift Certificate.  I finally ordered my books a few weeks ago, and among them was Miette – Recipes from San Francisco's Most Charming Pastry Shop.  Part of the reason it took me so long to cash in my gift certificate was because I had a hard time deciding on this book.  It had mixed reviews — mostly due to mistakes that went to press with the first two editions.  But really, how could I pass up a cookbook with such an adorable little cake on the front cover?
After pouring through the book, I decided to try a few of the recipes for our Easter dinner.  These are small cakes — only 6″, so I reasoned we'd need two cakes for our family.  I decided on the Lemon Debutante Cake and the Tomboy Cake (aka, the cake on the cover.)  (Don't they look cute with my Little Cotton Rabbits?)
Oh.Emmm.Geeee.  These cakes were SO fun to make and they were really good.  They're not for the faint of baking heart however — they're very labor intensive.  But Oh. So. Worth the effort.  In case you love to bake like I do (Hi Linda NoBlog and Brigette!), or if you've landed here looking for info on these cakes (the internet was really helpful to me with info about these cakes), I thought I'd share a few observations.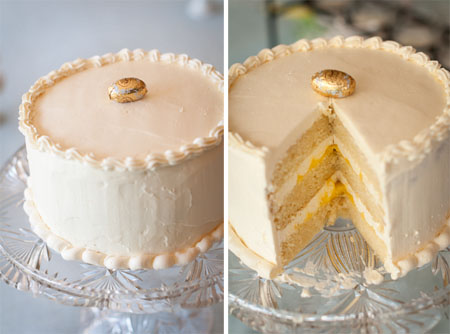 When I went to buy the 6″ cake pans, instead of buying 2 – 6″ x 3″ pans, I bought 3 – 6″ x 2″ pans.  Each recipe makes 2, 3″ high cakes and then you split each 3″ cake into 3 sections.  Since I had three pans, I decided it should work to make three of them and split each in half, still having 6 layers in the end.  One of the biggest complaints on the internet about these recipes is that they sunk in the middle.  Both of my cakes also sunk a little, but I'm sure it wasn't as bad as if I'd been using the 3″ pans.  The white (lemon) cake didn't rise nearly as high either, so I didn't really end up with a second set of three layers, which was fine.  Either way, I think I'll stick with making the layers in the shorter pans.
I heard that someone on cupcake wars tried to make the European buttercream frosting and ran out of time. No Kidding! I'm thinking they should have been disqualified for even trying it. It is very time consuming and patience is the key. The recipe said to add the boiling sugar water slowly to the meringue and then whip at high speed for about 10 minutes while the mixture cooled down. The whole time, I was thinking "How is this going to cool down? Whipping creates friction, right?" After 10 minutes, it definitely wasn't cool enough to add the butter, so I turned the mixer off and just let it set for 20 minutes. Then you add the butter 1 Tbsp. at a time. Patience.  If you rush it, your buttercream will be ruined. The recipe was surprisingly easy, if you just follow the instructions — and your instinct!
The pink frosting in the Tomboy Cake is actually raspberry flavored.  (And boy, is it ever good.  When you take a bite of the cake, you taste the deep, rich chocolate first, and then the raspberry hits you.  Yummmo!)  You have to boil raspberries to get some raspberry juice to add to the frosting. While my juice was cooling, my arm accidentally caught the sieve and the juice flew everywhere. Try not to be such a klutz like me!
Our local cake shop is a great resource for the 6″ cake pans. Much more reasonable than amazon.
These cakes may be small, but they're rich. One cake would probably serve 12 people and would have been plenty for the 9 of us.
So, this little cookbook is a BIG hit with me! The recipes are very detailed, with lots of tips to help you be successful. Plus, they're delicious. I took the leftovers to work on Monday morning and everyone loved them.  If you decide to get the book, be sure and get the errata sheet — one of the errors is in the buttercream recipe.
Off to pack my gym bag for tomorrow — I need to make a feeble attempt at working off that buttercream!
XOXO,
Anna